An 85-Year-Old Enjoying Life After Practicing Falun Dafa
June 30, 2019 | By Minghui correspondent Cheng Yu-yan in Taiwan
(Minghui.org) Taiwanese Falun Dafa practitioner Ms. Chen Yue-chiao is 85 years old. She lives a harmonious and healthy life. However, she had a tough life and suffered from many illnesses before practicing Falun Dafa.
Chen Yue-chiao
Her husband suddenly passed away when she was 48 years old, and she was devastated. Her best friend who was operating a tax-free shop said, "You cannot just cry every day. You can speak Chinese and some Japanese. Help me in the shop, and live in a different environment."
Her children were grown, so she went to Japan. During the past 20 years, she returned to Taiwan during holidays or vacations.
She was allergic since she was young. She also often had a headache, chest pain and complained of other pains. She often saw a doctor, but the doctors could not find anything wrong with her. Her children worried and asked her to move back to Taiwan, so they could take care of her.
She felt very uncomfortable in November 2000. As doctors could not cure her illness, she listened to local people's suggestion and visited a Japanese monk in a temple. The monk advised her to return to Taiwan, "You will meet a very high-level qigong when you return to Taiwan."
Seriously Practicing Dafa After Returning to Taiwan
Yue-chiao returned to Taiwan at the end of December 2000 for the New Year. Her daughter Hsiu-ling said, "I saw that my mother was less responsive and a little sluggish. She was very unhealthy."
There was a nine-day Falun Dafa free teaching session in New Taipei City starting on January 1, 2001. Hsiu-ling and her mother attended it. During the first four days, Yue-chiao felt uncomfortable in different parts of her body. A practitioner told her it was a reaction from having her body cleansed.
Yue-chiao did not miss any of the teaching sessions. She felt comfortable on the fifth day. Hsiu-ling said, "On the first day of the nine-day session, my mother said she saw a golden glow around Master Li in the video of Master Li's lecture. After the nine-day session, my mother took the rapid transit and went home. She walked briskly. She looked very relaxed and refreshed."
Yue-chiao returned to Japan to work after the holidays. She practiced Falun Dafa by herself, and talked with her daughter over the phone occasionally.
She had gallstones, causing acute cholecystitis in 2013. She needed an emergency surgery and scheduled her surgery time. On the day before the operation, Hsiu-ling and her sister discussed and reached an agreement. Her sister went to Japan to bring her mother back to Taiwan.
The doctor was very upset and let them know it, as her condition was rather serious. Going back to Japan was not advisable. But mother and daughter insisted. The doctor demanded their signature on a document stating that she was going to Taiwan at her own risk. After that, she was released from the doctor's care.
After returning to Taiwan, Yue-chiao did not go to a hospital for an examination or treatment as she was not in pain. She only looked sickly. Her daughter Hsiu-ling read Zhuan Falun, the main book of Falun Dafa, and The Essentials for Further Advancement poems by Master Li Hongzhi, the founder of Dafa, to her mother every day, taught her to send righteous thoughts, and encouraged her to go to the group practice site.
Clarifying the Truth About Dafa
Soon, Yue-chiao's character improved. Hsiu-ling encouraged her mother to go to the Sun Yat-Sen Memorial Hall to clarify the truth regarding the Chinese Communist Party's (CCP) persecution of Falun Dafa to tourists. On the first day, Yue-chiao still needed a cane.
She felt great and in high spirits within half-a-day. She did not need her cane after a few days. She was proud to say, "I am now 85 years old. I don't need any help and can go anywhere alone. I went to Wulai, Keelung, Danshui, and Zhunan alone. Practicing Falun Dafa makes me feel great."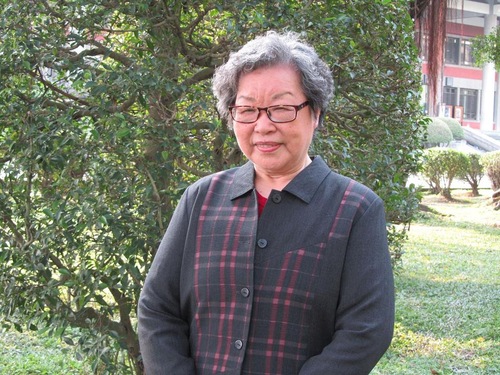 Yue-chiao lives harmoniously
She moved back to Taiwan six years ago. Since then, Yue-chiao walks 20 minutes every morning to the group practice site to practice the Dafa exercises, studies the Fa, and shares experiences with fellow practitioners for at least an hour.
She studies the Fa after returning home. Every Wednesday, Thursday, Saturday and Sunday afternoon, she goes to the National Sun Yat-Sen Memorial Hall to clarify the truth about Dafa.
She said, "I feel great, as I get along with the other practitioners. Everyone strives to be a good person, and think of others first. I am happy and relaxed every day!"