Stockholm, Sweden: Introducing Falun Gong at the Midsummer Festival
June 30, 2019 | By He Ping, Minghui Correspondent in Stockholm
(Minghui.org) Falun Gong practitioners in Stockholm introduced this traditional cultivation practice outside of City Hall on June 21, 2019, which is the Swedish Midsummer Festival Eve. They demonstrated the five sets of Falun Dafa exercises to peaceful music, and distributed introductory materials to passersby.
The Swedish Midsummer Festival is one of the largest festivals in Sweden, rivaling Christmas with its festive spirit and traditions. The traditional celebration includes a Maypole (or Midsummer pole) decorated with greenery and flowers, singing and dancing.
Crowds of people in front of City Hall came from all over the world. The first thing they saw was the peaceful Falun Dafa exercises, and practitioners greeting them with a smile. People took pictures and videos of the Falun Dafa activities. Many read the posters, exhibited along the roads about Falun Dafa. Some talked with practitioners and took introductory fliers to learn more about the practice.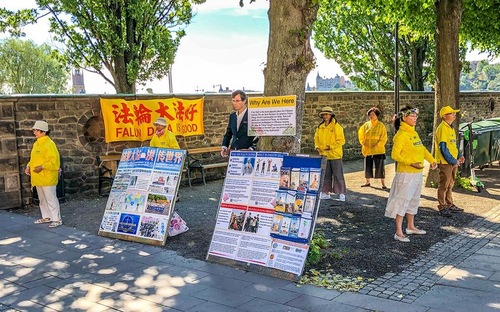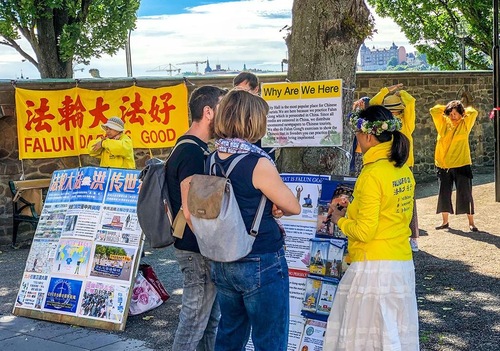 Passersby read the Falun Dafa information while practitioners demonstrate the Dafa exercises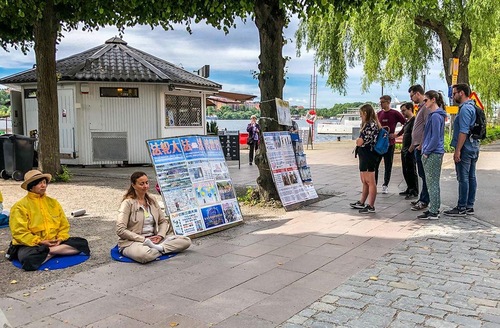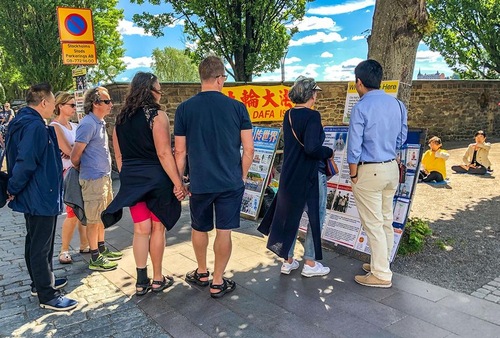 Tourists learning about Falun Dafa
Stockholm's Dafa practitioners have persistently in clarified the facts about Falun Dafa to tourists in front of City Hall for many years. Both Chinese and Swedish tour guides admire practitioners for their tireless work. More and more tour guides help practitioners spread information to their tour groups.
Swedish Tour Guide: "They Are the Kindest People in the World!"
A group of European tourists saw Falun Dafa activities and asked their tour guide, "Who are they? Why do they do exercises here?" The Swedish tour guide told the group, "They are the kindest people in the world! They are practicing Falun Dafa and telling people about the Chinese Communist Party's (CCP) lies. They are doing a good deed. You can take a Falun Dafa flier if you are interested."
Chinese Tour Guide: "You Did a Great Job!"
A young Falun Dafa practitioner told a group of Chinese tourists about the benefits of Falun Dafa and about the Self Immolation Hoax on Tiananmen Square. Everyone listened quietly. A Chinese tour guide came over and told the practitioner, "You did a great job!"
Even though all the tourists had returned to the bus, the driver didn't start the engine until the practitioner finished talking about the evil nature of the CCP, the ancient stone bearing characters about the CCP's collapse, and the importance of quitting the CCP and its youth organizations.
Another bus with Chinese tourists parked in front of City Hall. A practitioner talked with several tourists, answered their questions and clarified the facts to remove their confusion. The practitioner told them that all Falun Dafa practitioners were volunteers, and all they wanted was to tell their fellow Chinese the true facts of Falun Dafa.
It was time for the bus to leave and all tourists had returned to their seats, but the practitioner hadn't got a chance to tell them about the Self Immolation Hoax. The tour guide said to the practitioner, "I will tell them in a moment. We know that the self-immolation was a staged show and they simply played their roles."