Introducing Falun Gong at the Peony Festival in Oshawa, Canada
June 27, 2019 | By a Falun Gong practitioner in Toronto
(Minghui.org) Falun Gong practitioners from Toronto traveled to Oshawa to introduce the traditional cultivation practice at the 15th Peony Festival in the Oshawa Valley Botanical Gardens on June 15 and June 16, 2019. Many people learned about the benefits of Falun Gong and expressed their support for Falun Gong practitioners' efforts to end the Chinese Communist Party's (CCP) persecution.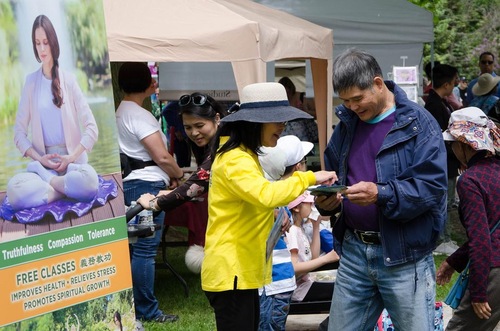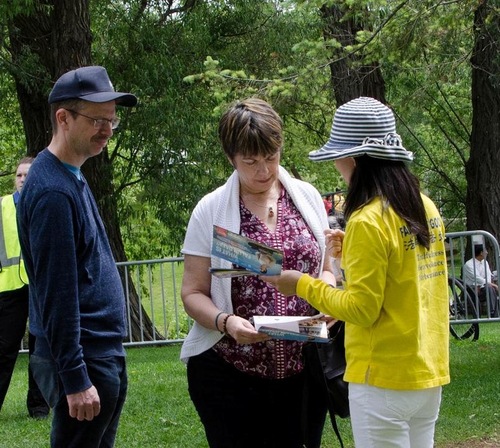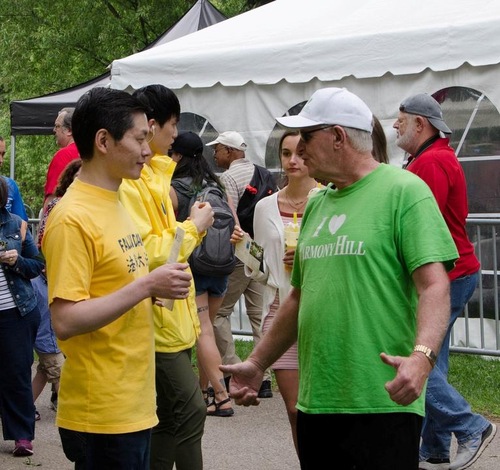 Practitioners tell people about Falun Gong at the 15th Peony Festival at the Oshawa Valley Botanical Gardens.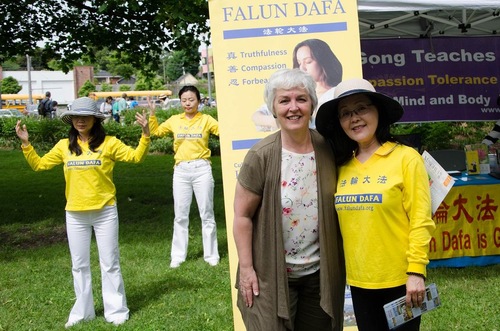 Jane Hurst, Oshawa City Councilor, with a Falun Gong practitioner
Oshawa City Councilor Jane Hurst greeted Falun Gong practitioners at the festival. She said she had met practitioners on different occasions and heard about Falun Gong being embraced around the world and yet being persecuted in China.
"I know about [the persecution]. It's so unfortunate! However, I'm glad you have come to Canada!" she said. "You will contribute so much to our society! Our society needs you."
Ms. Hurst also invited Falun Gong practitioners to participate in an upcoming parade in Oshawa.
Many of the visitors to the Peony Festival were Chinese. Falun Gong practitioners shared their introductory materials with them and told them the facts about Falun Gong and the persecution of the practice in China.
As one Chinese couple passed the Falun Gong booth, one of them said, "There are people practicing Falun Gong here, too! Look at their exercises. It's great!"
A Chinese woman told a practitioner that she knew Falun Gong practitioners were good people.
A Chinese man passing by the booth said he wondered why he came across Falun Gong practitioners everywhere he went. A practitioner told him that Falun Gong has been embraced by people all over the world and that the main book of the practice, Zhuan Falun, has been published in 39 different languages. He also said that the CCP slanders Falun Gong and advised the man to learn the truth about the situation now that he was in Canada where the information is not censored. The man expressed his thanks and took some introductory materials.
Ellen showed great interest in learning Falun Gong. She left her contact information so she could be notified about the next exercise-teaching classes. She also took an extra flyer for her daughter.
Many other visitors wanted to learn the exercises and left their contact information.