Paris: Public Supports Falun Gong's Peaceful Efforts to End the Persecution
June 25, 2019 | By Zhou Wenying, a Minghui correspondent in Paris
(Minghui.org) Falun Dafa practitioners held activities to introduce the practice and raise awareness of the persecution in China at Parvis des Droits de l'Homme (Human Rights Plaza) in Paris on two consecutive Sundays: June 9, and June 16, 2019.
The weather was warm and sunny on both days. Many tourists saw practitioners demonstrating the exercises and heard about the persecution through an audio that practitioners were playing. Display boards were also set up to show how Falun Dafa has spread to other countries outside of China. Many people stopped to talk to practitioners and ask for more information.
Some of the people who stopped to talk wanted to learn the exercises. Many of them signed a petition to help stop the persecution, and took brochures to read. Many of the tourists who stopped to talk to practitioners were from Germany, and some were students from England and Russia, but the majority were people from other parts of France.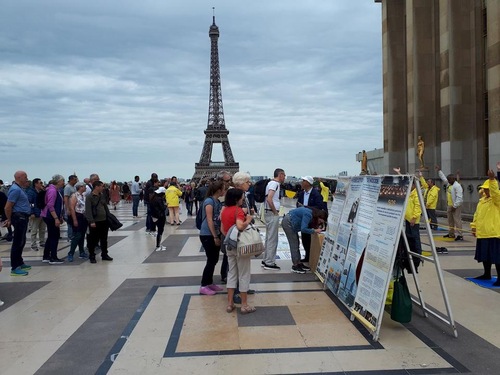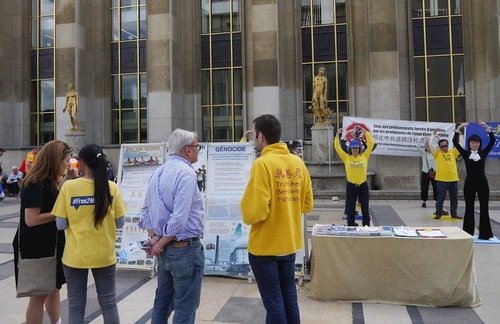 Falun Dafa practitioners introduce the practice and raise awareness of the persecution in China at the Human Rights Plaza in Paris.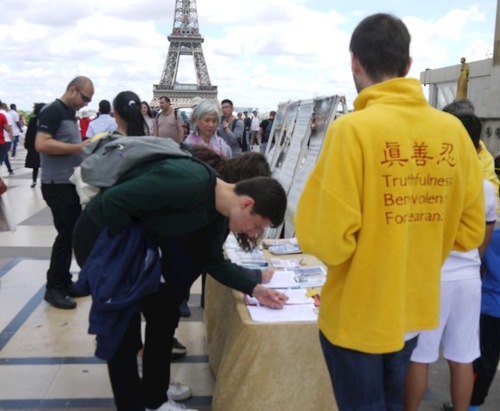 Tourists sign a petition to help stop the persecution.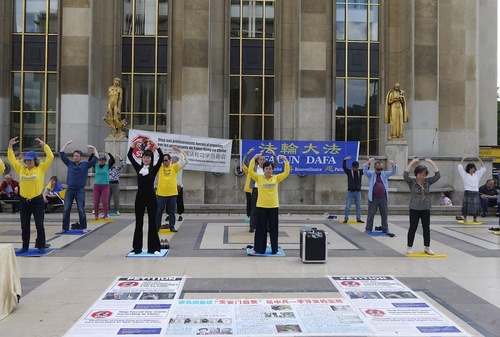 Falun Gong practitioners demonstrate the second exercise at Human Rights Plaza in Paris.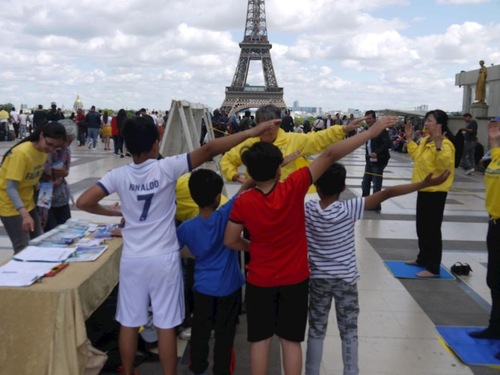 A group of children learns the Falun Gong exercise movements.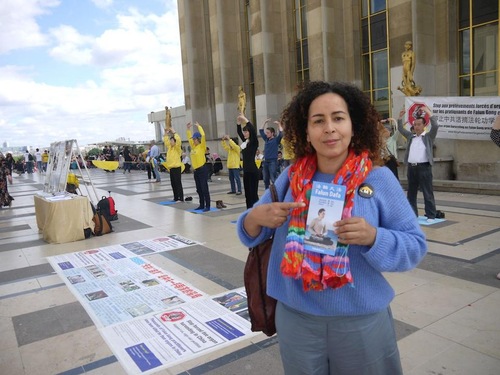 Nadia supports Falun Dafa practitioners' efforts to stop the persecution.
Nadia, a Moroccan living in Brussels, said she found out about Falun Gong on the Internet by chance and knows that practitioners in China are tortured for their belief. She was passing through the Human Rights Plaza when she saw display boards about Falun Gong. She went to sign a petition to show her support.
She said, "This is a basic human right. One day the persecution will end. The Communist Party is using its power to repress and control people, and serve its political purposes. You must believe that it is destroying itself. I believe you will gain freedom one day. Keep up what you are doing."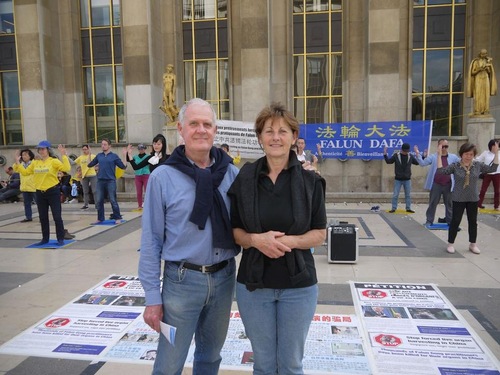 Mr. Regis Lambert and his wife censure the Chinese communist regime's persecution of Falun Dafa practitioners in China.
Mr. Regis Lambert, a French national, and his wife saw the Falun Gong display boards on Human Rights Plaza. They were very shocked when told that people in China were being tortured and having their organs forcibly removed for practicing this peaceful meditation. Mr. Lambert said, "The Chinese Communist government is just like Hitler and Lenin. They are committing crimes of murder. Lenin created the Communist Party in Russia. As long as there are people like this in China, we will not go there." His wife completely agreed.
Nathalie Gavoille works in the Paris real estate industry. She was appalled to learn that practitioners were being persecuted in China. She said, "It makes one angry to read about organ harvesting. Practitioners in China have the right and freedom to practice Falun Gong. It is disgusting to hear that their organs are stolen and sold for profit."
A Chinese dissident who recently immigrated to France from China told practitioners that he believes that the regime's suppression is unjustified. "As long as we do what needs to be done, the Chinese Communist Party will not grow. The recent protests in Hong Kong against the extradition law have shown that everyone should have the courage to step forward and fight for their rights. In China no one dares to come forward. They pretend to be asleep. One reason is the brainwashing, the other reason is fear," he said.
Human rights activist Mr Han said, "In an autocratic society, the government will persecute people for doing exercises or organizing something. In a free society, one is free to do any exercise. Organ harvesting is a terrible crime."