Canada: Falun Gong Warmly Received During Toronto Dragon Boat Race Festival
June 24, 2019 | By a Minghui correspondent in Toronto
(Minghui.org) One of Toronto's most anticipated summer events, the Toronto International Dragon Boat Race Festival was held June 15 - 16, 2019. More than 120 teams consisting of 5,000 athletes from Canada, the U.S., the Caribbean Islands, Europe, and Asia gathered on Centre Island for the regatta. The festival also includes cultural performances, international food booths and arts and crafts booths. Falun Gong practitioners from Toronto attended the event and took the opportunity to introduce the ancient mind-body cultivation practice to the thousands of festival visitors. Many people learned about the benefits of Falun Gong and the Chinese Communist Party's (CCP) ongoing persecution of the practice.
Drawn by the relaxing music and the exercise demonstration, several people stopped to learn the exercises. After they heard about the persecution, they signed the petition calling for its end.
David and Tritisha, a couple from Ireland said, "It's great that you're here to tell us this information! You have compassionate hearts. What you are doing is great! Thank you!"
David and Tritisha support practitioners' efforts to inform people about the persecution.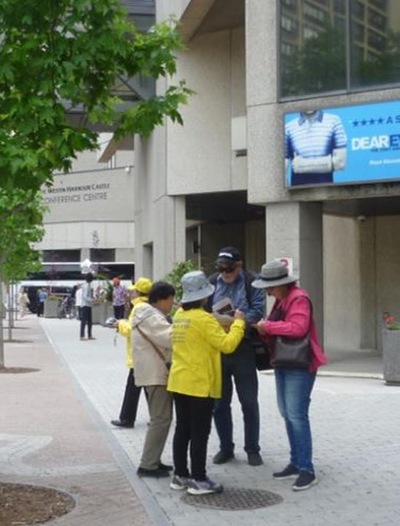 People sign the petition that condemns the persecution.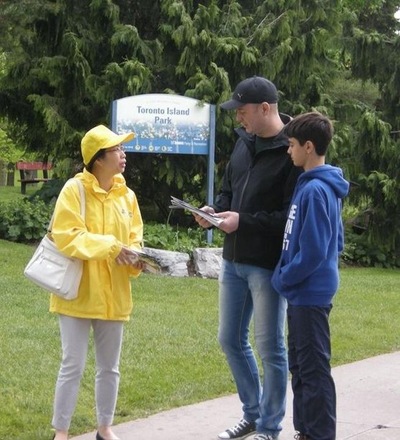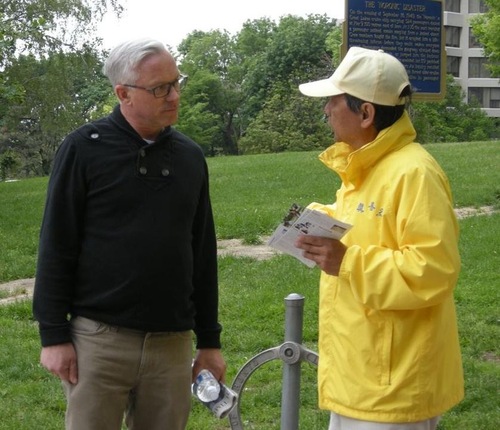 Practitioners talk to people about the persecution of Falun Gong.
"I appreciate Falun Gong!"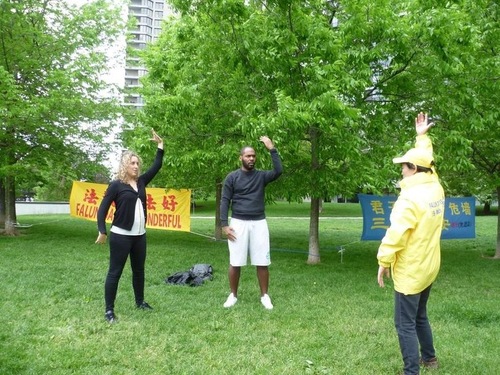 Louis and Anissa, from France, learn the Falun Gong exercises.
Louis and Anissa, from France, became interested in learning the Falun Gong exercises after they stopped to watch practitioners. Louis said, "I've been in Toronto for a year. Anissa and I decided to come to the lake today. It must be our fate to meet you here and learn the exercises. As soon as I heard the music, I felt very calm. It feels great! I like it so much!"
Anissa said, "I felt great energy when I did the exercises. I think Falun Gong is truly what I need. I felt the energy – I really felt my body and my spirit being purified." Louis added, "We truly felt the calmness. I appreciate you very much! In fact, the reason we came to learn the exercises was the sincerity of the practitioner who told us about Falun Gong."
When he learned about the persecution in China, Louis said, "What a shame! A government shouldn't persecute anyone based on their belief." Anissa said, "I'm saddened to hear about this tragedy! We should respect people's beliefs. You have shown us what Falun Gong practitioners are like: calm, sincere and welcoming to everyone. It feels great to be with you! I appreciate your sincerity! Thank you for telling us! We will continue to learn more when we get back."
Excited to Learn Falun Gong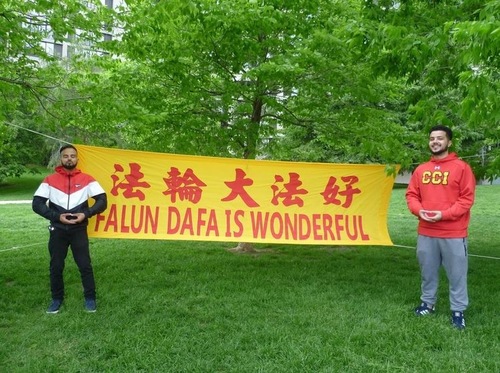 Shah (left) and his friend Yahya have their photo taken in front of a Falun Gong banner.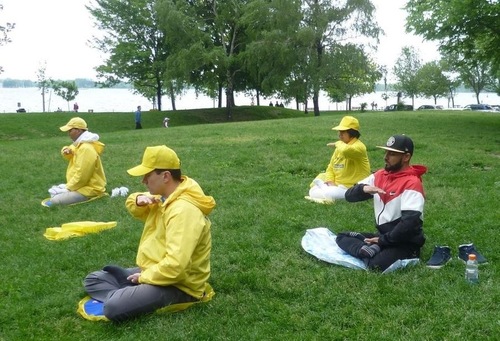 Shah learns the Falun Gong meditation.
Yahya and his friend Shah were excited to learn the Falun Gong exercises.
Yahya said, "It's amazing! The exercises make me feel calm, relaxed and light. My mind became calm so that I could feel myself. I will definitely learn Falun Gong!...The wisdom behind the practice! Truthfulness-Compassion-Forbearance should be the mankind's universal values. Talking with practitioners here makes me feel as if today is a turning point in my life. I will become a better person. The meaning of life suddenly dawned on me. It's incredible! I feel great! All these seem to be fate. I suddenly found what I have been looking for!...Our world needs more Falun Gong practitioners! It would be great if more people practiced Falun Gong. It would be a better world!"
Shah said, "I felt that my brain and my body were purified when I did the exercises. I heard about Falun Gong before and I've seen practitioners in many places. It's not a coincidence that we came here today. Everything happens for a reason!" Shah thought it was incredible that such a great exercise was free. "I appreciate it very much! I will get the book Zhuan Falun and treasure it."
When he heard about the persecution, Shah said, "I will post this information on YouTube and my social media. I want to tell everyone that Falun Dafa is wonderful and Truthfulness-Compassion-Forbearance is wonderful! More people should know how the Communist Party is cruelly persecuting practitioners."
"Everyone in the world should step up and tell people about the persecution"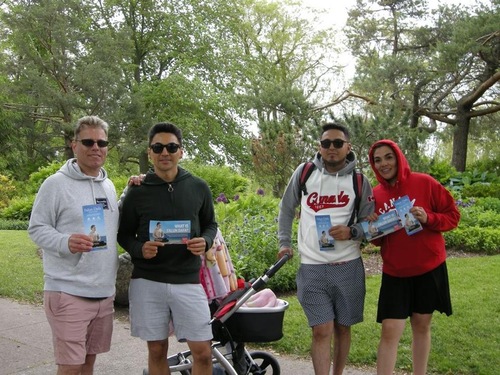 Joe (first from left) and his family support Falun Gong.
Mr. Joe Almeida and his family expressed their support for Falun Gong practitioners' work to end the persecution. Joe said, "It's terrible that the Communist Party persecutes Falun Gong! People should have the freedom to practice Falun Gong in every country of the world, including China, because it's such a peaceful exercise! Falun Gong has been persecuted for 20 years, so I say everyone in the world should step up and tell people about the persecution and help stop the Communist Party!"
"All media should report on the persecution"
Marcus from France said, "It's so unfair for Falun Gong practitioners to be persecuted for doing their exercises. I know people of different beliefs and ethnic backgrounds in China have been been persecuted to various extents. Falun Gong should have freedom of belief. I know they do not want to overthrow the government, so they should have the freedom to do their practice. They should have the right to express their beliefs. They don't harm anyone. The persecution has been going on for 20 years, but many people in the world still haven't heard about it. We should call on all media to report the persecution. All the world's media and all people should pay attention to it."