Germany: Practitioners Introduce Falun Dafa at the Lunen Cultural Festival
June 24, 2019 | By a Falun Dafa practitioner in Germany
(Minghui.org) The city of Lunen in North Rhine-Westphalia, Germany held its 36th Cultural festival on June 15, 2019. This year's theme was multiculturalism. People from different ethnic groups dressed in their traditional costumes performed on stage. Falun Dafa practitioners took part in the event as the only Chinese group.
Politicians Do the Exercises with Practitioners
Local practitioners have been participating the popular annual event nearly every year since 2009. Besides demonstrating the exercises on stage, practitioners also set up an information booth. Last year German politicians greeted practitioners at the booth and joined them in doing the exercises. This year Member of Parliament Mr. Michael Thews, Lunen City committee member Dr. Azsun Aydemir and Host Müller Bad, representing the Lunen City mayor, joined practitioners and did the third set of exercises.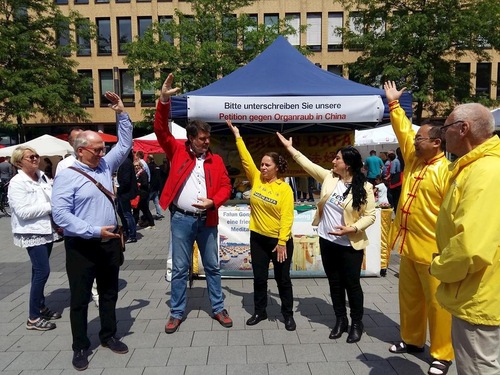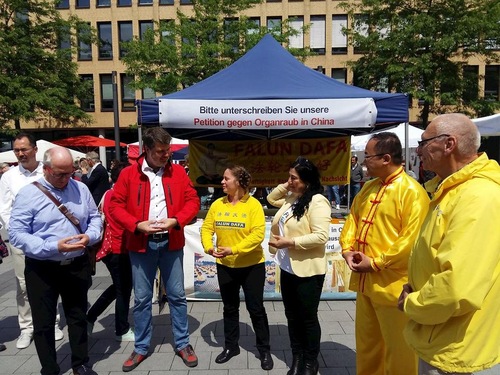 Politicians including Member of Parliament Mr. Michael Thews joined practitioners in doing the third set of Falun Gong exercises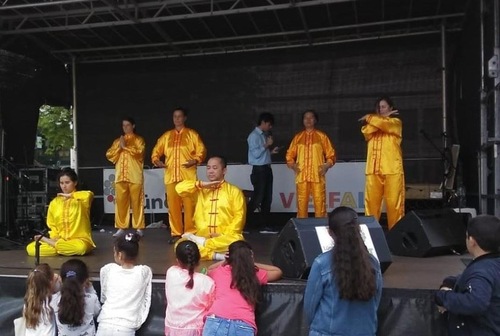 Practitioners demonstrate the exercises on stage dressed in traditional Chinese costumes.
Practitioners taught children how to fold paper lotus flowers. Several children lined up to learn. Other practitioners chatted with visitors and told them about Falun Dafa and how it's persecuted in China.
Several people signed the petition to stop the persecution when they learned that practitioners are being killed for their organs for sale to transplant patients. One woman said that she first heard about the persecution 15 years ago. She was surprised that it was still going on after so many years. She signed the petition to stop organ harvesting.