2019 Fa Conference Held in Austria
June 10, 2019 | By Falun Dafa practitioners in Austria
(Minghui.org) The 17th Austrian Falun Dafa Experience Sharing Conference was held on Sunday, June 2, 2019, in the Gloggnitz Provostry in Gloggnitz, Austria.
Thirteen practitioners shared their cultivation journeys and how they overcame tribulations by looking at their shortcomings and eliminating their attachments, and how they have been telling people about Falun Dafa. Their stories encouraged and inspired the practitioners who attended the conference to treasure the opportunity to cultivate and to be more diligent on the path to enlightenment.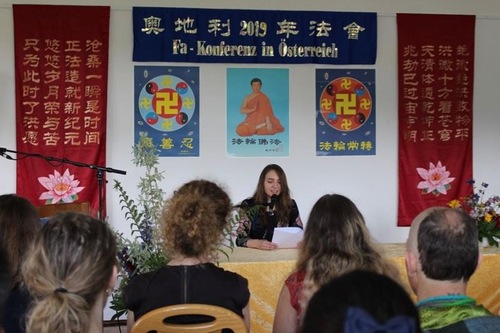 Practitioners share cultivation experiences at the 17th Austrian Fa Conference
Cultivating at Work
Christina started to practice Falun Dafa at the age of 8, when the persecution was at its worst in China. She talked about the xinxing tests she has gone through as an adult at work.
Her supervisor thought she only cared about her own welfare and he criticized her in front of her co-workers. She was upset at being treated unfairly.
By studying the Fa teachings, she discovered that she was attached to fame and personal gain as well as to the pursuit of comfort. She tried to act according to the principles of Falun Dafa and was nice to her supervisor, as if nothing had happened. She also told her co-workers about Falun Dafa whenever she had a chance. Almost all of them signed a petition calling for an end to the persecution. Her supervisor changed his attitude about her, and her co-workers praised her for the way she handled the situation.
Telling Politicians about Shen Yun
Maria shared how she secured a venue for Shen Yun to perform in Graz. She said she'd had a strong desire to bring Shen Yun to Graz for a long time. Through acquaintances, she had a chance to attend an event where she met local government officials and she told them about Shen Yun.
While working with other practitioners on the project, the way they did certain things at times made her uneasy. This made her aware that she lacked tolerance.
Better Relationship with Her Father
Sonja had an unhappy childhood. Her father drank to excess and often abused her mother and older brother. Her parents subsequently divorced. She hated her father for many years.
She began to practice Dafa at the age of 28. Sometime later, she found herself often thinking about her father. She had not seen him for 16 years, but she contacted him and they met several times. Her family even got together once. Falun Dafa has taught her to let go of her enmity for her father and has helped her mend the relationships in her broken family.