Taiwan: Practitioners in Hualien and Taitung Hold Events to Celebrate World Falun Dafa Day
May 09, 2019 | By Falun Dafa practitioners in Hualien and Taitung
(Minghui.org) Falun Dafa (also known as Falun Gong) was first introduced to the public on May 13, 1992. May 13 is also the birthday of Master Li Hongzhi, Falun Dafa's founder. In honor of this special day, practitioners around the world hold activities each year. They also express their deep gratitude and respect to Master Li, who made the teachings and guiding principles, Truthfulness-Compassion-Forbearance available, enabling them to improve their minds and bodies.
Hualien, Taiwan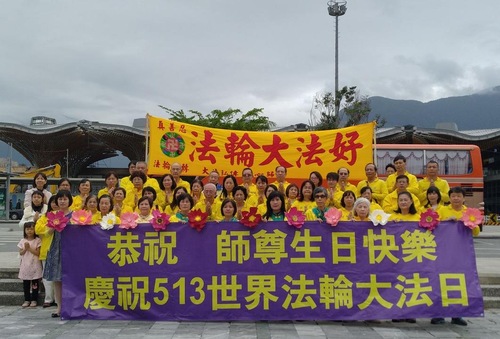 Practitioners in Hualien gathered to celebrate World Falun Dafa Day and wish Master Li a happy birthday.
Practitioners from Hualien gathered at the train station square on May 4, 2019. As part of the day's festivities, they presented traditional Chinese dance and singing performances. They also talked about how they follow the principles of Truthfulness-Compassion-Forbearance, consider others in everything they do and try to be better people.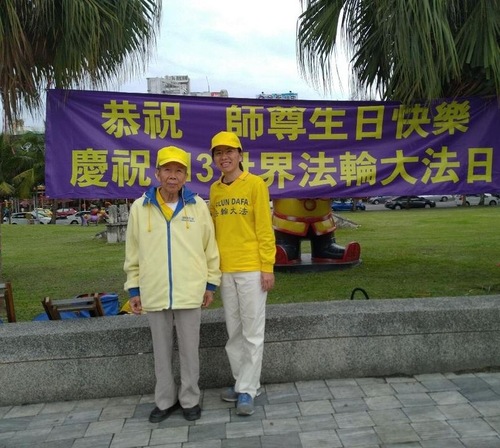 Ms. Guan Meiyuan (right) and her family talked about the wonderful effect practicing Falun Dafa has had on their family.
Ms. Guan Meiyuan, an elementary school teacher began practicing Falun Dafa after her son was born. She said her colleague suggested she try practicing to alleviate her post-partum depression. She felt so rejuvenated that she recommended it to her father. They have been practicing Falun Dafa for nearly 16 years.
Ms. Guan said that before she began practicing, she often quarreled with her husband. By following the teachings, she learned to be considerate of others. Her family became harmonious. Although her son is not a practitioner, her way of dealing with others set a good example for him. Her mother also went from opposing her father practicing to becoming supportive.
Ms. Li Quanhui said she feels blessed to be a Falun Dafa practitioner.
Ms. Li Quanhui, a manager in the marketing industry said that her good friend introduced her to Falun Dafa 19 years ago. Her husband's business had just failed and the couple had many debts. Creditors constantly came to their home, demanding payment. She had to work as a salesperson. Although she's naturally introverted, she thought, "Master Li teaches us to assimilate to Truthfulness-Compassion-Forbearance. Working as a salesperson is a great cultivation opportunity. I strive to be more considerate of others. I also tell people about the persecution when I promote products." She was able to pay off all the couple's debts in a few years. Looking back over her cultivation journey, Ms. Li said, "I feel very fortunate to be a Falun Dafa practitioner."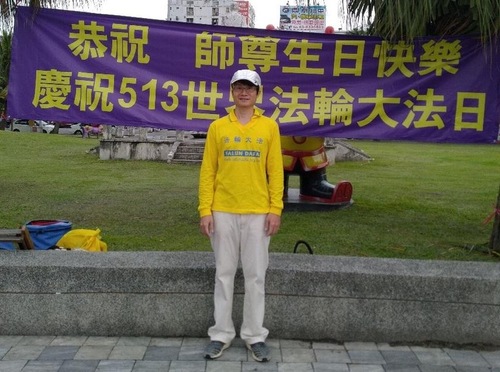 Mr. You Guanxun said he hopes that more people will learn about Falun Dafa.
Mr. You Guanxun, a college teacher, said that after he began practicing his ulcerous colitis disappeared, and he felt light all over. "Falun Dafa is so amazing! I hope that more people can learn to practice it," he said.
Taitung, Taiwan
Practitioners in Taitung gathered at Jialulan, a famous tourist attraction on the east coast of Taiwan on May 5, 2019. They did the exercises and talked to tourists about Falun Dafa and how it's being persecuted by the Communist regime in China. They respectfully wished Master Li a happy birthday.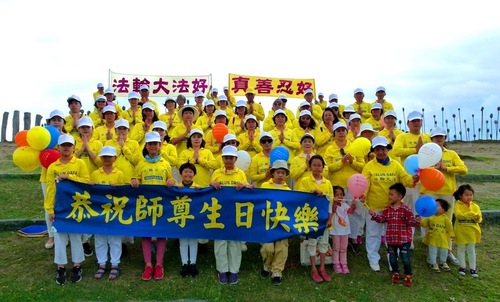 Practitioners in Taitung wish Master Li Hongzhi a happy birthday.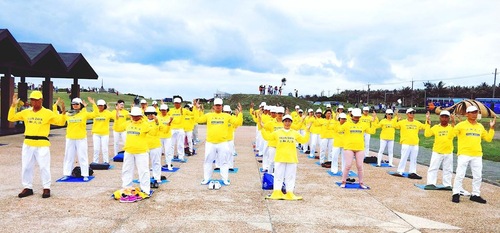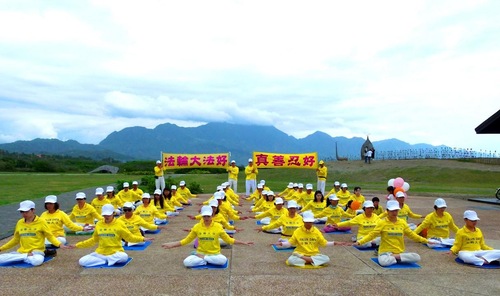 Group practice displays the grace and beauty of Falun Dafa.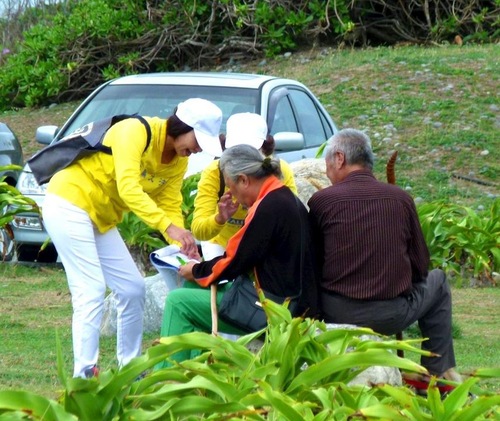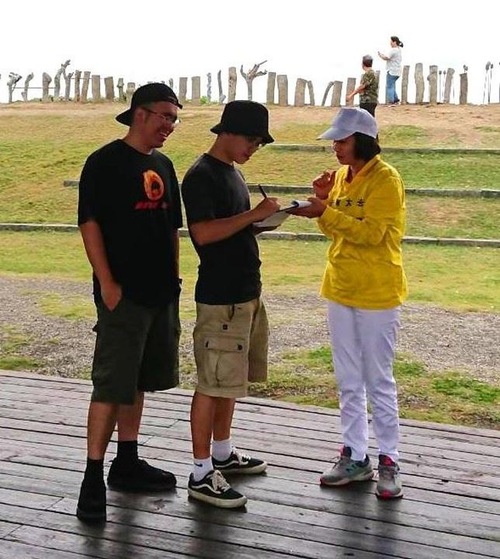 Tourists sign a petition to call for an end to the persecution of Falun Dafa practitioners in China.
Related report: http://www.minghui.org/mh/articles/2019/5/6/台东法轮功学员庆祝大法日-台湾东海岸传真相(图)-386025.html