The Beginning of the Communist Party's Defamation and Suppression of Falun Gong
May 08, 2019 | By Long Yan
(Minghui.org) The Chinese Communist Party is well known for controlling people's minds. One example was the demolition of a nearly 180 feet (or 58 meters) high Guanyin Bodhisattva's statue in Hebei Province. As one of the tallest statues of this kind, its construction took about five years at a cost of 17 million yuan. The Hebei Province government nonetheless sent a blasting brigade on January 30, 2019, and destroyed the statue two days later.
The fate of the statue happened because of its popularity—tens of thousands of people often came here during holidays to worship Guanyin. This was intolerable for the Chinese Communist Party (CCP). After all, the Party is atheistic by nature, and it has been ruling people with intimidation and violence.
Thorn in the Eye of the CCP
By reviewing history on the 20th year anniversary from the date when the CCP began to suppress Falun Gong in 1999, we could see a clear analogy between the demolition of the Guanyin Bodhisattva's statue, and why the Party decided to suppress the peaceful group in 1999.
Falun Gong, also known as Falun Dafa, was introduced to the public in May 1992. The miraculous health benefits and the principles of Truthfulness-Compassion-Forbearance drew a large number of people. By the time it was persecuted in 1999, the Party estimated the number of practitioners to be between 70 to 100 million.
Such popularity was quickly noticed by the communists, which began to investigate the group as early as in 1994. Results of the investigation, including reports from undercover agents, indicated that Falun Gong was simply a meditation group that values improvement of physical health and moral values. Although failing to identify anything negative, the Party did not give up.
Beginnings of Defamation and its Acceleration
The Guangming Daily, one of the major newspapers in China, published an editorial on June 17, 1996, that slandered Falun Gong yet did not provide any evidence. Such a tactic of launching a political campaign with news media defamation was very often seen in previous suppressions. On the other hand, such defamation against innocent Falun Gong practitioners as well as their principles of Truthfulness-Compassion-Forbearance once again revealed the Party's true nature.
The Propaganda Ministry issued an internal order on July 4, 1996, one month after the editorial was published, to news and publishing bureaus across China to forbid the publication of Falun Gong books.
Luo Gan, General Secretary of the Political and Legal Affairs Committee (PLAC), gave instructions in early 1997 for a thorough, nationwide investigation of Falun Gong, in an attempt to label Falun Gong as a "cult." Survey and reports from the police system once again found no evidence against Falun Gong, and the investigation ended in vain.
He Zuoxiu, Luo's brother-in-law, slandered Falun Gong in May 1998, during a program broadcasted by the Beijing Television Station. Hundreds of practitioners from Beijing and nearby Hebei Province visited the station or wrote letters to officials to clarify this issue. An officer acknowledged that this was the biggest mistake ever made by the station. As a corrective action, the station broadcasted a program soon afterward showing the peaceful group exercises by practitioners.
Under the instruction of Luo, Police Ministry's First Bureau (responsible for political security) issued Policy 1998-555 in July 1998. With a title of "Notice on Launching an Investigation into Falun Gong", this policy labeled Falun Gong as a "cult" and ordered subordinate officers to identify evidence to support that. As a result, some officials were misled and began to harass Falun Gong practitioners at group exercise sites.
Qiao Shi, then Chairman of the Standing Committee of the National People's Congress, and some other retired high ranking officials reached a conclusion that "Falun Gong benefits our nation and our people in many ways and brings no harm". This research was based on several months of surveys and investigations. The report was submitted to the Politburo of the Party in late 1998.
He Zuoxiu continued to defame Falun Gong by publishing an article that slandered this cultivation practice on April 11, 1999. Appearing in the Youth Science and Technology Magazine, this article attacked Falun Gong again without evidence and recommended that the youth do not practice it. Noticing this article was misleading and having benefited from the practice personally, practitioners went to Tianjin College of Education between April 18-24 for clarification.
Armed Tianjin police suddenly showed up on April 23 and 24 to attack practitioners. Some practitioners were injured and 45 were arrested. When practitioners requested their release, they were told the order came from Beijing and the Police Ministry was involved. Tianjin police officers suggested practitioners go to Beijing to resolve this issue.
Peaceful Appeal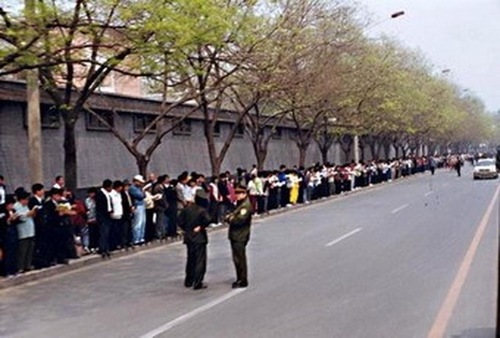 The peaceful appeal by Falun Gong practitioners in Beijing on April 25, 1999. There were no banners or slogans and police officers were at ease.
About 10,000 practitioners took up the Tianjin police officers suggestion and went to the Appealing Office on April 25, hoping to clarify the facts about Falun Gong.
They requested the release of detained practitioners, permission to publish Falun Gong books, and freedom to practice Falun Gong. After meeting practitioner representatives, then Premier Zhu Rongji issued an order to release detained practitioners and emphasized not to interfere with the practice. Practitioners left the site at around 10:00 p.m. peacefully and quietly, leaving no clutter or trash behind.
However, Jiang Zemin, then head of the CCP, wrote a letter to the Politburo of the Communist Party later that day to escalate this issue. He then launched a special task force with orders to suppress Falun Gong on June 10, which became known as the 610 Office. Following this, the official, nationwide persecution in July 1999 was launched.
The above history indicates that the CCP, especially Jiang and his supporters, such as Luo, had been attempting to suppress Falun Gong for a long time. Had the peaceful appeal on April 25 not happened, they could have launched the persecution using other excuses.