Netherlands: Promoting Falun Dafa on Queens Day
May 07, 2019 | By a Falun Dafa practitioner in the Netherlands
(Minghui.org) April 27 was the annual Dutch Koninginnedag (Queens Day), a traditional celebration in Amsterdam for locals and visitors. Dutch Falun Dafa practitioners participated in the celebration at Dam plaza by passing out fliers and raising awareness about Falun Dafa, also called Falun Gong, and the persecution in China.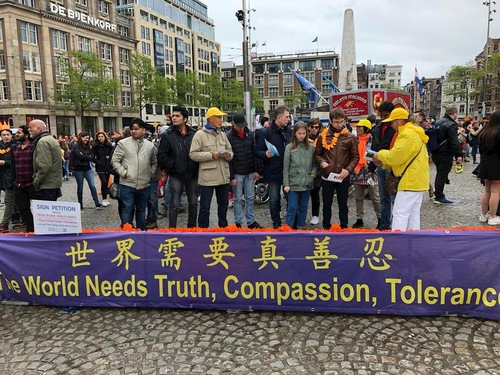 Falun Dafa practitioners participate in the annual Koninginnedag in Amsterdam.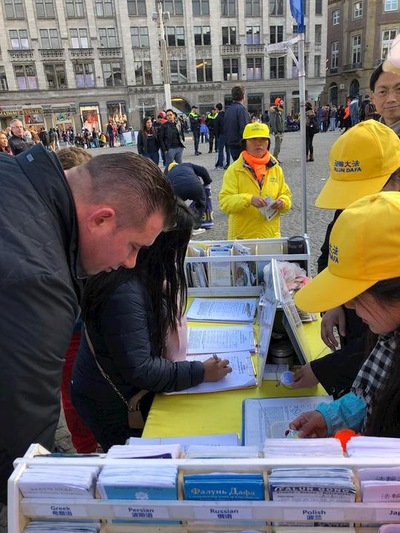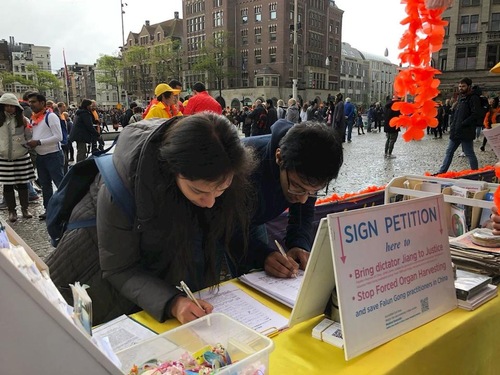 Tourists sign a petition opposing the persecution of Falun Gong.
Decorating for Queens Day
Queens Day is a national holiday. The current royal family's last name is Oranje, so orange color represents the royal family in Holland. During that holiday, many people hung the national flag, as well as an orange stripe outside their houses, and people put on orange colored clothes, hat, and garland.
It is also a tax-free day, so many people sell household products at markets in cities.
The Falun Dafa Association of Amsterdam has year-round permission to promote Falun Dafa at Dam plaza downtown. On Queens Day, one practitioner bought some orange garlands. Practitioners set up a table, display boards, and banners and decorated them with orange garlands. They passed out fliers introducing Falun Dafa, exposing the facts of the brutal persecution in China, and the crime of forced organ harvesting from living Falun Gong practitioners and other dissidents.
Reasons for the Persecution
Practitioners demonstrated the exercises and distributed flyers. Many people signed the petition calling for a stop to forced organ harvesting.
Two young men from the United States asked a practitioner why the Chinese regime persecuted Falun Gong. The practitioner explained that Falun Gong's principles are Truthfulness-Compassion-Forbearance. It teaches practitioners to be good and honest. From 1992 to 1999, this cultivation practice grew to nearly 100 million practitioners in China.
The Chinese Communist Party had 60 million members. The Party is built on lies and violence to maintain its control, so it couldn't allow that more people believe in Truthfulness-Compassion-Forbearance than in communism. Out of jealousy, then party leader Jiang Zemin launched a nationwide "crackdown" on Falun Gong in July 1999.
Since then, millions of Falun Gong practitioners have been arrested, detained, sent to forced labor, and imprisoned. Some have died due to torture, while the CCP has sanctioned organ harvesting from living practitioners and sold the organs for profit.
Recounting Blood Tests for Tissue Match
A practitioner told two young Americans, "I was one of the more than 2,000 practitioners imprisoned in the Women's Prison of Liaoning Province in May 2005.
"One day, all the inmates were lined up for a blood test," she said. "We had a number on the left side of our chest and entered the prison administration building from the west door. In the lobby was a long row of tables, with more than 30 medical personnel sitting behind the tables."
"We were forced to give a blood sample. Two Falun Gong practitioners tried to resist, but the guards made sure they complied."
She remembered, "I didn't understand why such large-scale blood testing was being done in a prison at that time. Only after I was released did I hear about the harvesting of organs from Falun Gong practitioners. I then realized that our blood was being tested to build a database for a tissue match."
The two young men were shocked. They gave the practitioner a big hug and signed the petition.
One of them said, "I have seen a great Falun Gong parade in Washington, DC. You did great! Go Falun Gong!"
Interference by Chinese Antagonist
A young man came to the booth and wanted to make a donation. He said, "I know the Communist Party is very evil. I believe that the forced organ harvesting is a fact. I want to do something for you." He pulled out a bank card.
A practitioner told him that they didn't accept donations and asked him to sign the petition instead.
A man who appeared to be Chinese stopped while practitioners were talking to several passersby, including a husband and wife. The Chinese man suddenly cut in and said, "Don't listen to Falun Gong."
The wife appeared to be annoyed and said, "Everyone can speak here. We have freedom of speech. Why do you stop us from listening?"
The interference made the couple more curious about Falun Gong. Thus, they learned a lot more about Falun Gong and the ongoing persecution in China than they would have were it not for the interruption. They signed the petition.