Mother of Japanese Residents Dies of Uterine Cancer Ten Months Following Arrest for Her Faith
May 05, 2019
|
By a Minghui correspondent in Heilongjiang Province, China
(Minghui.org) Even though a 67-year-old woman developed uterine cancer while detained for exposing the persecution of her faith in Falun Gong, she was still sentenced to two years in prison and fined 10,000 yuan. When she was released on medical parole, the police continued to harass her and she quickly deteriorated. She passed away on April 29, 2019.
The day after Ms. Hou Lifeng died, her husband received a bill from the local court, demanding that he pay the 10,000 yuan fine. They threatened to arrest and detain him if he refused to pay the fine.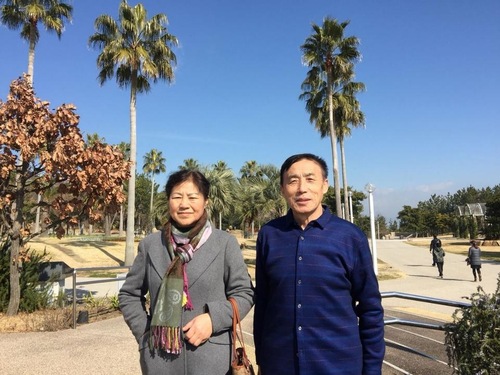 Ms. Hou Lifeng and her husband Mr. Liu Chun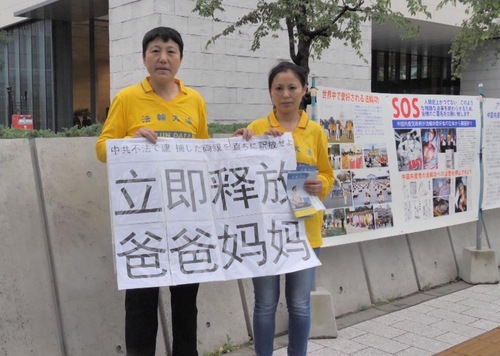 Ms. Hou's son and daughter, Mr. Liu Zhigui and Ms. Liu Zhiyin, call for the release of their parents in front of the National Diet (Japan's bicameral legislature) on June 15, 2018.
Ms. Hou, a resident of Fangzheng County, Heilongjiang Province, and mother of two Japanese residents, was arrested on June 12, 2018, while distributing information about Falun Gong, a spiritual discipline that has been persecuted by the Chinese communist regime since 1999.
The police ransacked her home and confiscated her Falun Gong materials and banknotes with information about the practice printed on them.
Given the strict information censorship in China, many Falun Gong practitioners have been using creative ways to spread information about the persecution, including printing messages on banknotes.
The police interrogated and beat Ms. Hou before taking her to the Harbin No.2 Detention Center, where she developed the cancer. She fainted several times due to acute pain in her lower abdomen, but she was denied proper medical care.
On August 15, 2018, the police submitted Ms. Hou's case to the Yilan County Procuratorate, which then indicted her. They transferred her case to the Yilan County Court on September 5.
Ms. Hou appeared in court on September 26 and was sentenced to prison on November 27. The judge said she wasn't allowed to appeal her verdict.
When she was transferred to Harbin Women's Prison in December 2018, she was extremely weak and unable to walk. The guards took her to the hospital, where she was diagnosed with advanced uterine cancer. Hospital officials said they couldn't cure her.
Fearing her possible death in prison, the authorities approved Ms. Hou's medical parole.
When Ms. Hou returned to Fangzheng County in early 2019, Zhao Chundong, the head of the Domestic Security Division, didn't let her go home. Zhao insisted that she stay in a hospital.
After the Fangzheng County Hospital refused to admit her, she eventually returned home on March 1. By that time, she had completely lost the ability to take care of herself, and yet Zhao still threatened that he would arrest her again and send her back to prison if she continued to practice Falun Gong.
The police and residential committee members continued to harass and monitor her in her final days. In late March, they returned again and demanded that she write thought reports renouncing Falun Gong. Given the frequent harassment and intimidation, Ms. Hou never recovered. She passed away around 1 a.m. on April 29, 2019.
Related reports:
Mother of Japanese Residents Developed Uterine Cancer during Detention in China for Her Faith
Fangzheng County Resident Ms. Hou Lifeng Sentenced to Two Years in Prison