Mother of Japanese Residents Developed Uterine Cancer during Detention in China for Her Faith
March 18, 2019 | By a Minghui correspondent in Heilongjiang Province, China
(Minghui.org) A 67-year-old resident of Fangzheng County, Heilongjiang Province, China, developed uterine cancer while in detention for six months for practicing Falun Gong, a spiritual discipline that has been persecuted by the Chinese communist regime since 1999.
Ms. Hou Lifeng's health has deteriorated quickly following her release on medical parole in early March 2019. She is bedridden and incapacitated at the time of writing. Her son and daughter, who both currently reside in Japan, have been active in seeking their mother's release and are now calling on the international community to pay attention to her case.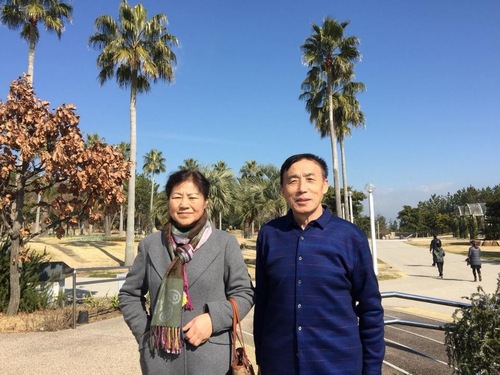 Ms. Hou Lifeng and her husband Mr. Liu Chun.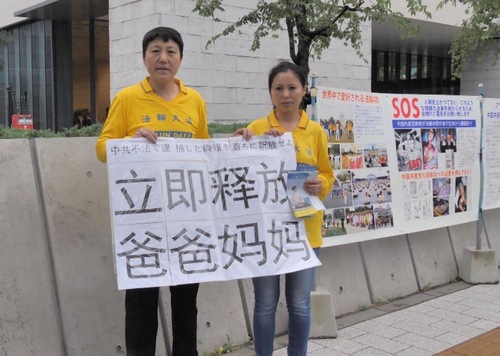 Ms. Hou's son and daughter, Mr. Liu Zhigui and Ms. Liu Zhiyin, call for the release of their parents in front of the National Diet (Japan's bicameral legislature) on June 15, 2018.
Ms. Hou and her husband Mr. Liu Chun were arrested on June 12, 2018 after they were reported for distributing informational materials about Falun Gong.
According to Mr. Liu's sister, who happened to be visiting them on the day of their arrest, three police officers ransacked the couple's home. Mr. Liu was handcuffed during the raid.
Although Mr. Liu was released about one month later, the police continued to hold Ms. Hou in custody at the Harbin City No. 2 Detention Center.
The day before Mr. Liu's release, the police videotaped him while forcing him to read from a prepared script. In the video, he "urged" his children to stop going to the Chinese embassy in Japan to seek their release and also told them to stop making phone calls to the officers in charge of their case. He said that he would never meet with them again if they continued. In the video, a police officer's voice can be heard in the background, reminding him to follow the script.
At the detention center, Ms. Hou was brutally interrogated by Zhao Chunsong, head of the Fangzheng County Domestic Security Division. Her arms were badly bruised and swollen after the interview.
Zhao lied to Ms. Hou, telling her that her family had turned against her, especially after her husband was released. This calculated deceit left Ms. Hou under tremendous mental torment.
Ms. Hou endured very poor living conditions at the detention center. She was monitored by inmates around the clock and subjected to intensive brainwashing aimed to force her to renounce her faith. Her health began to decline under the tremendous pressure.
The police issued an arrest warrant for Ms. Hou on July 6, over 3 weeks after her arrest, and submitted her case to the Yilan County Procuratorate on August 15. The prosecutor twice rejected her lawyer's request to review her case document. He indicted Ms. Hou and submitted her case to the Yilan County Court on September 5.
Ms. Hou appeared in court on September 26. Presiding judge Zhang Anke told her husband on November 2 that they had determined her verdict, but refused to disclose any details.
Meanwhile, Ms. Hou began to suffer from intensive pain in her lower abdomen, heavy vaginal bleeding, as well as swelling in her legs and feet. She fainted several times from the pain, but was denied proper medical care at the detention center.
On November 27, Judge Zhang announced that Ms. Hou was sentenced to two years in prison with a 10,000-yuan fine. He also threatened her, trying to intimidate her from exercising her legal right to appeal the verdict.
Ms. Hou was sent to Harbin Women's Prison to serve a two-year term in December 2018, despite her precarious health. A specialist soon confirmed that she had late-stage uterine cancer with metastasis.
The prison extorted 20,000 yuan in medical fees from her family and released her on medical parole.
Ms. Hou returned home on March 1, 2019. Staff members from the residential committee have come to her home every week to harass her. They are also intimidating her husband, warning him not to reveal her situation to outside sources.
Related reports:
Fangzheng County Resident Ms. Hou Lifeng Sentenced to Two Years in Prison
Falun Gong's Peaceful Resistance Efforts Around the World
Related article in Chinese: