New York: High Standards Distinguish a Parade of Nearly 10,000 Falun Dafa Practitioners Appealing to People's Conscience
May 25, 2019 | By Minghui correspondent Li Xin in New York
(Minghui.org) Nearly 10,000 Falun Dafa (also known as Falun Gong) practitioners from more than 50 countries and regions gathered in New York on May 16, 2019, for a parade that swept across 42nd Street from the east to the west side of Manhattan.
The parade featured three themes, "Falun Dafa Is Good," "Disintegrate the Chinese Communist Party (CCP) and End the Persecution," and "Support the 330 Million Chinese Who Have Quit the CCP."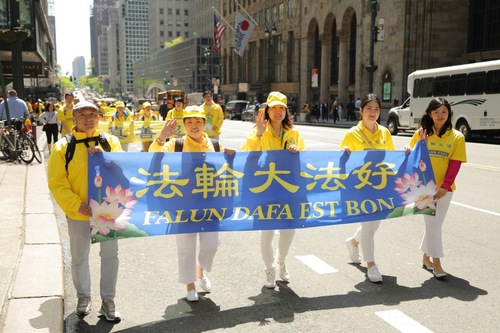 "Falun Dafa Is Good"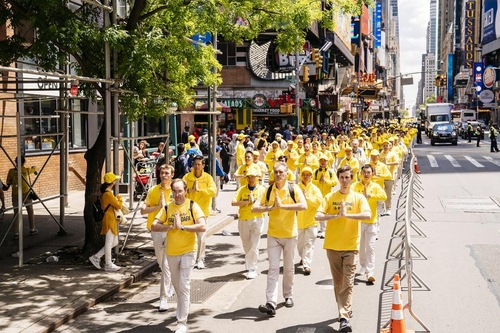 Falun Dafa exercise demonstration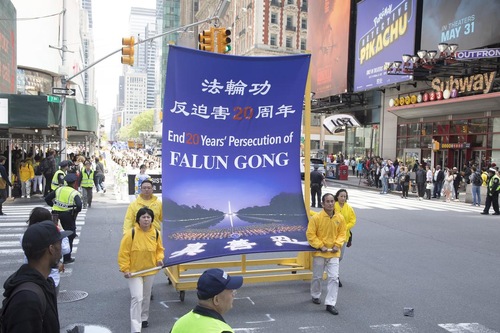 Calling for an end to the 20-year-long persecution of Falun Gong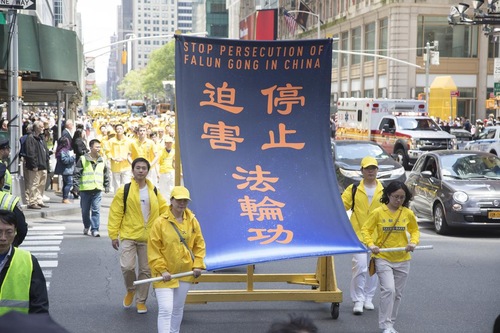 Calling for an end to the persecution of Falun Gong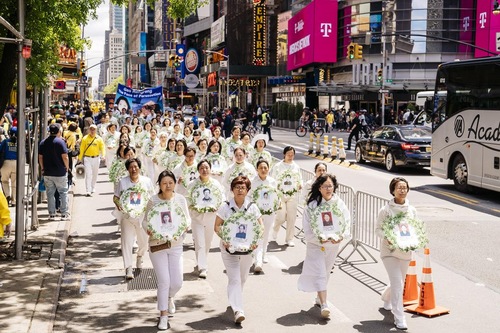 Practitioners carrying photos of practitioners who have lost their lives during the 20-year persecution in China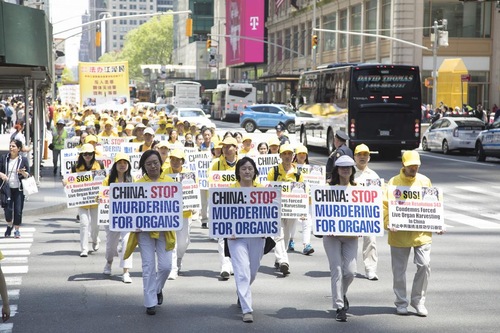 Calling for an end to the CCP's state-sanctioned forced organ harvesting
Disintegrate the CCP and end the persecution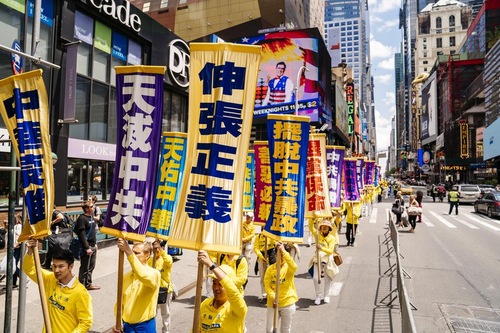 Justice Will Prevail
The parade, with the music of the Tian Guo Marching Band, the Waist Drum Team, and the Falun Dafa exercises, also featured practitioners of different nationalities dressed in their traditional clothing. Practitioners in yellow outfits demonstrated the Falun Dafa exercises. Other practitioners in white carried photos of practitioners who have lost their lives because of the CCP's persecution, and so much more. Local residents and tourists from around the world stopped to watch.
The beauty and compassion displayed by the practitioners seemed to touch people's hearts. The CCP's persecution of innocent cultivators awakened people's consciences and sense of justice, leaving them shocked and angered.
Local Resident: "Falun Dafa practitioners reach for my soul"
With tears in her eyes, Lura Meyer, a local resident, said, "It's so peaceful. One could see the beauty emanating from the inside. I feel it's all about love, because they are always looking at people and letting them feel that passionate energy. They looked into my eyes and seemed to say, 'Hi, we are here for you.' It's amazing, and it's for me.
"I live here, I just got off work, and I felt them reaching for my soul, reaching for my spirit. This is something we all need. It's calling me, like, 'We are here for you.'
"It's very, very emotional and it really touched me. I thank you guys, because a lot of us need that. A lot of us need that touch, that call, you know. Thank you!"
She took a flier and said that she would search the Internet to find out more about Falun Dafa.
Tourist from Germany: A Belief That Transcends Political Boundaries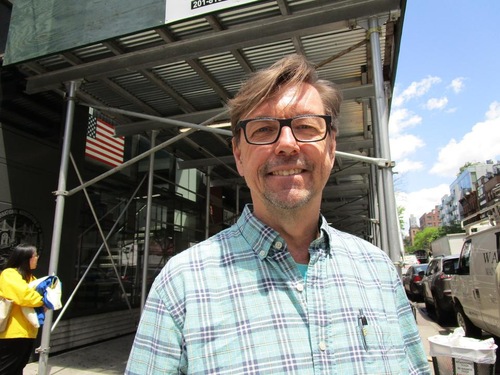 Ralph Mieder-Westermans from Germany
Ralph Mieder-Westermans from Germany said that he had heard about the persecution of Falun Dafa practitioners in China years ago. He lives near the Chinese consulate in Frankfurt and has often seen Falun Dafa practitioners' peaceful protest from across the street.
He said the persecution in China was "horrible:" "It's what dictators do, they don't want anybody to enjoy life, even if it is peaceful."
He was happy to see Falun Dafa practitioners hold this kind of activity, because he thought it was "very important." "It's important to be seen," he said. "It's important for people to see how widespread it is. It's also important to see that it's a faith, a belief practiced in many different countries, it's not just limited to China. It is practiced all over the world."
Local Resident: "They Look Content and Happy"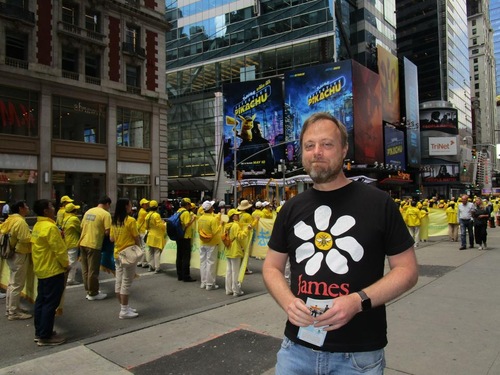 Jerry Gillespie works for a music company in New York.
Jerry Gillespie thought that the Falun Dafa parade was "peaceful" and "beautiful." He said he had heard of Falun Dafa and was sorry that the practice is being persecuted in China.
"I feel that it is a peaceful group," he said, "and they are nice people. Looking at their faces, they seem content and happy. So it's nice to see, it's happy. It's a good demonstration. I love the boat."
When he learned that the Chinese communist regime harvests organs from living Falun Dafa practitioners, he said, "That's horrible, disgusting. There are no other words for forced organ harvesting. It's extremely upsetting. It is just like the middle ages. It's barbaric and horrifying. It's very sad."
Spectators: We Support You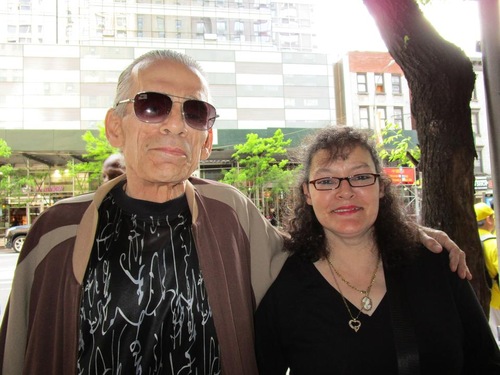 Mr. and Mrs. Tufano
Mr. and Mrs. Tufano chatted with practitioners as they watched the parade and learned about the persecution, including the forced organ harvesting, which upset them. Mrs. Tufano said that it was good to raise awareness. "If you don't know what's going on, you can't do anything about it," she said. "Awareness is a good thing. I didn't know, now I do. I think that forced organ harvesting is just horrible!" Mr. Tufano said that steps should be taken to stop it. "It's genocide," he said.
Mr. Tufano commented, "When I found out what [the parade was about], I thought, 'Yes, it's a great thing. I am for you.'" "I'm for it, definitely," Mrs. Tufano said.