Australia: Queensland Practitioners Celebrate World Falun Dafa Day
May 24, 2019 | By a Minghui correspondent in Queensland
(Minghui.org) Australian Falun Dafa practitioners from the state of Queensland held activities at King George Square in Brisbane's city center on May 12, 2019 to celebrate the 20th World Falun Dafa Day.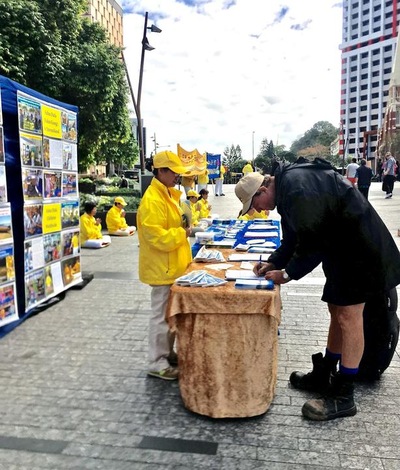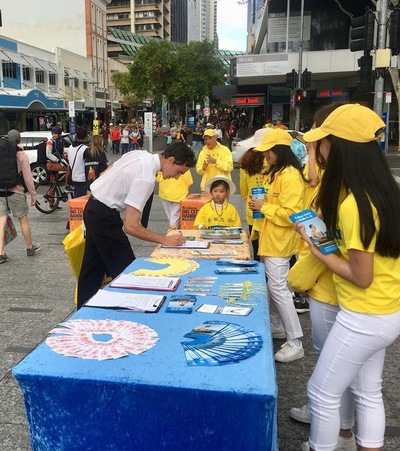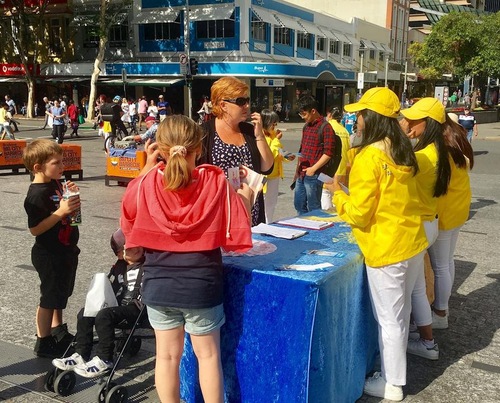 Practitioners held activities to celebrate World Falun Dafa Day.
The activities took place from 10:00 a.m. to 3:00 p.m. Practitioners demonstrated the exercises and displayed colorful banners with information about the practice. Several people stopped to learn more about Dafa and signed a petition calling for an end to the persecution in China.
A dozen local politicians sent letters expressing support for the occasion. Dr. Christian Rowan, a local Member of Parliament, wrote: "Falun Dafa practitioners are a peaceful local organization guided by the principles of Truthfulness-Compassion-Forbearance. Many Queenslanders and other Australians highly commend the practice's positive tradition. I sincerely hope Queensland practitioners have an unforgettable celebration."
Ms. Larissa Waters, a member of the Australian Senate, also sent a congratulatory message expressing her admiration for Falun Dafa practitioners' persistent efforts in using peaceful means to resist the suppression of the practice in China.
A Teacher Learns the Falun Dafa Exercises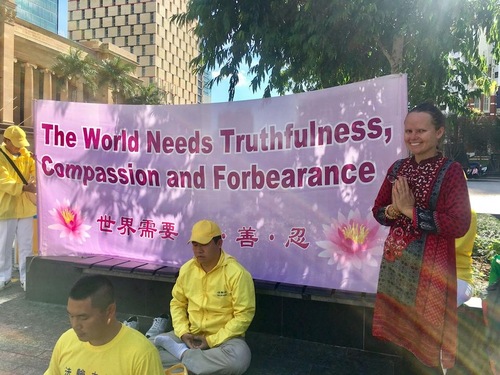 A teacher named Stephanie expresses support for Falun Dafa.
A teacher named Stephanie from Townsville was attracted by how peaceful the practice is and decided to learn the exercises. After practitioners taught her the five sets of exercises, she stayed to practice the movements. She first heard of Falun Dafa two years ago when she was in India. Stephanie said she feels a strong energy field while practicing Falun Dafa. She hopes more Chinese will know the truth about Falun Dafa.
Young People Show Their Support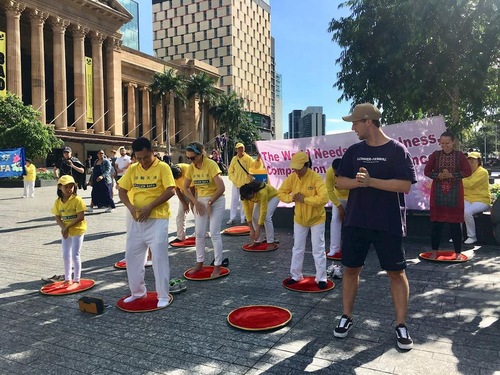 Australian Isaac Williams (right) learns the exercises.
Isaac Williams, a young Australian, saw practitioners' exercise demonstration from afar and came over with a friend to learn more about it. Encouraged by practitioners, he joined in to learn the exercises. He was shocked to learn that the practice is suppressed in China and expressed support for efforts to end the persecution.
A young man from Brazil shows his support for Falun Dafa.
A young man from Brazil who loves Chinese martial arts took a brochure from practitioners and stopped to get further information. He was very sad when told that people in China are tortured for practicing Falun Dafa and asked what he can do to help. He signed a petition to help stop the persecution and hopes Chinese people know Dafa is supported by many people overseas.
Western Couple Shocked by Atrocities in China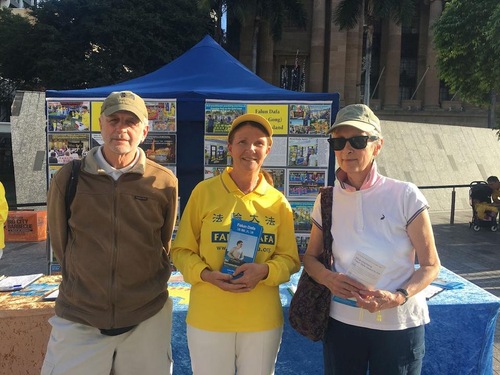 A Western couple shows their support.
Jan and Jim recently moved to the Australian state of Queensland from the city of Melbourne. They walked past King George Square that day and were attracted by the exercise demonstration. After speaking to a practitioner, they showed interest in learning the exercises and said they could feel the energy and peacefulness of Dafa.
A Chinese practitioner told them about the torture her father went through for practicing Falun Dafa in China. They were very sympathetic and hoped that her father will come to Australia one day where he is free to pursue his belief.
Chinese Residents Renounce Their Chinese Communist Party Membership
A Chinese student named Hu accepted a brochure from practitioners. He heard about the self-immolation incident and wanted to know more about Falun Dafa. When told the Chinese regime spread a lot of lies to justify the persecution in China, he decided to renounce his Young Pioneers and Youth League membership in the Chinese Communist Party (CCP) on the spot.
Another young man from China named Jiang watched the event for some time. He told practitioners he did not know much about Dafa, but he knew the Chinese regime killed many students during the Tiananmen Square massacre. Practitioners asked him to renounce his membership in the CCP and he agreed.
A woman from Tibet walked past the Falun Dafa display. She told practitioners she was very fortunate to leave China at the age of 13 and was granted asylum in Australia. She joined the Young Pioneers when she was young and agreed to renounce her membership. She hopes that one day people like her who have been persecuted in China will be able to return and be reunited with their family.