Falun Gong Practitioners' Formation of Large Falun Emblem in New York Commended
May 24, 2019 | By Minghui correspondent Hua Qing and Ying Xin
(Minghui.org) Falun Gong practitioners from around the world gathered on Governor's Island in New York City to form a large Falun emblem and the Chinese characters of Truthfulness-Compassion-Forbearance on Saturday, May 18, 2019. The scene was solemn and impressive.
Governor's Island is located about half a mile south of Manhattan. The entire lower Manhattan skyline can be seen from the island, and it is a well-known tourist attraction accessible only by a ferry, which travels across New York Harbor from southern Manhattan.
Falun Gong practitioners character formation required a total of 5000 people to sit in position wearing colored rain jackets or yellow T-shirts, sun hats and white pants. The weather was particularly warm during the activity this year, and as practitioners waited in the midday sun for media photographers and the videographer with his drone to get the best shots, many practitioners found that their plastic rain jackets had become like mini sauna suits. Despite the heat, practitioners waited patiently, knowing that the images would be particularly stunning this year, as this was the largest-scale formation ever attempted in North America, and it would soon be seen by people all around the world.
The peaceful ambiance and striking look of the large-scale activity caught the attention of many tourists and visitors, who lingered at the periphery of the Falun and character formation to watch, as the videographer's drone flew up into the sky.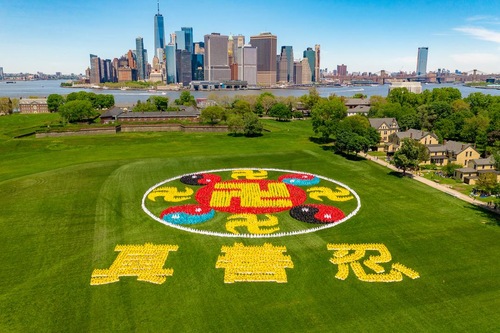 Falun Gong practitioners form a Falun emblem and the Chinese characters of "Truthfulness-Compassion-Forbearance" on Governor's Island in New York City on May 18, 2019.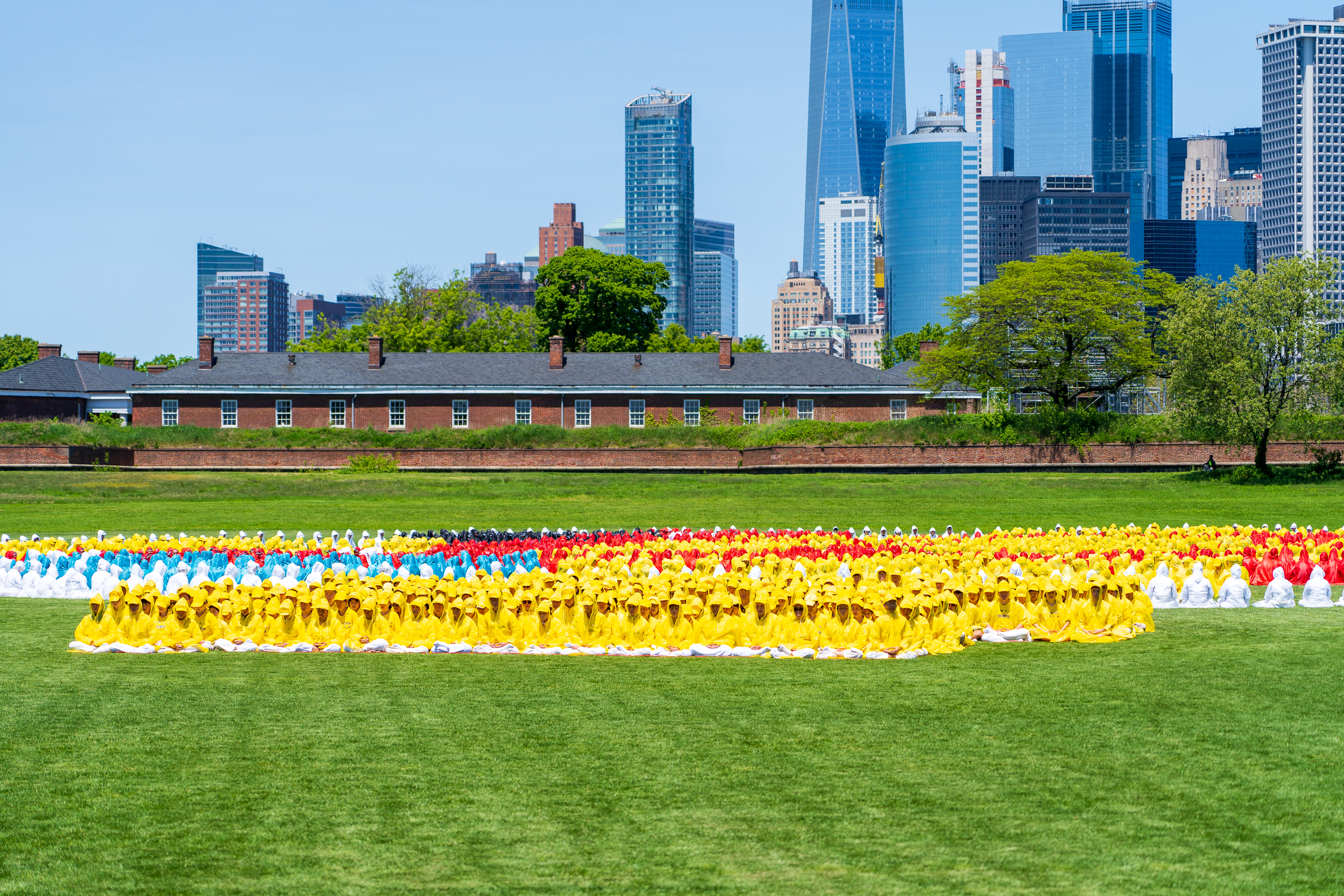 Falun Gong practitioners line up to form the characters.
Professional New York Designer for Large Events Amazed at the Character Formation
After learning about the practitioners' formation of the Falun emblem, Robert Cannon, a professional designer and project manager for large-scale event planning in New York, said: "It looks so beautiful! Very perfect design!"
He said that under such a beautiful blue sky and clouds, the yellow T-shirts against the green lawn, and the New York high-rise buildings in the background, all complemented each other.
He exclaimed that it was amazing for 5000 people to form the characters together.
"This work is so exquisite, beautiful, and very interesting. It is amazing that the people involved can fulfill their promise," he said.
He also said he was surprised to see such a beautiful scene. He thanked Falun Gong practitioners for presenting this beauty and energy in New York City. He said he was a professional event planner, so he knew the tremendous hard work the practitioners had done to put together the activities.
He commended the organizers, saying they were absolutely professional. He said, "It is hard to bring so many people together at a short time. But they did a great job! Very good!"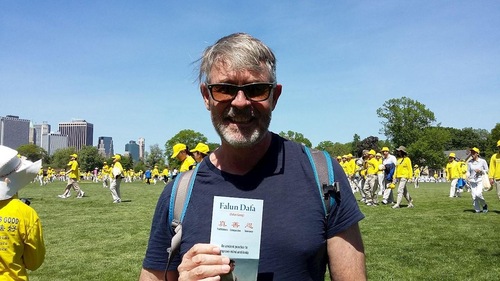 Robert Cannon, a professional designer and project manager for large-scale event planning company in New York.
The Perseverance of Practitioners Touches New Yorkers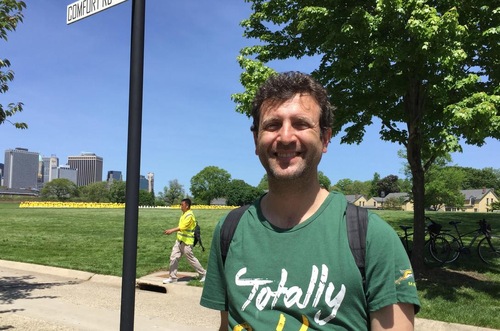 Spectator Ed Malin
Ed Malin, a contract negotiator for Morgan Stanley, paused at the scene. He told reporters that he had a good understanding of Falun Gong. "I know that Falun Gong is a very peaceful practice," he said.
He said he knew that the Chinese Communist Party (CCP) had put out a lot of defamatory propaganda. But what he saw here was a peaceful gathering of Falun Gong practitioners, and everyone was so cohesive. He said he was very interested in Falun Gong after learning about its principles.
Neil is a teacher. He said in an interview that although he did not know much about Falun Gong, one should keep his belief in Truthfulness-Compassion-Forbearance. He learned that Falun Gong practitioners had stayed for more than two hours under the hot sun. He admired them and remarked, "I am very impressed! It is incredible! It must be a lot of dedication! Very enthusiastic input and great endurance."
When told that Falun Gong practitioners are persecuted in China and were so steadfast in their faith while appealing for their basic rights, he said, "It's amazing! I'm very happy to know that. I once thought that when teaching students to learn about China, that I must teach them to learn about Falun Gong."
Relevant article in Chinese: New Yorkers Praise the Effort of Practitioners in Formation of the Emblem and Characters