Falun Dafa Changes Lives For The Better
May 23, 2019 | By Li Xiao, a Minghui correspondent in New York
(Minghui.org) It was a sunny day on May 15, 2019, and Falun Dafa practitioners from around the world gathered on Governors Island in New York to demonstrate the exercises, promote the health benefits of the practice, and most importantly form a giant Falun emblem and the Chinese characters for "Truthfulness-Compassion-Forbearance."
Falun Dafa is a meditation system that teaches practitioners to follow the principles of Truthfulness-Compassion-Forbearance. It is now practiced by over 100 million people in more than 100 countries.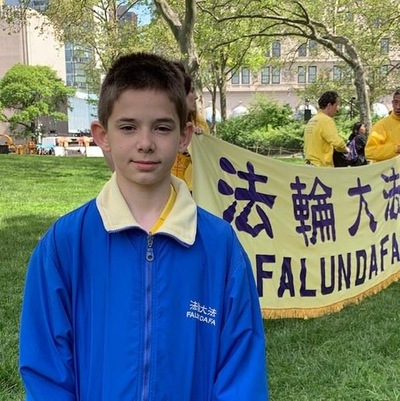 Nykyta Pryma from Ukraine.
Hundreds of practitioners from Europe demonstrated the five sets of peaceful exercises in Battery Park, near the entrance to the ferry to Governors Island.
Eleven-year-old Nykyta Pryma from Ukraine was busy giving out Falun Dafa pamphlets to passersby in the park. He said he became a practitioner when he was little. According to him, practicing Falun Dafa was something he wanted to do and was not forced on him by his parents.
"It gives a person a healthy body and improves his spiritual world," Nykyta said. "My father had heart disease and a month after he picked up the practice the disease went away. I know that a heart problem doesn't just go away. The principles also allow me to know how to become a better person."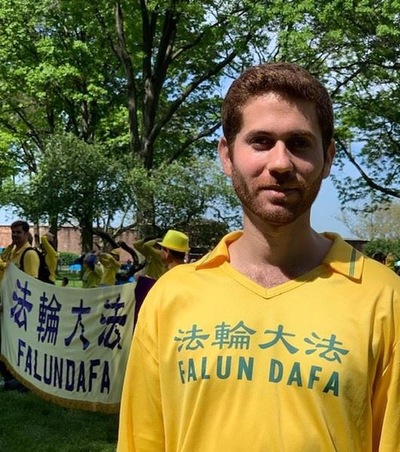 Nitzan Peled from Israel.
It's been three years since 27-year-old Nitzan Peled from Israel first started practicing Falun Dafa. Before that, the young man couldn't find his purpose in life. He often smoked cigarettes, drank heavily, and beat up his younger brothers. He suffered a lot and even thought about becoming a monk. He was given a Falun Dafa flyer in Jerusalem, and it changed his life.
"Before I practiced, my left shoulder hurt a lot for years. The pain disappeared the first time I did the exercises. Although it came back later, I believed Falun Dafa was a good practice," Nitzan said.
The greatest change Nitzan experienced after practicing was a significant improvement in his relationships with his family members.
"My interactions with my parents improved. My relationship with my brothers became much better. I often beat my younger brothers before I became a practitioner. Now my parents are very grateful for Falun Dafa, because of the changes they saw in me. They are proud of me and came to New York with me this time," he said.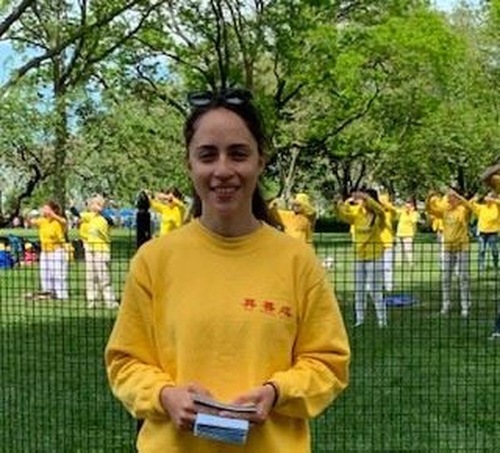 Juana U. Sandroz from Spain.
Juana U. Sandroz has been a practitioner for four years. Before that, her life was a mess, and she had a lot of bad habits. She met a practitioner who taught the Falun Gong exercises in an alternative community and was impressed.
"She was about my age, and I remember her vividly," Juana said. "She never drank or smoke a cigarette, which was amazing, especially for a person living in that area. I began to read Zhuan Falun online."
Juana experienced dramatic changes mentally and physically after she learned Falun Dafa. Her family was in disbelief.
"I went back home to live with my family and finished school. They saw the changes I made and thought that Falun Dafa was a miracle. I started smoking when I was 13 and my mother was so happy knowing that I quit. She always said that she was so grateful to Master Li," she said.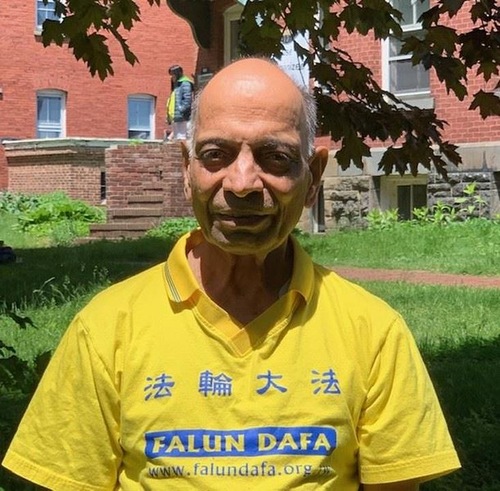 Falun Dafa turns Ramachandran Naidyanath's world around.
Ramachandran Naidyanath participated in the character formation activity on Governors Island. He grew up in a poor family in India. He worked hard and finally became a personal assistant to the then Indian Prime Minister. He was later sent to the United Nations and became a Canadian resident in 1968. Back then the only thing he cared about was making money by any means, and no one could change his mind. One day, his wife recommended the Falun Gong nine-day lectures to him. He signed up immediately because it was free. "It was free and I had to have it. It was the kind of person I was," he said.
A month after Ramachandran became a practitioner, his son and daughter visited him. They were shocked to find that he wasn't fighting with their mother. "What happened in this house and why is he so quiet and not fighting with you?" the children asked their mother. After they knew the reason, they became Falun Dafa practitioners.
Ramachandran is 83 years old and said he cherished the opportunity to come to New York, "It's an amazing opportunity because we got to see Master. It's not easy for me, but I did it."