San Francisco and Toronto: Parades in Celebration of World Falun Dafa Day
May 21, 2019 | By Minghui correspondents
(Minghui.org) Falun Gong practitioners from two North American cities, San Francisco and Toronto, held parades on Saturday to celebrate the 20th annual World Falun Dafa Day and the 68th birthday of Master Li Hongzhi, the founder of Falun Gong (also called Falun Dafa).
San Francisco
Practitioners started the celebration at 9 a.m. with group exercises in front of the Ferry Building. The parade started at noon. Led by the Tianguo Marching Band, practitioners performed traditional Chinese dance, demonstrated the exercises, and displayed banners that conveyed Dafa's message of Truthfulness-Compassion-Forbearance and exposed the brutal persecution in China.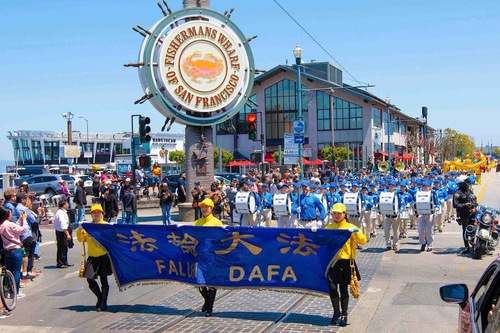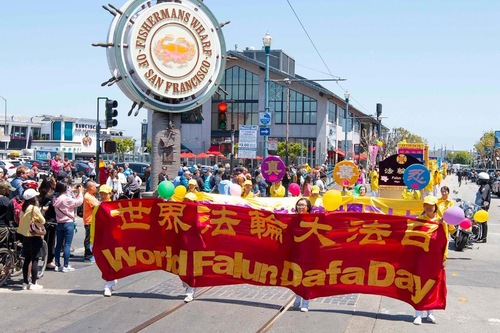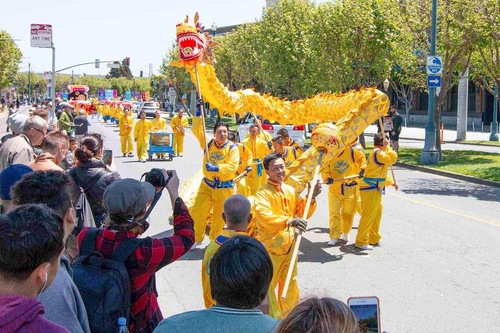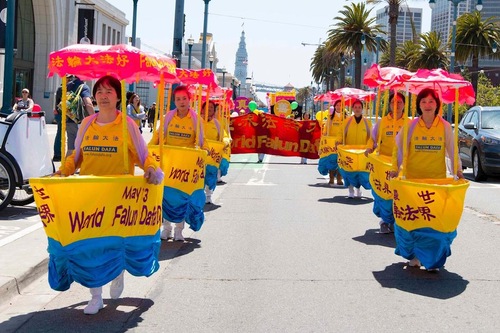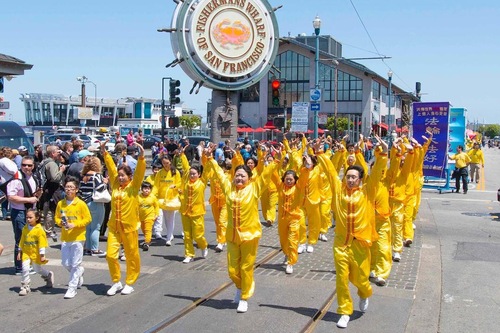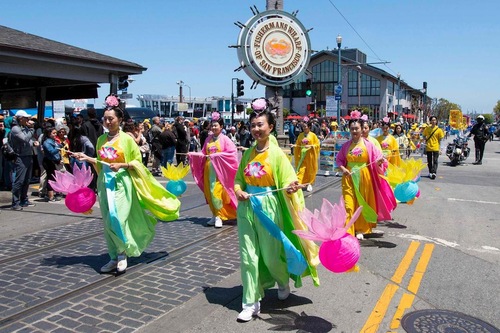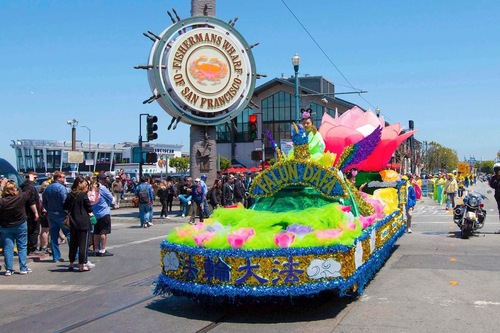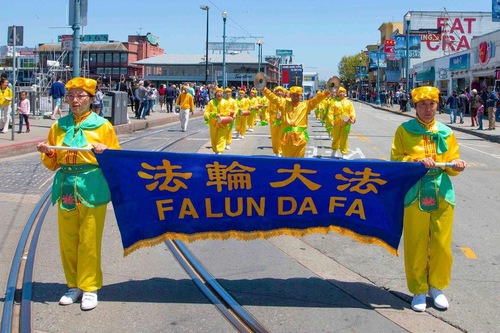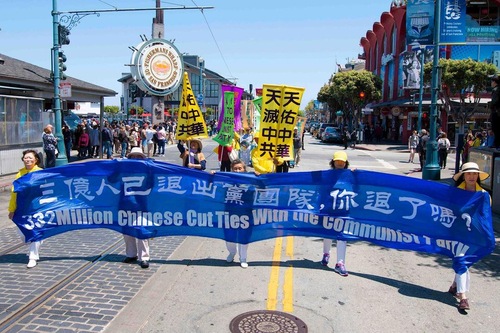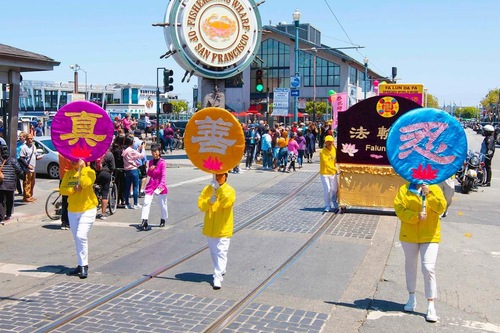 The Falun Gong parade in San Francisco in celebration of World Falun Dafa Day.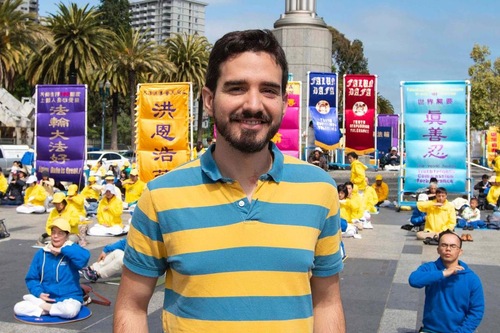 Alejandro Machado hopes that he can help bring an end to the persecution.
Alejandro Machado, a computer engineer, had never heard of Falun Gong. The celebration attracted him. "It is so peaceful and beautiful," he said. He was not surprised about the persecution in China.
"It is the communist party. In my home country, Venezuela, the communists are similar, although they are not as bad as the Chinese Communist Party," he said. "I cannot believe they persecute such a peaceful group. It is horrible. More people should know about it." He believes that today's event is very important for raising public awareness of the persecution.
Alejandro said upon leaving, "Falun Gong looks very peaceful. Their guiding principle, Truthfulness-Compassion-Forbearance, is great. I want to learn it too."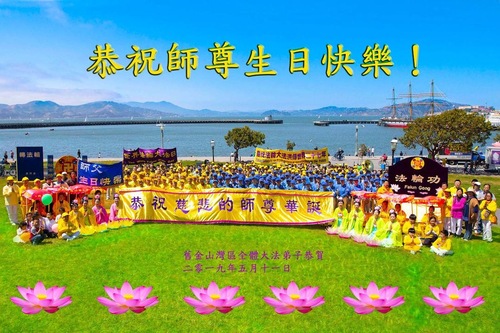 After the parade, practitioners assembled at Maritime Garden to wish Master Li a happy birthday.
Toronto
A 2.5-hour parade in Toronto was held in the busiest financial and business district in town.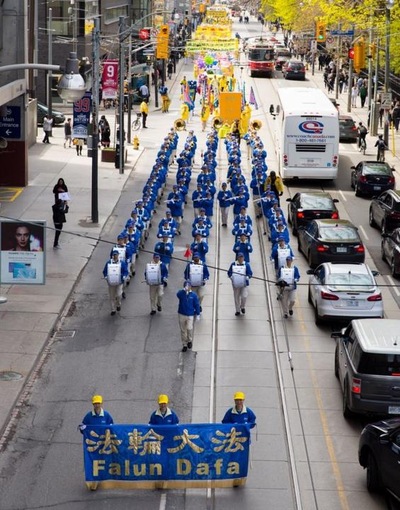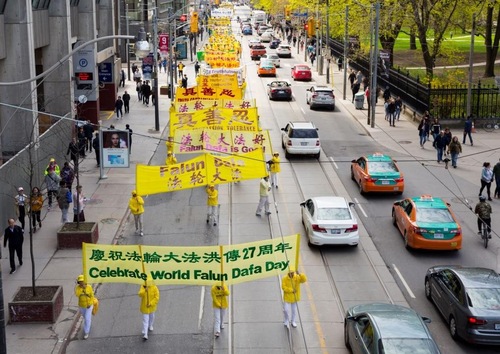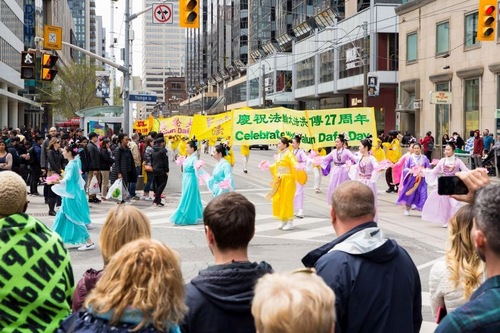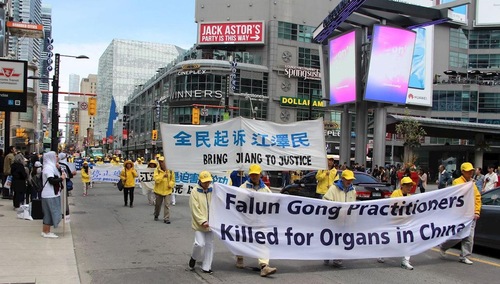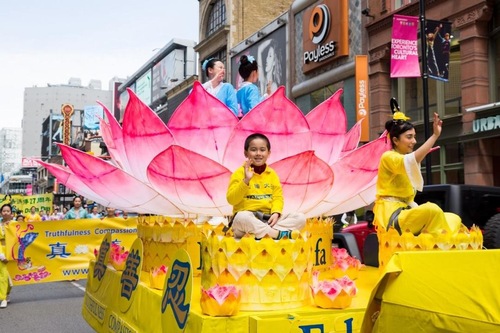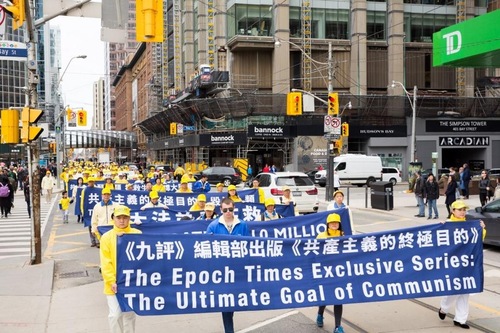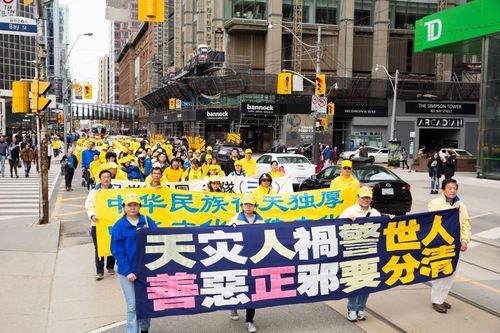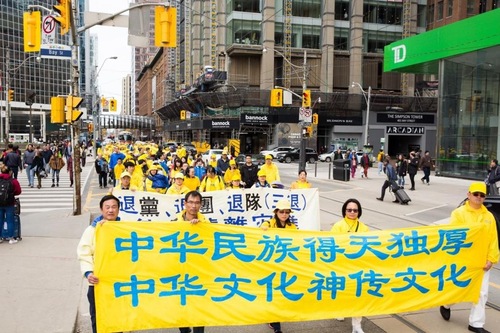 The Falun Dafa Day parade in Toronto.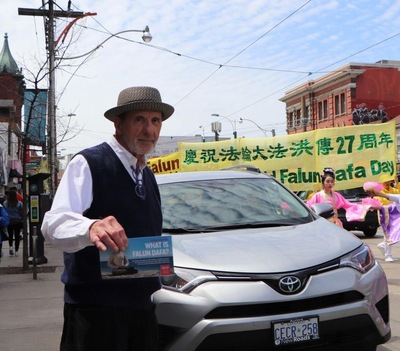 Retired engineer Earl has been supportive of Falun Gong. "This is a wonderful parade. Their display is beautiful, and their protest is peaceful," he said.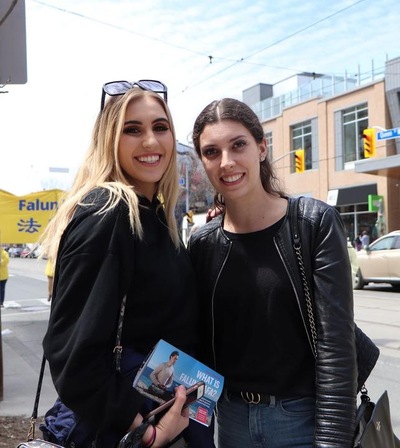 Shanti (right) and her friends cannot believe that such a peaceful practice has been persecuted in China. They wanted to hear more about it.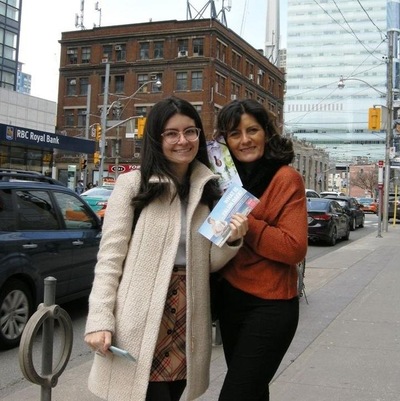 Camila Berez and her mother Nuvia highly praised the parade. "Everybody in the parade seems to work so well with each other. It is perfect. Falun Dafa is great. It connects many beautiful things together through meditation."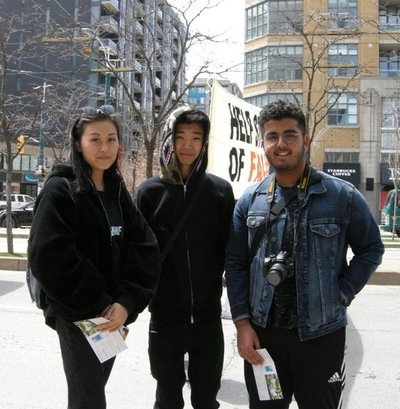 Saad (on right) and his friends believe that Truthfulness-Compassion-Forbearance is the universal principle and Falun Gong practitioners should have freedom of belief in China.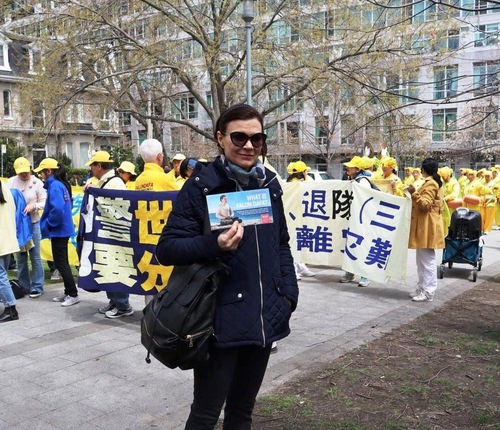 Oxana saw a similar parade last year. "This is a great parade," she said. "When I watch it, I feel energy. It is an amazing feeling."
Oxana from Russia said, "I am familiar with Falun Gong. Actually I started practicing it myself at home two years ago. I have seen changes in my life. Every time I read the Falun Gong book, I find some answers to my questions."