Australia: Elected Officials Send Congratulatory Letters to Mark World Falun Dafa Day
(Minghui.org) Falun Gong, also known as Falun Dafa, was made public first in Changchun, Jilin Province, China on May 13, 1992, by its founder Mr. Li Hongzhi. Since then, the practice has spread to over 100 countries.
May 13 was declared "World Falun Dafa Day" in 2000. On the occasion of the 20th Falun Dafa Day and also the 68th birthday of Mr. Li, elected officials in Australia sent congratulatory letters to celebrate World Falun Dafa Day and commend Falun Dafa.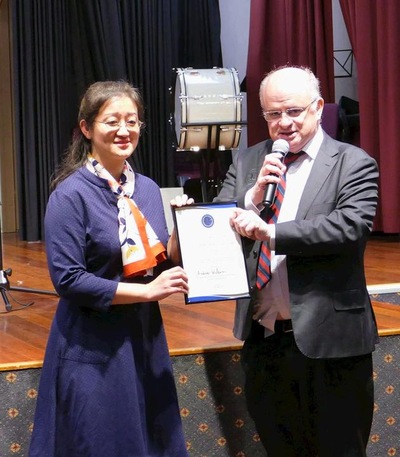 Lord Mayor Andrew Wilson of the City of Parramatta hands his letter of recognition to Dr. Zhao, Director of the Australia Falun Dafa Association.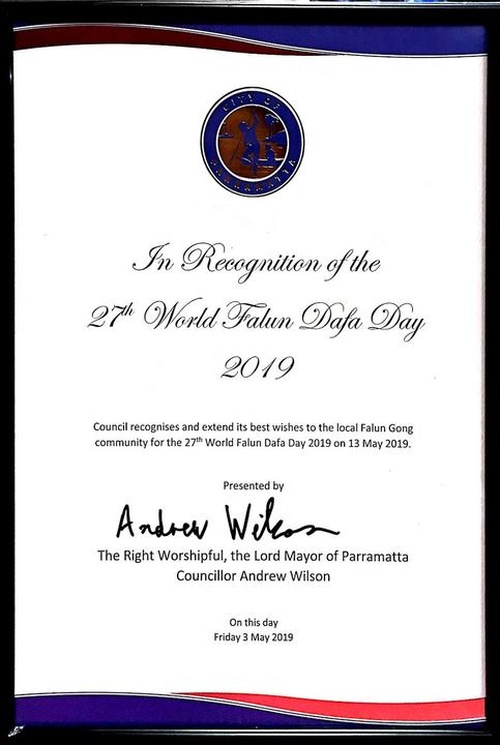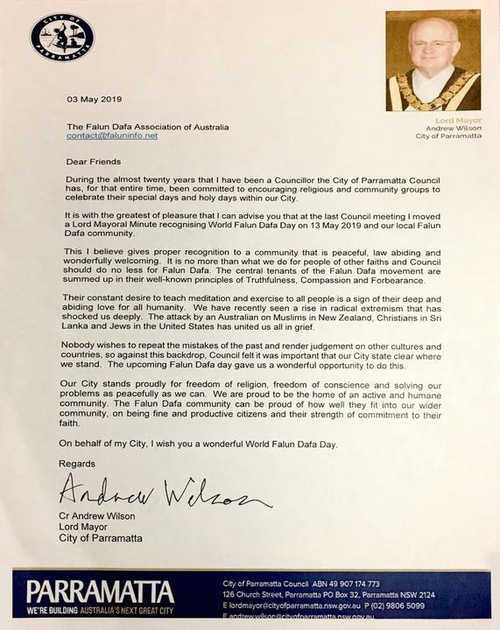 Recognition and letter from Mayor Andrew Wilson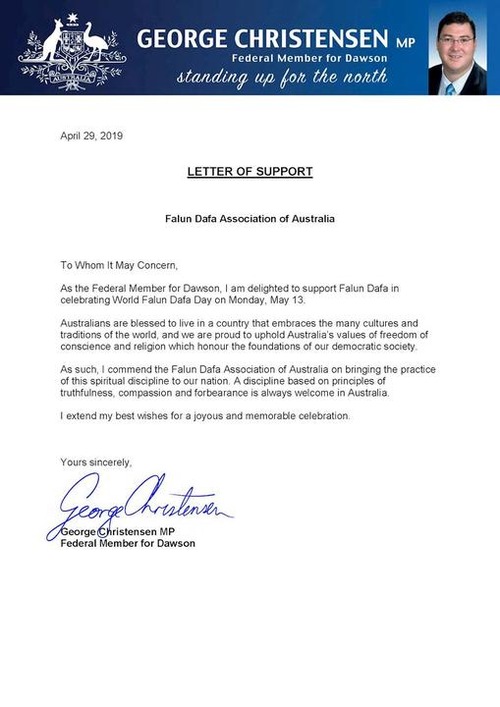 Letter of Support from Federal Member of Parliament (MP) George Christensen of Queensland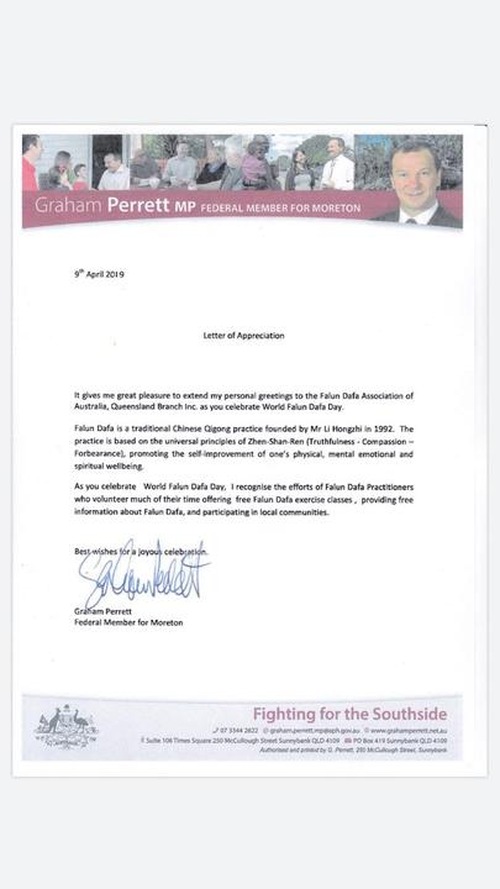 Letter of appreciation from Federal MP Graham Perrett for the Moreton District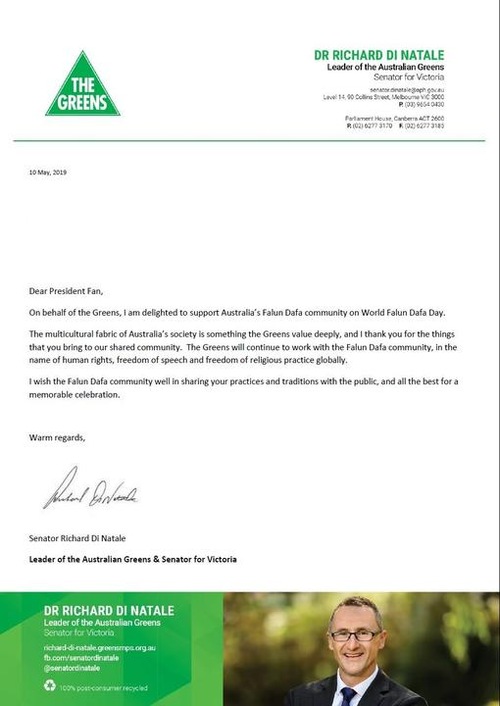 Letter from Senator Dr. Richard Di Natale for Victoria, Leader of the Australian Greens
Letter from State MP Cindy McLeish for Eildon, Deputy Leader of the Liberal Party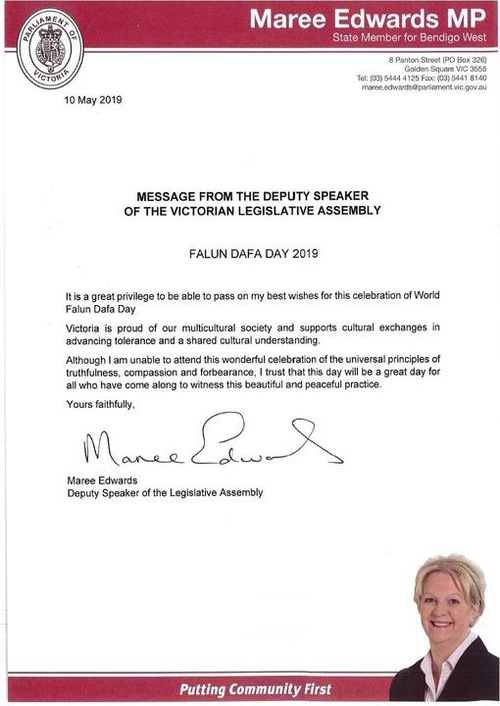 Letter from Deputy Speaker Maree Edwards of the Legislative Assembly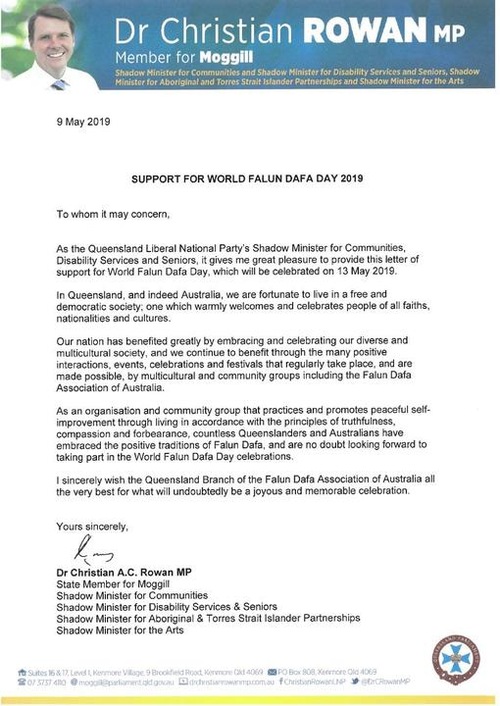 Letter from MP Christian A.C. Rowan
Letter from Federal MP Scott Buchholz for Wright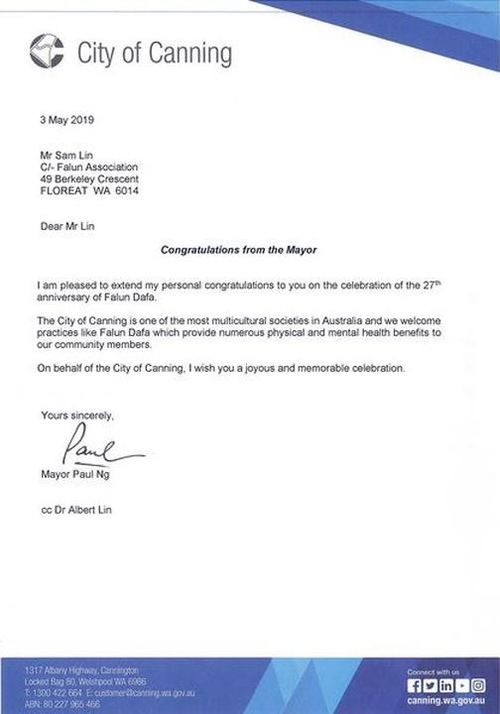 Congratulation from Mayor Paul Ng of the City of Canning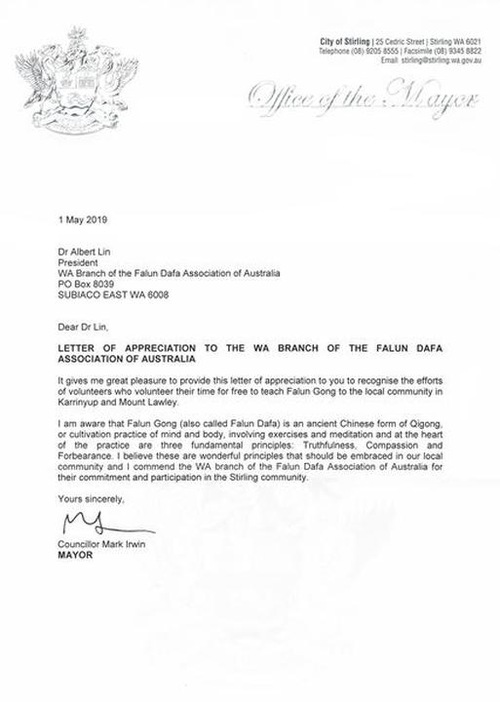 Letter from Mayor Mark Irwin of the City of Stirling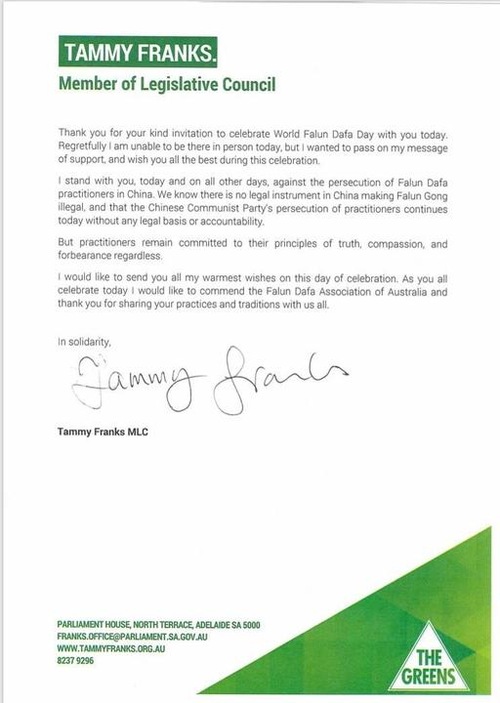 Letter from Tammy Franks, Member of the Legislative Council of South Australia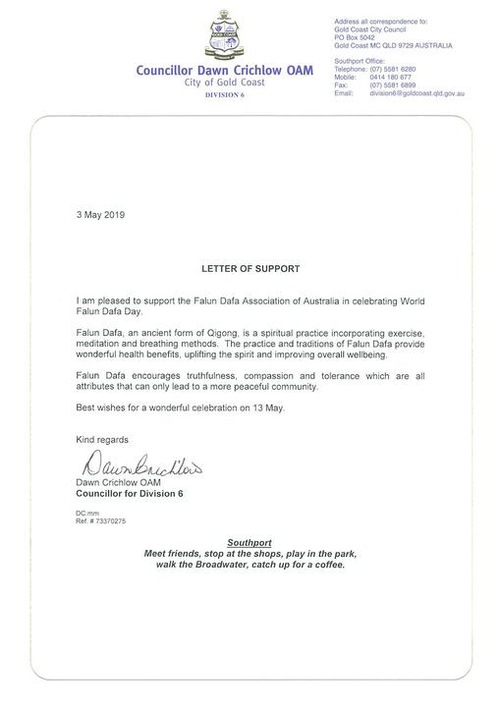 Letter from Councilor Dawn Crichlow of the City of the Gold Coast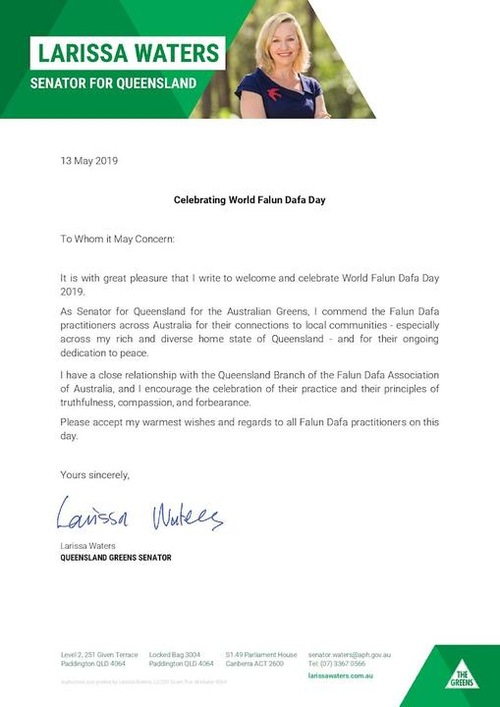 Letter from Federal Senator Larissa Waters for Queensland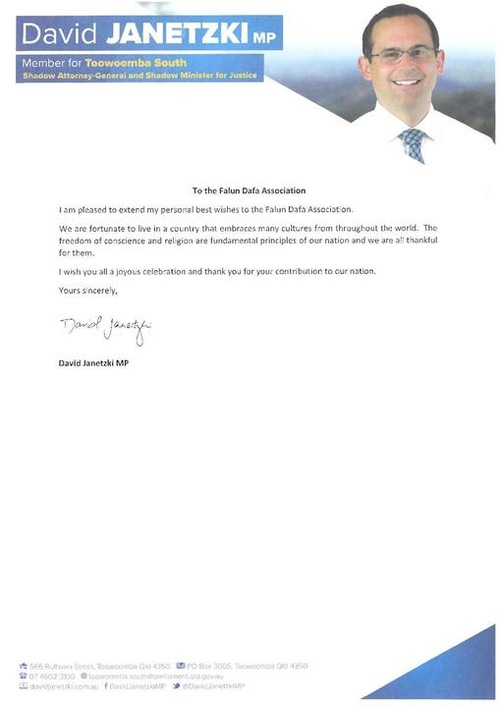 Letter from MP David Janetzki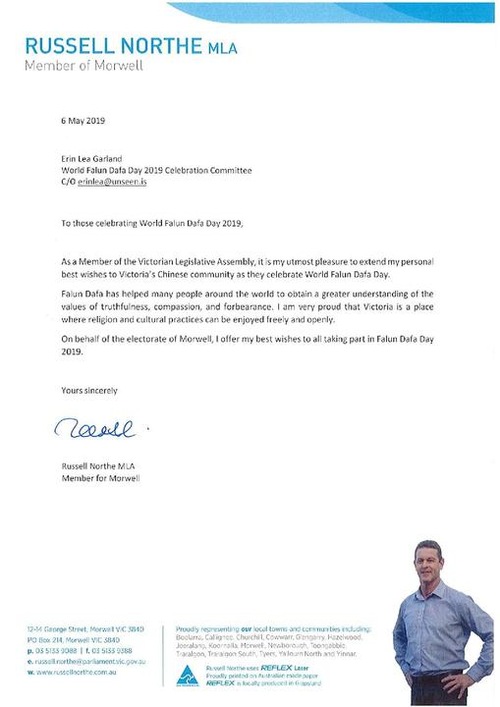 Letter from Russell Northe, Member of Morwell
Letter from MP Jim McDonald for Lockyer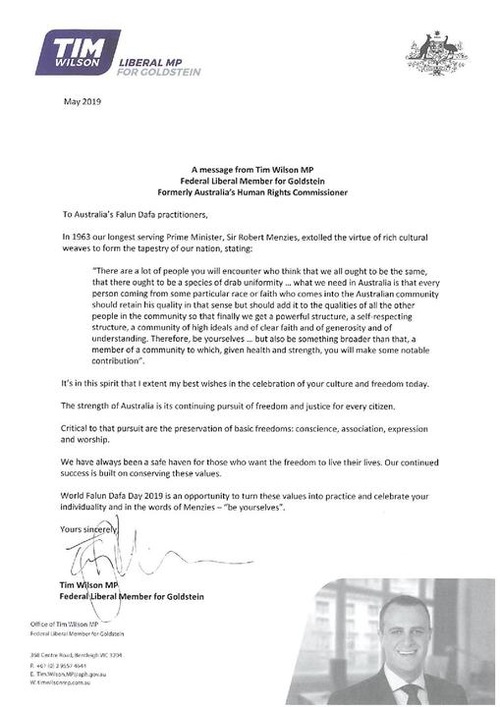 Letter from MP Tim Wilson for Goldstein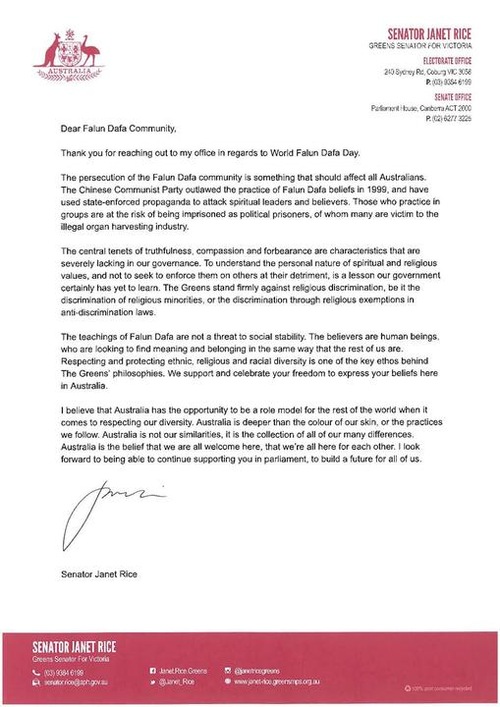 Letter from Senator Janet Rice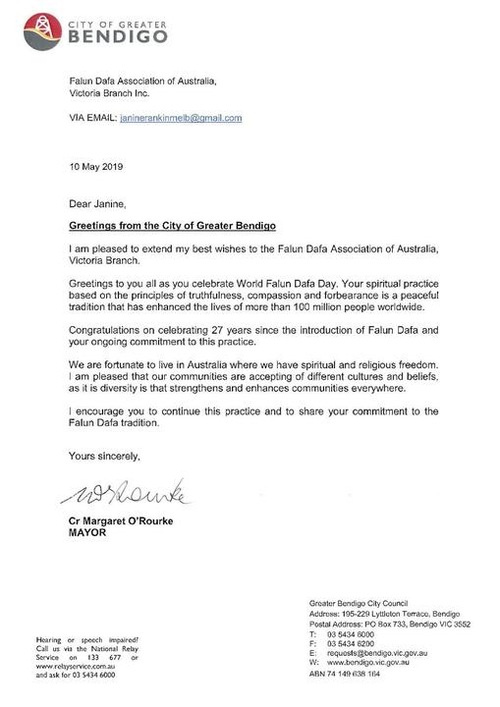 Letter from Mayor Margaret O'Rourke of Greater Bendigo
Letter from Acting Mayor Darren Everard of Fraser Coast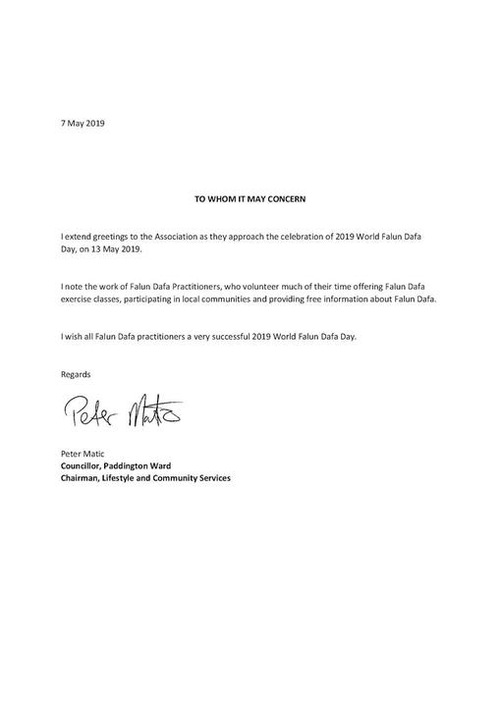 Letter from Councilor Peter Matic of Brisbane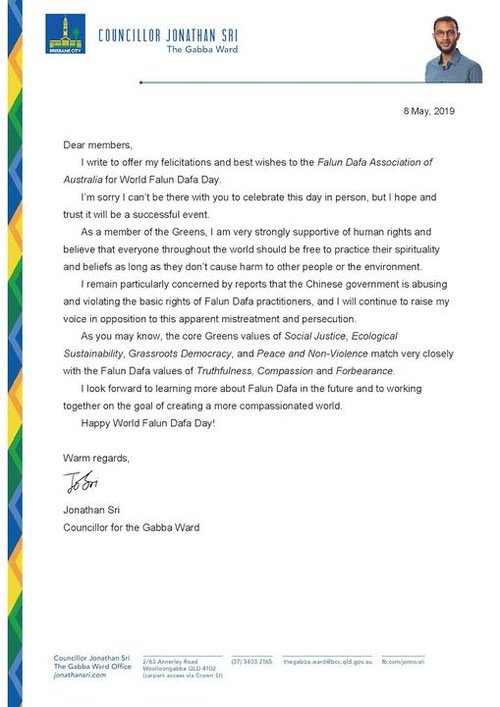 Letter from Councilor Jonathan Sri of Brisbane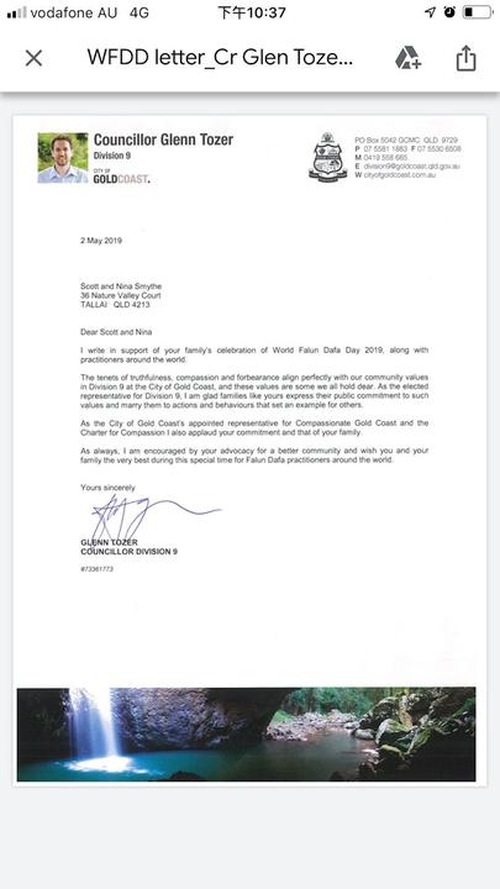 Letter from Councilor Glenn Tozer of Gold Coast
Letter from Councilor Paul Golle of Redland City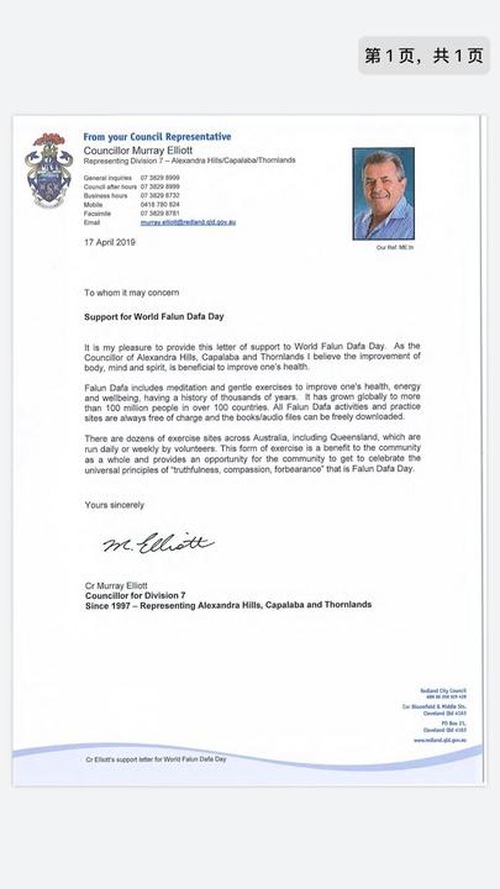 Letter from Councilor Murray Elliott of Redland City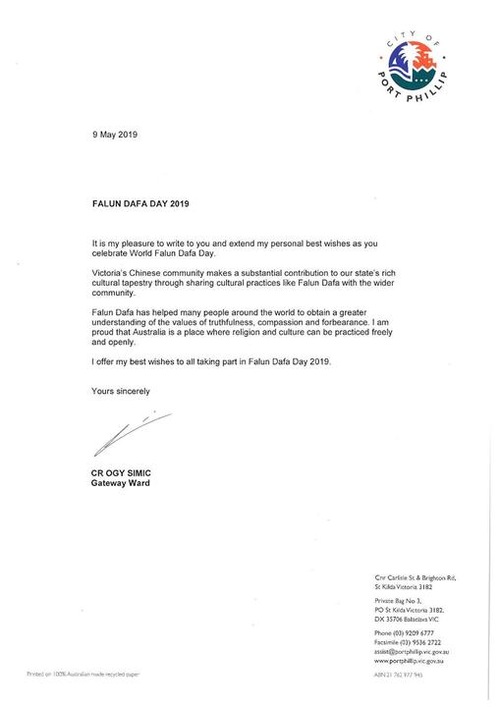 Letter from Councilor Ogy Simic of Port Phillip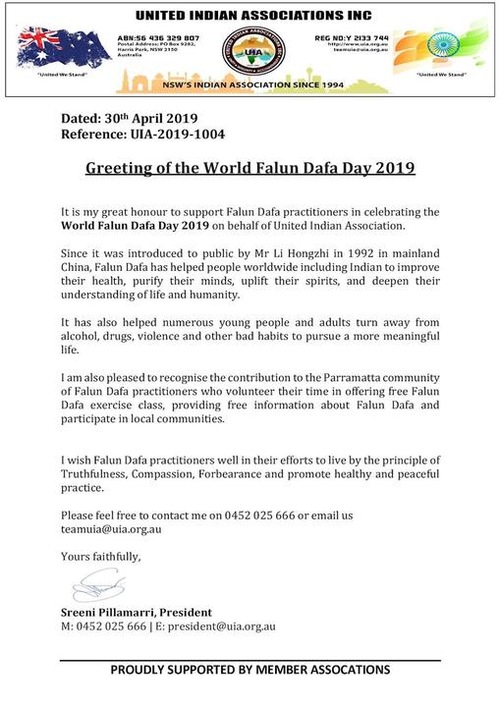 Letter from President Sreeni Pillamarri of the United Indian Association Inc.
Related articles in Chinese: Australia (2)