Practitioners and Supporters in Central Taiwan Celebrate World Falun Dafa Day
May 18, 2019 | By Minghui correspondents Xia Jun, Liu Wenxin, and Li Weian
(Minghui.org) Falun Gong practitioners and supporters in Taiwan's Yunlin County held a performance and a rally at a famous tourist spot over the weekend. They were celebrating the 27th World Falun Dafa Day and the 68th birthday of Master Li Hongzhi, the founder of the self-cultivation practice.
Local lawmakers, community leaders, and entrepreneurs attended the celebration and praised the positive impact that Falun Gong has had on their communities and society as a whole.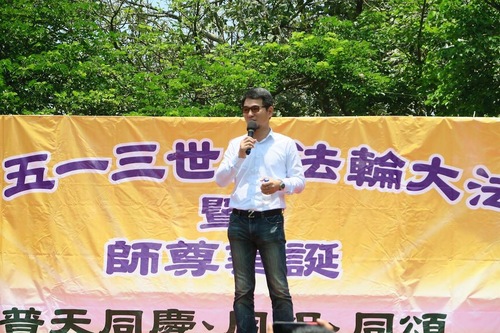 Legislative member Liu Jianguo expressed his support for Falun Gong's peaceful resistance. He said the celebration event radiated a kind of energy that "calms people down."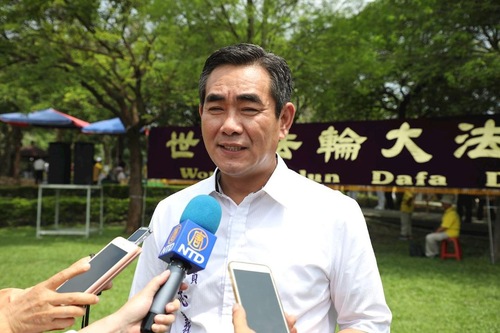 Yunlin County Council member Yan Zhongyi believes that Falun Gong's teachings of Truthfulness-Compassion-Forbearance purify people's souls and that the power of belief promotes harmony. He condemned the persecution of Falun Gong in China.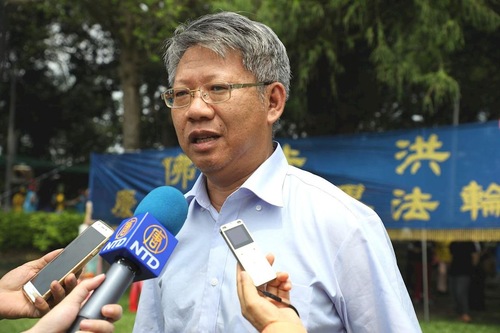 Huang Dengshi, a famous calligrapher, applauds practitioners' efforts to promote traditional Chinese culture. He also believes that cultivating one's mind helps to maintain social stability.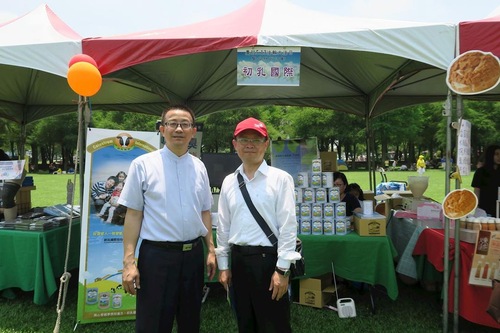 Wu Chunshen, a local entrepreneur, said that Falun Gong is like a stream in the desert. "All the practitioners I know are very positive. They have high moral standards and contribute a great deal to the society," he said. "I would tell those who don't know about Falun Gong that, if you want to cleanse your mind and improve yourself, Falun Gong is a good choice."
Cultivating Falun Gong Purifies souls
Many practitioners shared their experiences of cultivating Falun Gong at the event.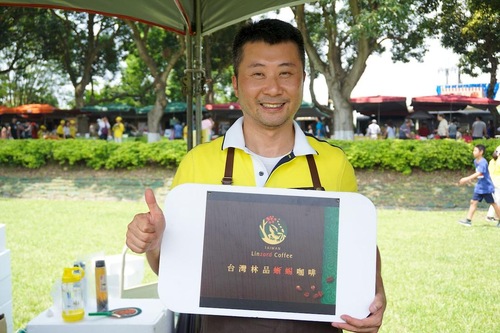 Lin Yongfeng, sales manager for the Linpin Coffee company
Lin Yongfeng is the sales manager for the Linpin Coffee company and also a Falun Gong practitioner. He recalled how he started practicing:
"The first time I did the exercises, I felt a strong flow of energy going through my whole body and my whole body became lighter. I also quit many bad habits, such as drinking."
Local businessman Mr. Wang also talked about how he started cultivating Falun Gong:
"I had some misunderstandings about Falun Gong because of the slanderous propaganda put out by the Chinese regime. Over the last few years, I've had many chances to talk to Falun Gong practitioners. I found them very nice, positive, and sincere. So, I joined the free workshop. I felt so relaxed after the exercises," he said.
"I've recommended Falun Gong to many of my friends, especially those with health problems," Mr. Wang smiled.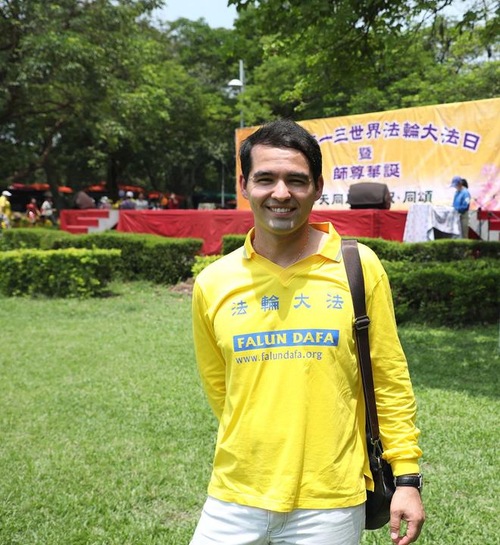 Artiom from Israel started to practice Falun Gong when he was 17.
Artiom, a young student from Israel, said, "Practicing Falun Gong has greatly benefited me in every aspect of life. It helps me to be an honest person and to treat others kindly."
Artiom has been to Taiwan four times and said that his life would have been terrible if it wasn't for Falun Gong.
"I know many young people who use drugs and have no purpose in life. I found the purpose of life through Dafa," he said. "Many people I know say that I am a good person, a role model. I have started to teach them the exercises."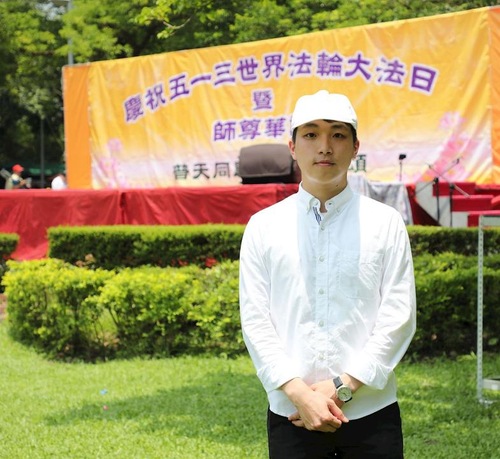 Xie Ganghong started practicing with his mother at a young age.
Xie Ganghong, 26, started practicing with his mother when he was in second grade. He said that following the principles of Truthfulness-Compassion-Forbearance has kept him from just following the crowd in today's chaotic world. He feels fortunate that he has not lost his bearings and is able to hold himself to higher standards than some of his friends because he cultivates Falun Dafa.