Germany: Public Support for Falun Gong Practitioners' Efforts to Oppose the Chinese Regime's Persecution
May 18, 2019 | By a Falun Gong practitioner in Germany
(Minghui.org) Falun Gong (also known as Falun Dafa) practitioners participated in the Earth Day celebration in Kassel, Germany, on April 28, 2019. They demonstrated the Falun Gong exercises and exposed the Chinese Communist Party's (CCP's) persecution.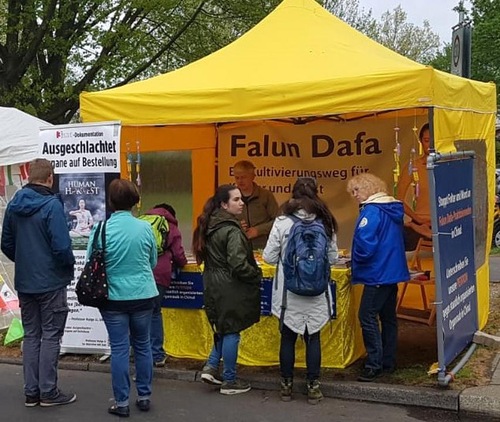 Falun Gong booth in Kassel, Germany, on Earth Day
Earth Day celebration is an important event for Kassel and the surrounding area. Around 20,000 people participated in the event this year.
Practitioners displayed a poster featuring a German television station's documentary film on the CCP's state-sanctioned harvesting of organs from living Falun Gong (also called Falun Dafa) practitioners. Many people were drawn to the poster and signed the petition to condemn the CCP's persecution. Some had to wait in line to sign.
A young man said, "I have to sign! I've never signed (at any event), but I have to sign this!" Many people indicated that they would tell their relatives and friends about the persecution.
The practitioners also demonstrated the five Falun Gong exercises. Many people watched and took fliers. Some asked where they could learn the exercises.
People in Rothenburg ob der Tauber Interested in Falun Gong
Rothenburg ob der Tauber is located in northwest Bavaria, Germany. The town is well known for having the most well preserved medieval buildings in Germany. It is a favorite destination for European tourists, as well as a popular destination for tourists from China, Taiwan, Japan, and Korea.
Falun Gong practitioners from the Rothenburg area have set up a Falun Gong booth once a week since January. The booth is located next to City Hall, an excellent place to let passersby find out about the persecution of the practice in China. They asked for information about Falun Gong and why it is being persecuted.
Chinese tourists from tour groups took pictures of the Falun Gong booth from a distance and walked slowly past the posters to read the information. Some picked up newspapers and brochures, while others gave a "thumbs up" and said, "Falun Dafa is good!" Chinese tourists often sit on the stairs of city hall, read the newspaper and fliers, and listen to the Falun Gong exercise music.
An Indian couple from Wuerzburg said that they were very happy to hear about Falun Gong and took fliers in English. An hour later, another Indian family came to learn about Falun Gong and took several fliers.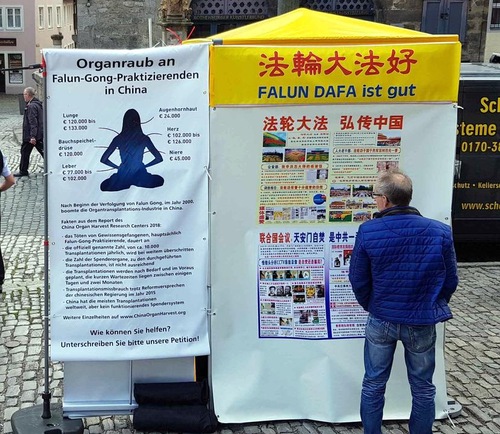 A passerby reads the Falun Gong poster.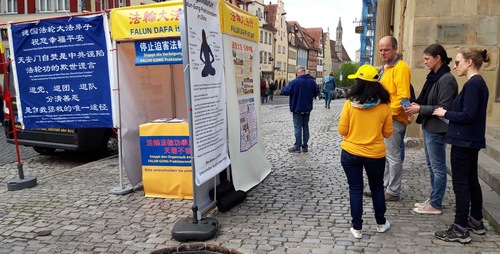 People listen to a Falun Gong practitioner clarify the truth about this cultivation practice.
A lady who was very familiar with yoga and Tai Chi asked for details about the persecution and immediately said, "It was Jiang Zemin." She thanked the practitioners for answering her questions.
A man from Schwabenland, located in southwest Germany, headed straight for the Falun Gong booth and signed the petition calling for an end to the persecution. He said, "This evil can never be allowed."
A young lady said, "Everyone must sign the petition calling for an end to the persecution!"
Background
Falun Gong was first taught to the public in 1992. Nearly 100 million people across China were soon practicing it after experiencing improvement in their health and character.
Jiang Zemin, former head of the Chinese Communist Party (CCP), perceived the spiritual discipline's growing popularity as a threat to the CCP's atheistic ideology and issued an order to ban Falun Gong on July 20, 1999.
The Minghui website has confirmed the deaths of thousands of Falun Gong practitioners due to the persecution over the past 19 years. The actual number is suspected to be much higher, but it is difficult to get information out of China.
More have been imprisoned and tortured for their faith. Document evidence has verified that the CCP harvests organs from detained practitioners, who are killed in the process, to supply the organ transplant industry.
Under Jiang's personal direction, the CCP established the 610 Office, an extralegal security organization with the power to override the police and judicial systems and whose sole function is to carry out the persecution of Falun Gong.