Taiwan: Practitioners Celebrate Master Li Hongzhi's Birthday and Honor World Falun Dafa Day
May 15, 2019 | By Minghui correspondents
(Minghui.org) Every year Falun Dafa practitioners celebrate World Falun Dafa Day on May 13. This year, over one thousand practitioners from northern Taiwan gathered at Sun Yat Sen Memorial Hall in Taipei to celebrate Master Li's 68th birthday and the 27th anniversary of the practice being introduced to the public.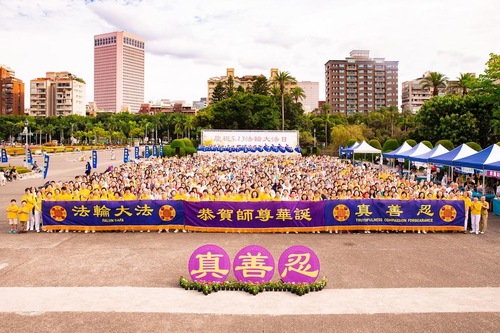 Over one thousand Falun Gong practitioners from northern Taiwan gathered to honor Master Li's 68th birthday and World Falun Dafa Day.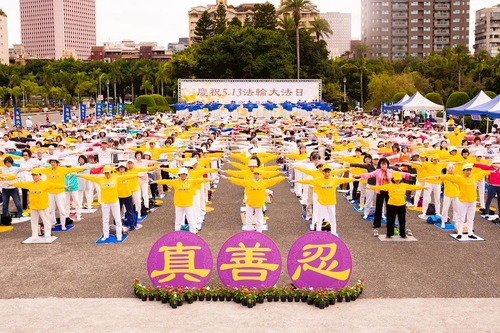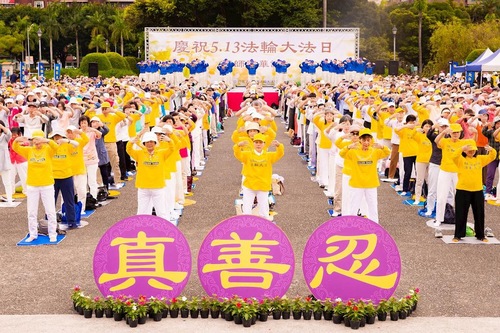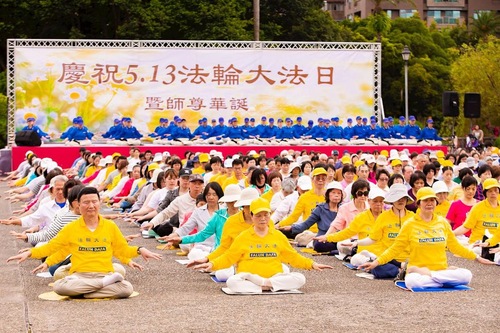 Practitioners demonstrate the Falun Dafa exercises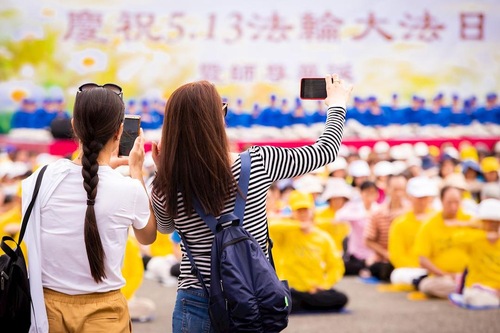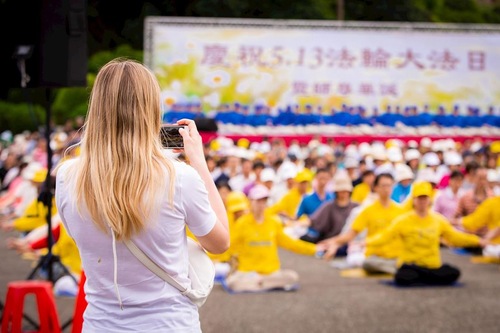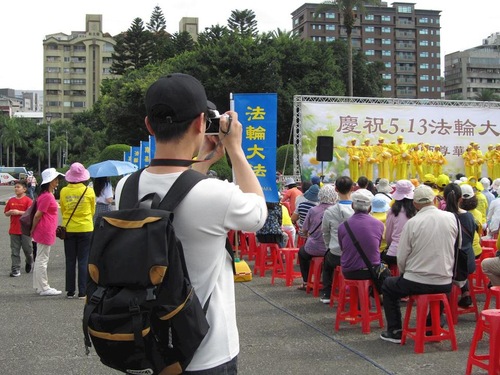 People stop to enjoy the performances. Several took photos and videos of the day's events.
The day-long activities included demonstrating and teaching the five Falun Dafa exercises, as well as traditional cultural performances. Practitioners also provided information about Falun Dafa's health benefits and how it is persecuted by the communist regime in China.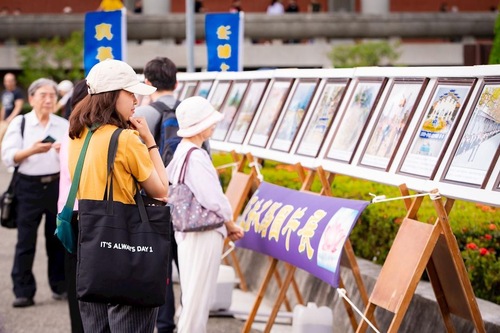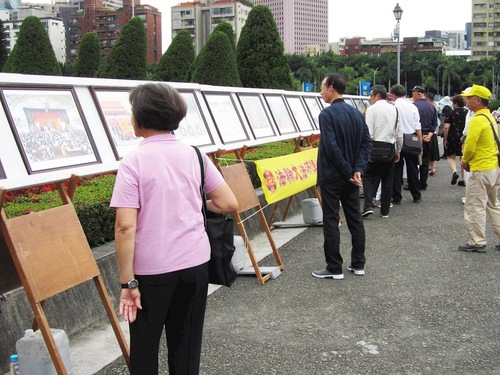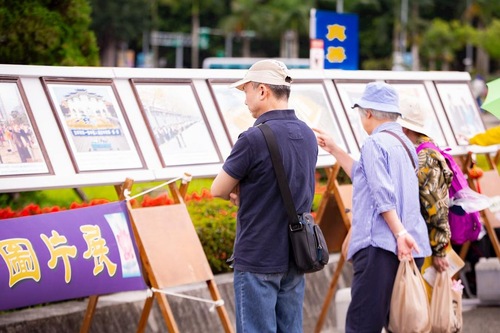 Tourists and passersby read about Falun Dafa, which is practiced by over 100 million people worldwide.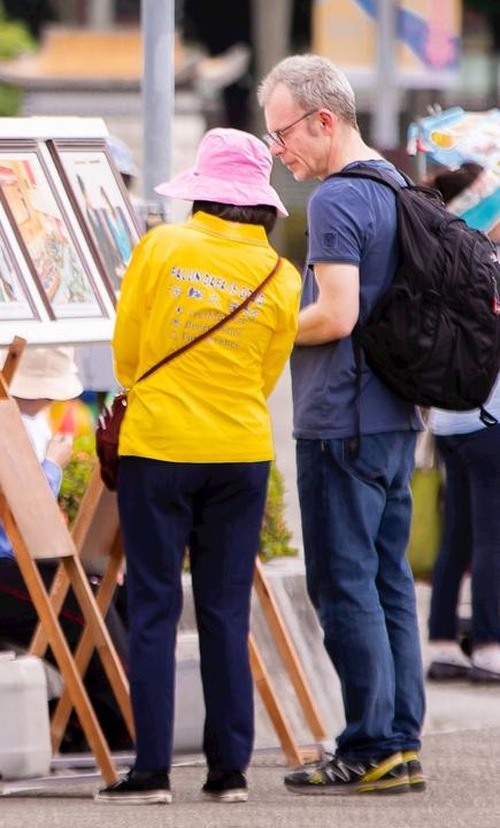 Drawn in by the soothing music, Danny from Switzerland asked several questions about the ancient spiritual practice.
This was the first time that Danny, a tourist from Switzerland, had heard about Falun Dafa. He said it was wonderful that millions of people practice Dafa and said it was like a big family.
Around 20 tourists from China arrived at Memorial Hall at noon. Practitioners dressed as celestial maidens offered them lotus flowers. The ornaments were imprinted with the words "Falun Dafa is good" and "Truthfulness-Compassion-Forbearance is good." Some also took informational materials to read about the ongoing persecution in China.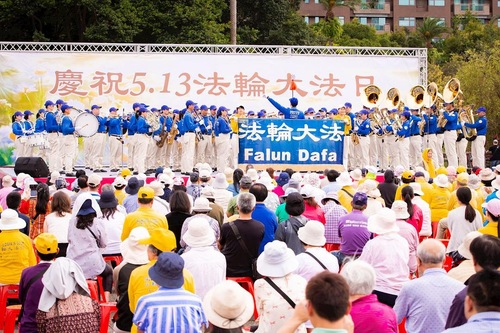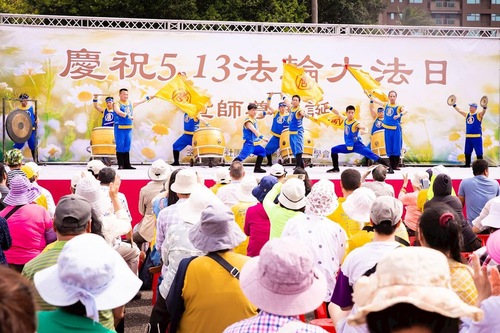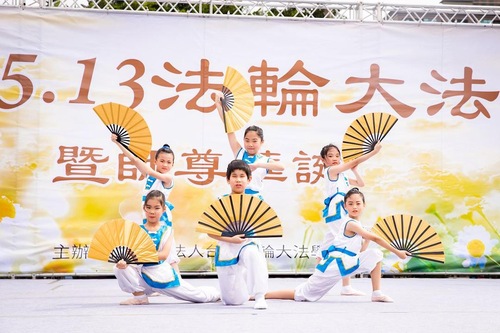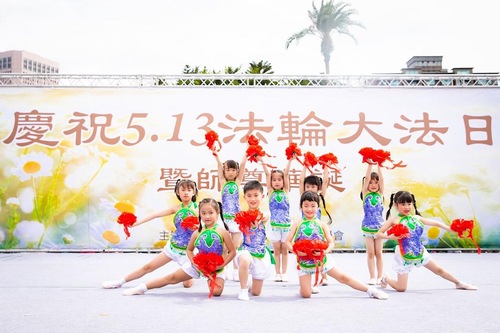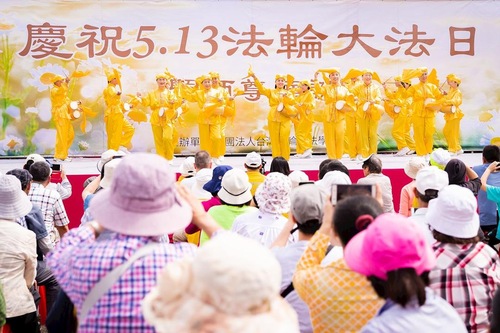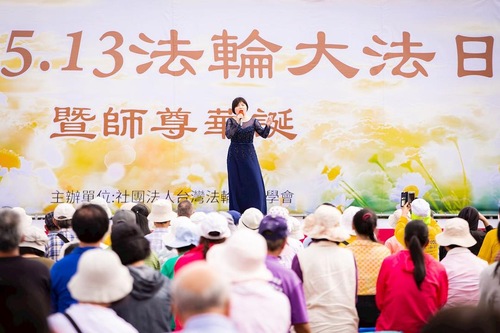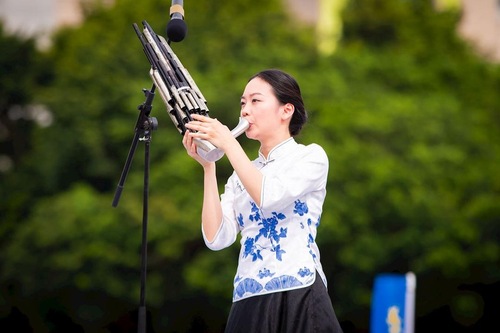 Practitioners gave traditional performances to commemorate World Falun Dafa Day.
The afternoon's events began with a lively performance by the Tian Guo Marching Band, followed by uplifting performances by a flag team and a waist drum team. Young practitioners from Minghui Kindergarten danced, and several practitioners sang and played musical instruments.
People Want to Learn About Falun Gong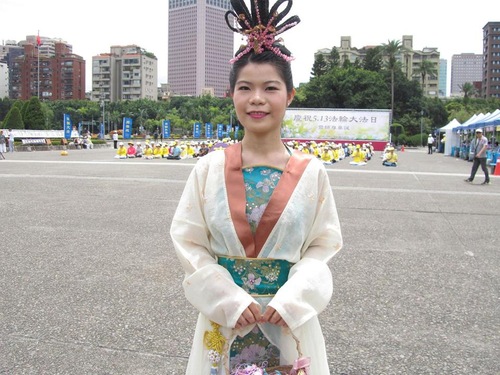 Ms. Xu Ziling hands out lotus flower ornaments and talks to people about Falun Dafa.
Ms. Xu Ziling began to practice Falun Dafa with her mother when she was a child. She said that by following the teachings, she did well in school and at work. She excitedly handed out paper lotus flowers and told people how she had benefited from the practice.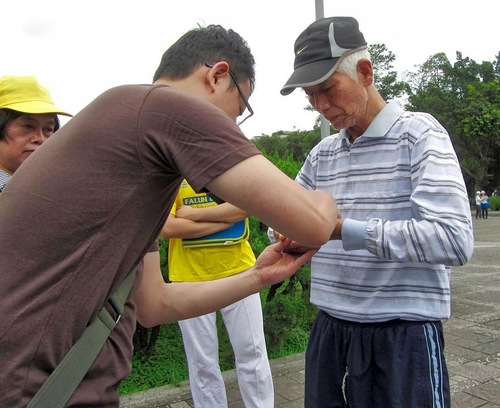 Lin Wude from Taipei learns the exercises.
Lin Wude said he often sees practitioners doing the exercises near the 101 Building, one of Taiwan's popular tourist attractions. He was happy to see the celebrations and stopped to learn the Dafa exercises.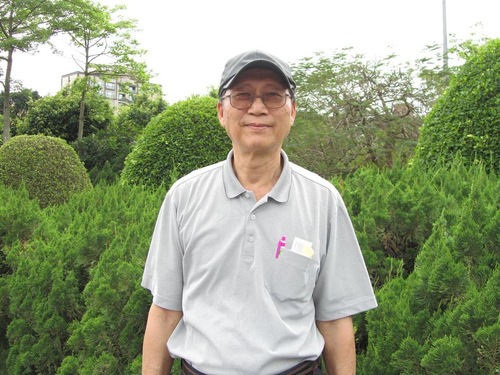 Mr. Huang said he felt enveloped in positive energy the first time he listened to Master Li's lecture recordings.
Mr. Huang had problems with his knees and chronic pain in his back and legs for almost 20 years. He sought medical treatment but nothing helped. A friend suggested he try Falun Gong. He said, "I felt positive energy when I listened to the lectures and immediately knew Falun Gong was great. I read Zhuan Falun (the main book of Falun Dafa) every day." He said, "Within a year. my allergies were gone. My knees, back, and legs were no longer in pain."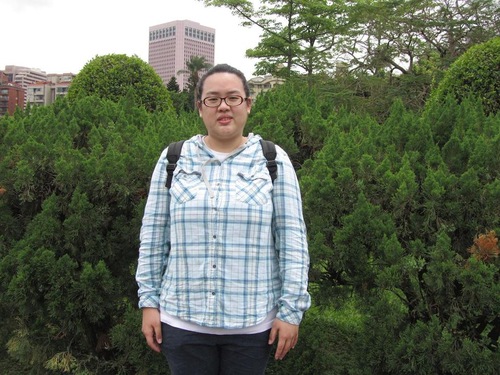 Ms. Liu Ziling
When Ms. Liu Ziling was in college, she had a viral infection in her facial nerves. The right side of her face was paralyzed, she lost her smell, taste, and hearing, and she was nearly blind. "I almost collapsed," she recalled. She spent a fortune and looked into all sorts of treatments, but nothing worked. At her mother's suggestion, she began to do the Falun Dafa exercises. In less than a month, her face almost fully recovered, and so did her vision.