Australia, U.S.A. and Thailand: Celebrating World Falun Dafa Day and Expressing Gratitude to Founder Master Li
May 14, 2019 | By Minghui correspondents in Melbourne and other Falun Gong practitioners
(Minghui.org) Falun Gong, also known as Falun Dafa, was made public first in Changchun, Jilin Province, China on May 13, 1992 by its founder Mr. Li Hongzhi. The practice has since spread to over 100 countries around the world.
May 13 was declared "World Falun Dafa Day" in 2000. On the occasion of the 20th annual World Falun Dafa Day and also the 68th birthday of Mr. Li, Falun Dafa practitioners around the world have held celebratory events in honor of Falun Dafa and to express their gratitude to Mr. Li.
Melbourne, Australia: Celebrating World Falun Dafa Day in Downtown Melbourne
Dafa practitioners in Australia gathered in downtown Melbourne and took a group photo to wish Master Li a happy birthday. They conducted a group exercise practice and talked with passersby to raise awareness of the Chinese Communist Party's (CCP) persecution of Falun Dafa in China.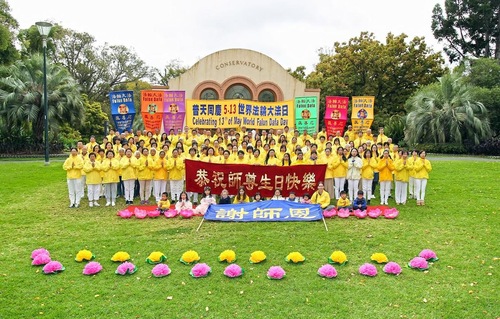 Group photo of Falun Gong practitioners celebrating World Falun Dafa Day and wishing Master Li a happy birthday
Before taking the group photo, practitioners did the Falun Dafa exercises together in Fitzroy Gardens, a well-known landmark in Melbourne. Local practitioners have been constantly raising awareness of the CCP's persecution over the past 19 years and advising Chinese people to quit their membership in the CCP and its youth organizations.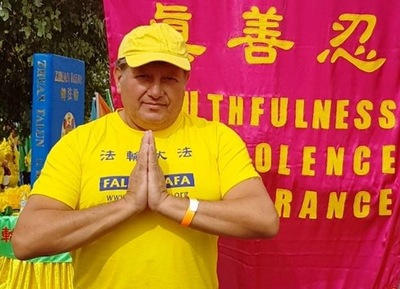 Practitioner George Ofanos
Practitioner George Ofanos, 56 and originally from Greece, is a car repair technician who provides door-to-door service for his customers. Recalling the experience of being fortunate enough to start practicing Falun Gong 15 years ago, he expressed gratitude to Dafa and to compassionate Master Li.
"At the time, my smoking and alcohol addictions were very heavy," said George. "A relative of mine told me that he felt very good after practicing Falun Gong. But when he introduced Falun Gong to me, I was still hesitant. I was not sure if I could accept it.
"After I saw the great changes in him since his practicing Falun Gong, I really wanted to know what caused him to become so peaceful. I asked him to explain the details to me."
The relative showed George the five sets of exercises and gave him the book Zhuan Falun, the main book of Falun Gong. George then began to practice Falun Gong.
He recalled, "I stopped drinking and smoking. It was very easy to do so. It was incredible. I also quit many other bad habits. My body and mind became healthier. My daily life also made sense."
Since then, Mr. Ofanos has participated in almost all of the Falun Gong practitioners' outdoor events, including celebrations in the city, various local festivals, and suburban markets. No matter how far it may be, George is happy to be a part of these activities.
He said, "It is important to introduce Falun Dafa's principle of Truthfulness-Compassion-Forbearance to the people of Australia today."
San Diego, U.S.A.: Celebrating World Falun Dafa Day in a Community Park
Falun Gong practitioners gathered in Mira Mesa Park on May 4, 2019 to celebrate World Falun Dafa Day. They did the Dafa exercises together and wished Master Li a happy birthday.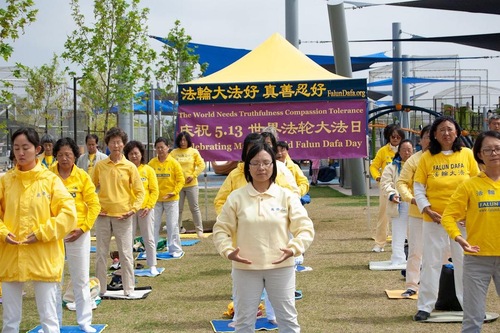 Doing the Dafa exercises in Mira Mesa Park, San Diego, California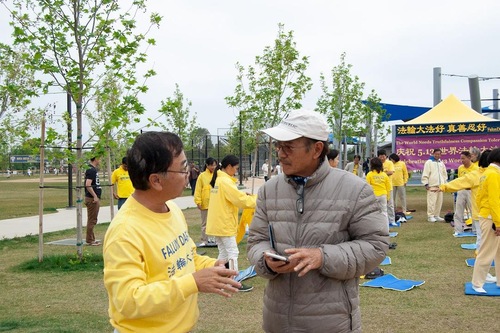 A practitioner talks with local resident Loc Chu about Falun Gong.
Loc Chu, a local Vietnamese resident, said he was very interested in learning Falun Gong after talking with a practitioner. He said, "I had seen the introduction of Falun Gong on the internet after a relative introduced it to me.
"I really like the style of this practice. I believe I will enjoy it," Loc Chu said. He added that his family is also interested in learning Falun Gong.
Practitioners shared their experiences in practicing Falun Gong after finishing the exercises. As there was an Asian festival in the park that day, practitioners set up a booth to introduce Falun Gong to festival visitors, and gave another exercise demonstration in the afternoon.
Celebrating World Falun Dafa Day in Bangkok, Thailand
On May 5, 2019, Falun Gong practitioners from Thailand gathered in Lumpini Park in Bangkok to celebrate World Falun Dafa Day and wish Mr. Li a happy birthday.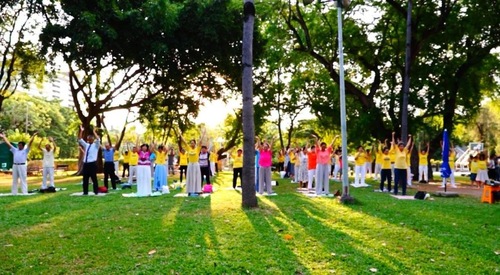 Group exercise practice in Bangkok on May 5, 2019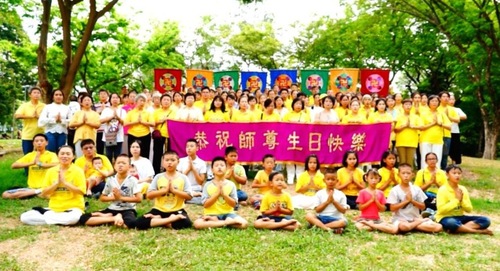 Group photo of Falun Gong practitioners in Thailand celebrating World Falun Dafa Day and wishing Master Li a happy birthday