New Falun Dafa Practitioners Celebrate World Falun Dafa Day
May 13, 2019 | By a Minghui correspondent
(Minghui.org)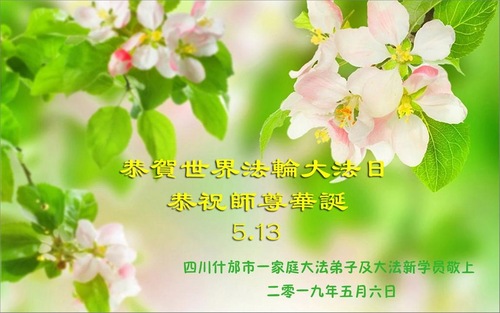 This May 13 marks the 20th anniversary of World Falun Dafa Day, and it is also the 27th anniversary of the public introduction of this ancient spiritual practice from China. In honor of this grand occasion, many Falun Dafa practitioners in China are sending their warmest greetings to the Minghui website to express their deep gratitude for the benefits they've received over the years from practicing Falun Dafa.
Some of these practitioners have just picked up the practice in recent years or months. They identify with the three core principles of Falun Dafa – Truthfulness, Compassion, Forbearance – and live by these principles in their daily lives despite the brutal persecution by the communist regime that has been ongoing for the past 20 years.
Many of the practitioners express thanks to Master Li Hongzhi, the founder of Falun Dafa, for renewing their lives and they vow to be diligent in their cultivation.
One practitioner said he is very honored to learn the practice. "I'm not good at big talk, but I will use my solid actions and diligent cultivation to repay Master."
Others also said they will make the best use of their time and catch up in their cultivation.
This collection comprises greetings received from the following regions:
BeijingChengdu City and Deyang City, Sichuan ProvinceWeifang City, Yantai City and Laizhou City, Shandong ProvinceTangshan City and Shijiangzhuang City, Hebei ProvinceJiuquan City, Gansu ProvinceDalian City and Shenyang City, Liaoning ProvinceJiamusi City, Heilongjiang Province