Falun Dafa Practitioners in Houston Celebrate World Falun Dafa Day
May 11, 2019 | By Shu Jing, a Minghui correspondent in Houston
(Minghui.org) On Sunday, May 5, Falun Dafa practitioners in Houston, Texas, celebrated the upcoming 20th World Falun Dafa Day and the birthday of the founder of Falun Dafa by doing the exercises together in Hermann Park.
Mr. Li Hongzhi first introduced Falun Dafa to the public on May 13, 1992. Twenty-seven years later, Falun Dafa is now practiced in over 100 countries and more than 100 million people have benefited from taking up the practice. It is customary for practitioners all over the world to celebrate the occasion.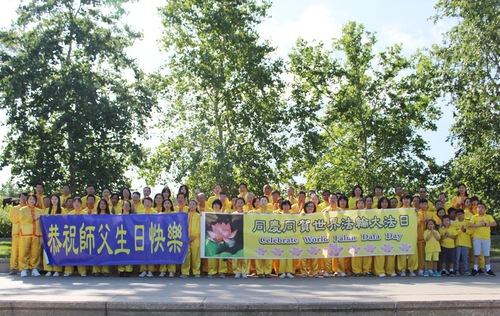 Practitioners wish Mr. Li Hongzhi a happy birthday.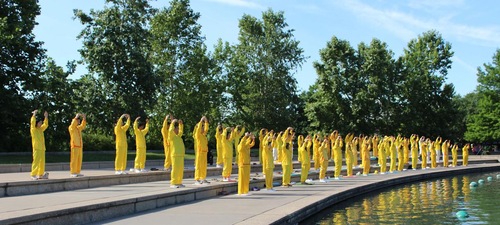 Practitioners do the exercises together in Hermann Park to celebrate World Falun Dafa Day.
Practitioners Share Their Experiences of Practicing Falun Dafa
Ms. Chen had ovarian cysts and was operated on to have them removed in China. After moving to the U.S., the problem recurred and she was told she needed surgery. In October 1997, her husband saw a notice of a nine-day Falun Dafa lecture class in the local newspaper and encouraged her to give it a try. After the classes, Ms. Chen became a practitioner and miraculously recovered. She had lost hope of ever having children due to her condition, but in 1999 she gave birth to a healthy daughter. Ms. Chen said, "I feel very fortunate to be a practitioner."
Ms. Chou found Falun Dafa when she needed it most. "My classmate introduced Falun Dafa to me at a time when I was feeling really lost. Not only did I become healthy after practicing Dafa, most importantly, my mental wellbeing improved. My sinus problem disappeared, too." Ms. Chou used to suffer from low self-esteem and would easily become jealous. After practicing Dafa, she learned to be considerate of others and has become a better person.
Passersby Agree with the Principles of Falun Dafa
Hermann Park is a popular place in Houston. On weekends, local residents frequent the park to relax and exercise. Many people stopped to see practitioners who were dressed in bright yellow outfits doing the exercises by McGovern Lake in the park.
John, a passerby, stopped to learn more about Falun Dafa. He was attracted to the exercises and wanted to learn the movements. After a practitioner showed him what to do, he joined in the group exercises. He said he felt relaxed and calm afterward.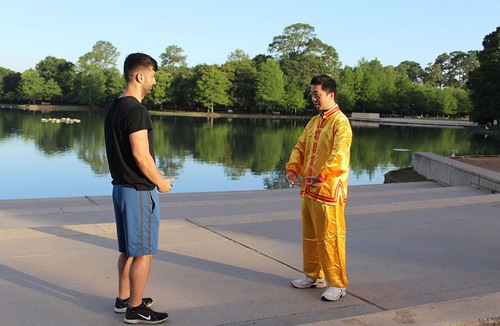 John (left) learns the exercises from a practitioner.
Another passerby, Aruna, goes to the park on weekends to do yoga. This was the first time she had seen Dafa practitioners doing the exercises by the lake. She told them she was interested in doing the meditation and following the teachings of Dafa. She believes the practice will help her achieve a balanced life.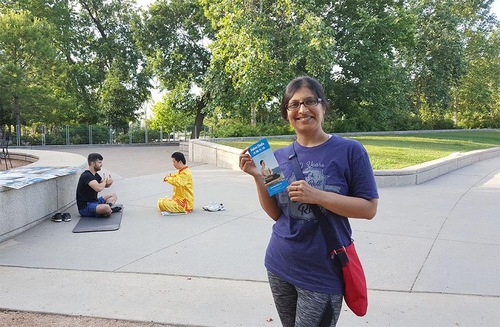 Aruna was impressed by practitioners doing the exercises and wants to learn Falun Dafa.
James is from Dallas and works as a consultant. He came to visit a friend in Houston and happened to come across practitioners doing the exercises in the park. He chatted with a practitioner and asked questions about Falun Dafa. He believes the world would be peaceful if everyone followed the principles of Dafa—Truthfulness, Compassion, and Forbearance.
Robert has businesses in seven cities. After he heard about the principles of Falun Dafa, he said, "These principles and practicing meditation will benefit everyone."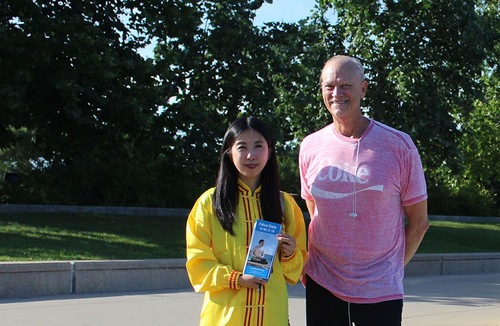 Robert agrees with the principles of Falun Dafa and thinks the practice will improve people's lives.