Shen Yun Elevates Morality and Traditional Values in South Korea
April 05, 2019 | By Minghui correspondent Tang En
(Minghui.org) The Shen Yun World Company presented 11 performances in five South Korean cities between March 17 and 31, 2019.
The performances in Goyang, Suwon, Gangneung, Daegu, and Cheongju attracted audience members from mainland China, Vietnam, Malaysia, Singapore, and other countries.
The Shen Yun World Company concluded its 2019 South Korea tour on March 31 at the Cheongju Art Center in Cheongju.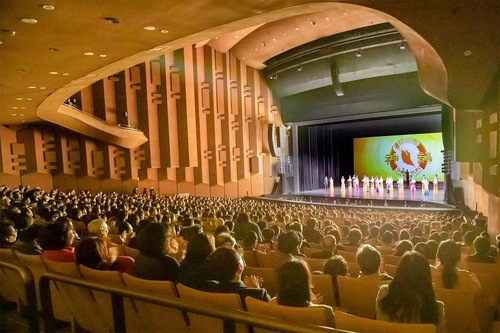 Shen Yun's sold-out performance at the Gyeonggi Arts Center in Suwon, South Korea, on March 2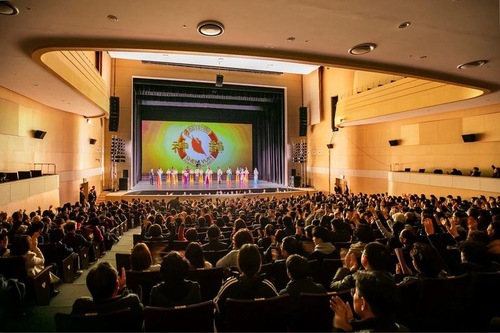 The Shen Yun World Company's curtain call before a full house in Gangneung, South Korea, on March 24
Elevating Human Morality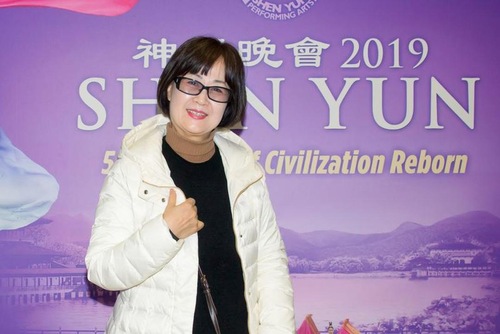 Namgung Song, the director of the Wonju branch of the Korean Society for Music Education, at the Shen Yun performance in Gangneung, South Korea, on March 24
"Our world has become better off because of Shen Yun... My heart was truly touched," she said.
"The seamless combination of traditional musical instruments and a modern symphony orchestra made the music amazingly good and touching.
"The ancient Chinese architecture [in the backdrops] is spectacular and awesome. The synchronization of the backdrop showing the celestial world and the performance on the stage is seamless.
"Shen Yun elevates human morality and teaches people the truth in life. It's really great.
"Shen Yun attaches much importance to tradition. If people ignored traditions, modernity would not be possible. Therefore, this performance is truly meaningful. For modern people, Shen Yun is a great teaching.
"They have a tremendous responsibility. I wish them good health and hope that they can step up efforts to spread the beautiful culture to the world as a whole," she said.
Full of Vigor and Vitality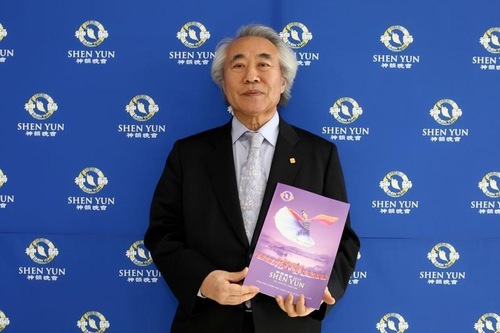 Ha Chulkyung, chair of the Korean Fine Arts Association, at the Shen Yun performance in Goyang, South Korea, on March 17
"This is a world-class performance. It was truly wonderful and touching," he said.
"The classical Chinese dance [performed by Shen Yun] is different from Korean dance. It is full of vigor and vitality. It is very creative and dynamic.
"The synchronization among the dancers on stage and the images on the backdrops were sublime. The overall coordination is seamless.
"Rather than using the spoken word, Shen Yun uses dance to portray the 5,000 years of Chinese culture. It made the audience feel very warm and intimate, and [we] got motivation from it.
"Every piece of the performance was spectacular from the very beginning to the end. This kind of magnificent performance is hard to come by, even in other countries," he said.
A Graceful Performance from Start to End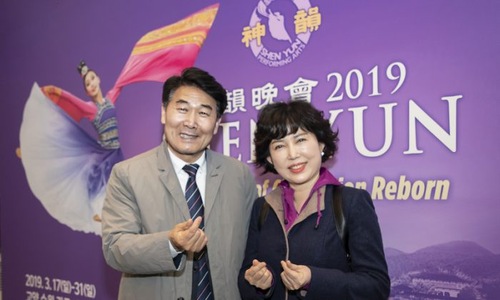 Kang Sang-tae, a member and vice chairman of Seongnam City Council, and his wife at the Gyeonggi Arts Center in Suwon, South Korea, on March 21
"Beautiful, wonderful... The performers put on a graceful performance from the start to finish," he said.
"I enjoyed seeing the traditional Chinese dance that has a long history. It was just a wonderful time being here.
"The dance, the vocalists, the high-level skills of the dancers, were all very impressive," he said.
"Gods give a helping hand to good people, and these people can live out a good life. I feel that I must live with kindness in my heart.
"This is a performance that doesn't come by often. People should come to see it at least once. Its programs are good for people of all ages and genders," he added.
Mr. Kang's wife said that she was deeply touched by the skills of the dancers, "This performance is like no other," she said.
Touching and Therapeutic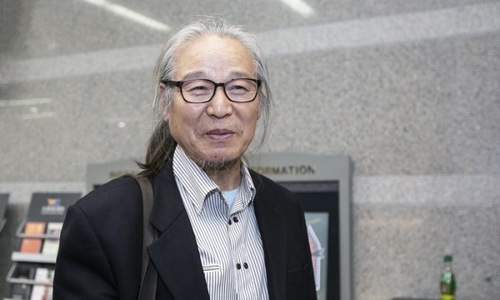 Joo Seolya, a producer and director of a Korean film company, at the Suseong Artpia theater in Daegu, South Korea, on March 28
"Very touching and quite therapeutic," he said.
"It just happened before my upcoming Korean customs design exhibition, and I could use some elements I have learned from Shen Yun.
"The combined effect between the backdrops of the performance with the stage was superb, like how the animated characters came to life on stage.
"The buildings and the different statues in the backdrop look so real," he said.
Mainland Chinese Visitors Fly to Korea to See Shen Yun
Mr. Huang, a science researcher from mainland China, took time off from work to fly to Korea to see Shen Yun. He admired Shen Yun's efforts in reviving traditional Chinese culture.
"Divine beings definitely exist somewhere," he said, adding, "I will always keep my words and conduct in check." He said he hopes Shen Yun can perform in China soon.
Mr. Chen, another audience member from mainland China, brought his daughter to Korea. They saw the performance twice.
"Very strong energy that shocked the entire body. The righteous will definitely be able to defeat the evil. Truthfulness-Compassion-Tolerance will definitely be able to return to the human world and defeat the evil. I believe this day is coming very soon.
"It can really shake the deep part of the heart... If Shen Yun goes to the mainland, every show everywhere in the country will definitely be sold-out. Because it promotes beauty and kindness," he said.
Upcoming Performances
Shen Yun continues its world tour with upcoming performances in Aix-En-Provence, France April 2–6; Kaohsiung, Taiwan April 3–7; Mexico City, Mexico April 4–7; and Seattle, Washington April 2–7.
For more information on tickets and dates, please visit http://shenyun.com.