Introducing Falun Gong at Taiwan University's Azalea Festival
April 04, 2019 | By Fang Hui
(Minghui.org) Members of the Falun Gong Association at Taiwan University participated in the Azalea Festival with other student organizations on March 16 and 17, 2019. They introduced this ancient self-cultivation practice to the students and faculty on campus and told people about the persecution of Falun Gong in China.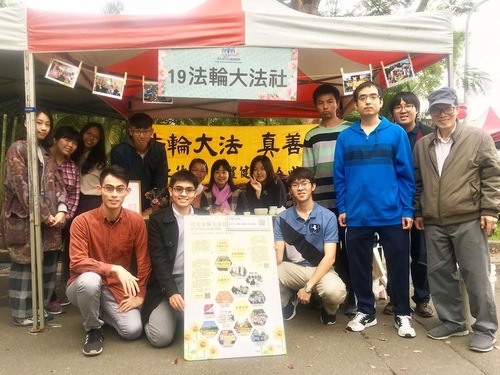 Members of the Falun Gong Association at Taiwan University
Practitioner Li Weizhen talked to two Chinese tourists for a long time about corruption in China. Mr. Li believes that the solution lies in a person's heart. "If we can fundamentally improve people's honesty and sense of right and wrong and say goodbye to the Communist Party culture, which espouses deception and violence, we can save China," he said. The two tourists agreed and both quit the Party with Mr. Li's help.
Mr. Li talks to Chinese tourists about Falun Gong and the persecution.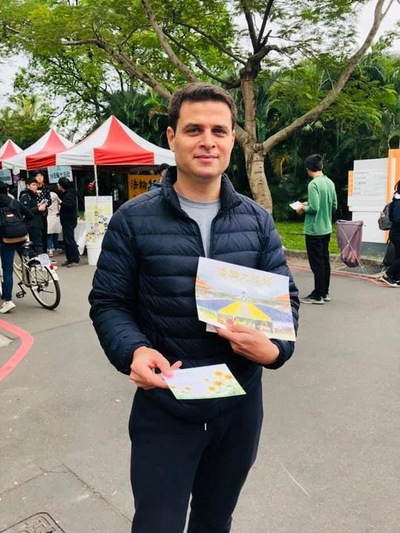 Andres Auzunbud from Argentina hands out Falun Gong flyers at the event. Andres is studying Chinese at Taiwan University. As a practitioner, the teachings of Falun Gong guide him to be a good person in his daily life.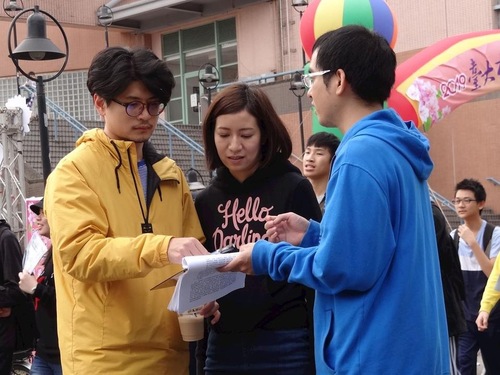 Jiang Shanqing (in the blue jacket) talks to two students about the persecution.
Jiang Shenqing is a junior majoring in science education at Taiwan University. He started practicing Falun Gong in December 2011.
"Practicing Falun Gong helped me to get rid of my bad temper, and this is the biggest change that has happened to me," he said. "I used to have a lot of conflicts with people. Following Truthfulness-Compassion-Forbearance, I now try to be nice to everybody.
"Many people come to this festival, so I believe it's a good chance to raise public awareness of the persecution. I've talked to a lot of students, including those from China. Some of them refused to listen to me at first, but I was patient. In the end, most of the students agreed with me and signed a petition that condemns the persecution."
The Falun Dafa Association at Taiwan University was founded in 2000. Graduate student Zhuo Tingwei, the current president, hopes that high school students who come to the event will learn about Falun Gong through them.
"Over the two days, more than 10,000 people come to the festival. We want them to know that Falun Gong teaches people to follow Truthfulness-Compassion-Forbearance. We also hold free workshops to teach anyone who is interested in learning the exercises."
With other members of the Falun Gong Association at the event, Zhuo Tingwei is holding a certificate from the event organizer for "Excellent Student Organization."
Zhuo Tingwei started practicing in high school.
"I was an introvert. I didn't know how to deal with people and I didn't want to hang out with anyone," he said. "I was stressed out in high school. All kinds of exams and other stress made me wonder what the purpose of life was. I was pessimistic.
"Practicing Falun Gong has changed me and made me a much happier person. I learned from Zhuan Falun [the main book of Falun Gong] that the true purpose of life is to return to one's true self. I am now more confident and have a broader heart for the world and other people."