Australia: Falun Gong Shines at Easter Gala Parade in Bendigo
April 26, 2019 | By a Minghui correspondent in Melbourne
(Minghui.org) Falun Gong (also called Falun Dafa) practitioners in Melbourne were invited to participate in the annual Easter Gala Parade in Bendigo, Victoria on April 21, 2019. As Australia's longest continuous running festival, the Easter Gala Parade attracted 80,000 spectators. Falun Gong practitioners contributed to the popular event with their uplifting performances and shared their message of Truthfulness-Compassion-Forbearance.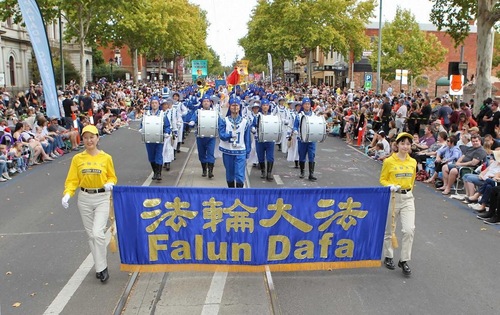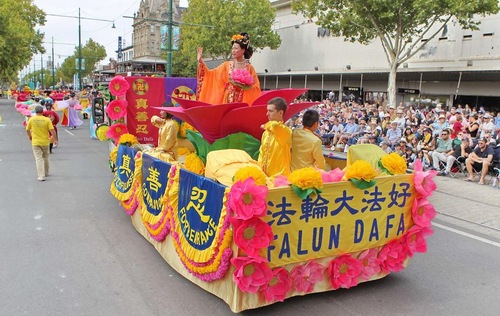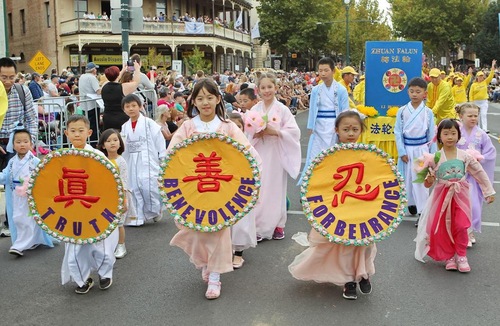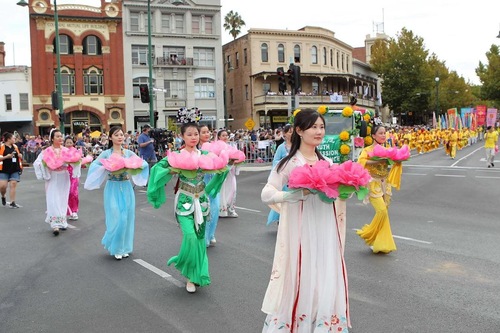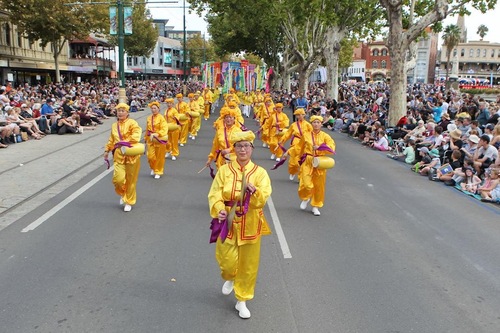 Attendees enthusiastically welcome the Falun Gong entry at the Easter Gala Parade in Bendigo, Australia.
Watching Mr. Gary Kearns, a sixty-nine-year-old Falun Gong practitioner, energetically walk in the parade, it's hard to imagine he once had to rely on a back support to stand up straight. He also had serious hyperthyreosis and skin cancer. His conditions disappeared after he began practicing.
Mr. Kearns said he felt renewed after he began applying the principles of Truthfulness-Compassion-Forbearance in his everyday life. He participated in the parade because he wanted let people know how amazing Falun Dafa is.
Cally Bartlett, the music director of the Bendigo Brass Band, was thrilled to listen to the Tian Guo Marching Band rehearse before the parade started. She thought the music was very exciting. She said she also appreciated the practitioners and their spreading the message of Truthfulness-Compassion-Forbearance to the community. She said the principles encouraged people to be kind and consider others instead of just themselves.
Mr. Peter Atkin, a participant in the parade, said the Falun Dafa group was great and that everyone should respect their belief, pay attention to humanity, and understand others.
Professor Naomi Walsh of Deakin University appreciated the message being spread by practitioners. She thought Truthfulness-Compassion-Forbearance had positive energy and these values should be reflected in many facets of life. She had heard about the Chinese Communist Party's atrocity of harvesting organs from living Falun Dafa practitioners. She said she was surprised that the Chinese people were deceived and didn't know much about the cruel persecution.
Professor Walsh supported Falun Dafa practitioners' freedom of belief. She said, "The best way is to stay firm and make your voice heard." She told practitioners in fluent Chinese, "Welcome to Bendigo!"