Practitioners in Queensland, Australia Commemorate April 25
April 24, 2019 | By the Minghui reporting bureau in Queensland, Australia
(Minghui.org) Queensland Falun Gong practitioners gathered at Brisbane Square in Australia, on Saturday, April 20, 2019, to raise awareness of the persecution in China. Their event also commemorated the April 25 peaceful protest that took place in Beijing 20 years ago.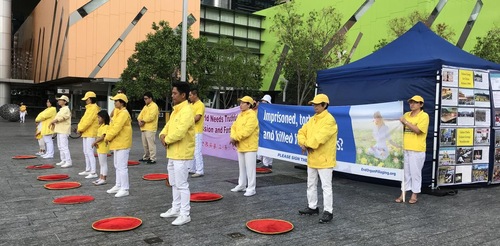 Falun Gong practitioners do the exercises on Brisbane Square in Queensland, Australia, on April 20, 2019.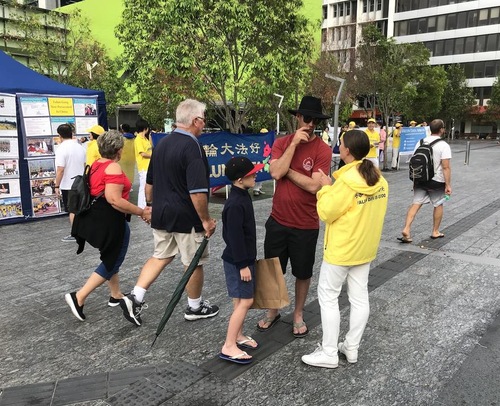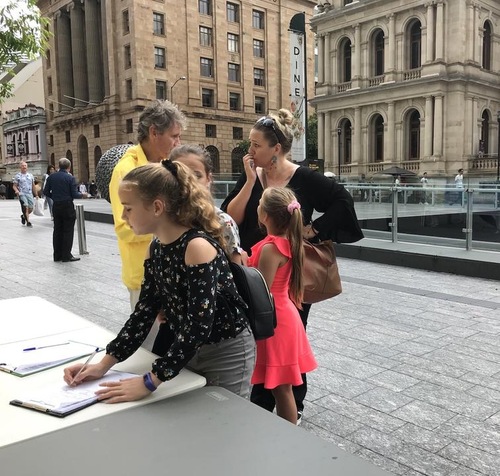 Falun Gong practitioners talk to passersby about the persecution in China.
April 25, 1999, is a significant date for the Chinese nation and Falun Gong practitioners. On that day, approximately 10,000 Falun Gong practitioners traveled to Beijing to appeal to the regime's leadership after practitioners in Tianjin were illegally arrested for their belief. The Tianjin practitioners were released following the peaceful appeal, but three months later on July 20, 1999, the then Chinese leader Jiang Zemin launched a nationwide persecution campaign against Falun Gong practitioners that continues to this day.
Mr. Meng Jun, who was an instructor at Tsinghua University in Beijing in 1999, participated in the April 25 peaceful protest. "Looking back, I think the confidence, inner peace, and dignity of practitioners on April 25, 1999, still shines through. Falun Gong practitioners have continued the spirit of April 25 through today."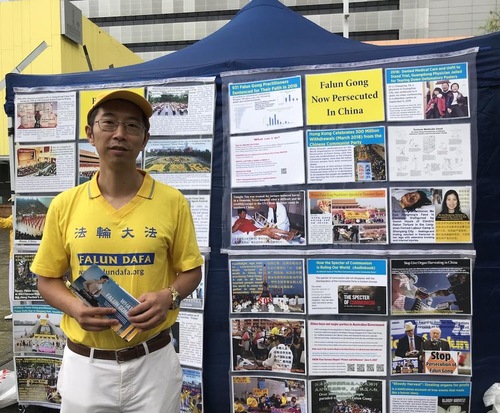 Mr. Meng Jun, a former instructor from Tsinghua University in Beijing
John and Amanda began practicing Falun Gong in June 1999. "We attend today's event to express our support and admiration for the Falun Gong practitioners who joined the peaceful protest in Beijing. We are deeply moved by their courage and compassion. We will continue to spread the facts of the persecution to more people, until the day that practitioners obtain freedom in China," John said.
John and Amanda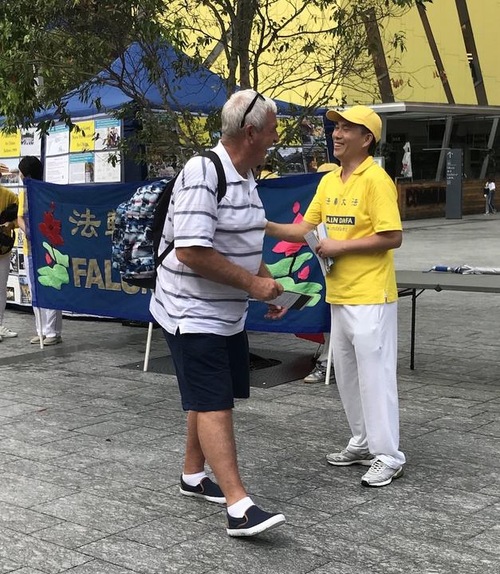 Steve Zhang interacts with a passerby.