Sweden: "When the Persecution of Falun Gong Is Over, I Will Visit China!"
April 23, 2019 | By a practitioner in southern Sweden
(Minghui.org) Falun Gong practitioners from different parts of Sweden gathered in the southern city of Malmö on March 2, 2019. Malmö is Sweden's third largest city, located in the dynamic Oresunds region, the most populated area in Scandinavia next to Copenhagen, the Danish capital. The region is home to several universities and the headquarters of famous companies like IKEA and Tetra Pak.
The practitioners gathered to inform people about the Chinese Communist Party's (CCP) 20-year-long illegal persecution of Falun Gong practitioners in China. The CCP is responsible for torturing and harvesting organs from living prisoners of conscience.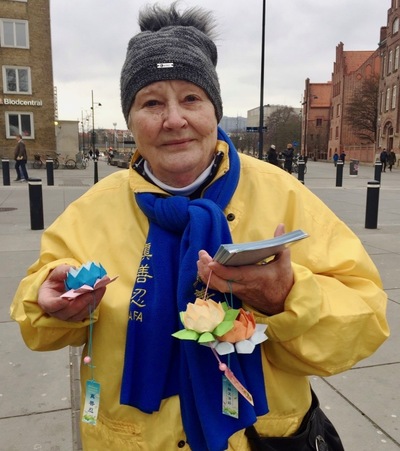 Marja-Leena, a social insurance worker, has practiced Falun Gong since 1997.
Marja-Leena has traveled the world to participate in activities to protest the persecution of Falun Gong for the last 20 years. She is originally from Finland but has lived in Sweden most of her life. She started practicing Falun Dafa in 1997, and was one of the 36 Western practitioners who peacefully appealed at Tiananmen Square in 2001.
She noted, "It is very important for us practitioners outside of China to tell the world about the persecution of Falun Gong in China. The persecution has lasted for 20 years, but many people do not know that it is still going on.
"Former Chinese leader Jiang Zemin wanted to eradicate Falun Gong, and practitioners in China are still being imprisoned, tortured, and forced to undergo brainwashing. Not only that, they are being killed for their organs, which are sold at very high prices to transplant patients from inside and outside China."
"Because I myself practice Falun Gong, I know how important it is that people understand the truth about the persecution so that they will sign the petition asking the Swedish government to urge the CCP to stop persecuting its practitioners."
When asked what she would like to say to the people in China, she replied that Falun Gong is part of ancient Chinese culture. She thinks that the Chinese are very lucky to have this chance to practice something so good, and that they will never find anything better in their entire lives. She also said, "If you ever run into a Falun Gong practitioner, let them tell you the facts about the persecution, and take their information so that you can find out what is really happening in China."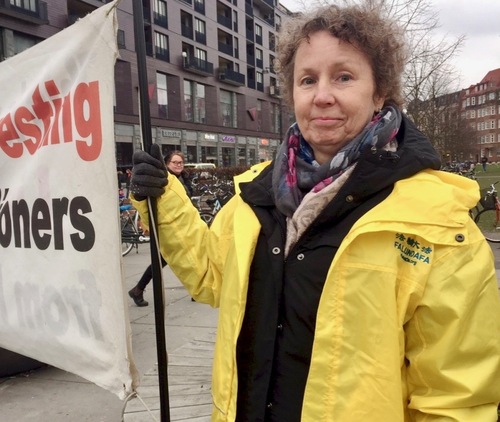 Yvonne, a controller, has practiced Falun Gong since 1998.
Yvonne, another participant at the activity in Malmö, has been involved in activities to protest the persecution of Falun Gong in China since 1999. She started practicing Falun Gong less than a year before the persecution started in China in 1999, and, like Marja-Leena, was one of the 36 Westerners who traveled to Tiananmen Square to peacefully appeal in 2001.
She said, "I think it is extremely important to let people know about what is happening in China, because China is a powerful country that tries to influence other countries with its way of thinking. The persecution of Falun Gong practitioners and other prisoners of conscience is an example of how their view on the value of human life is completely different than in democratic Western countries. In China, human life is not worth much. The pillaging of organs from prisoners of conscience is an example. The organs of prisoners of conscience are removed and sold for high prices. It is totally inhuman!"
In Malmö, Yvonne met a mother and her young daughter, who read about the forced organ harvesting. Coming from a repressive country themselves, they truly took it to heart and thought it was terrible. But they enjoyed learning about Falun Gong and its values.
Yvonne said she would tell the people in China, "Try to see through the CCP's lies and free yourself from communism, really dissociate yourself from it. Communism is not good for humanity; it is a dangerous way to go.
"When the persecution of Falun Gong is over, I will visit your fantastic country. I am really looking forward to the day when I can meet genuine people from China."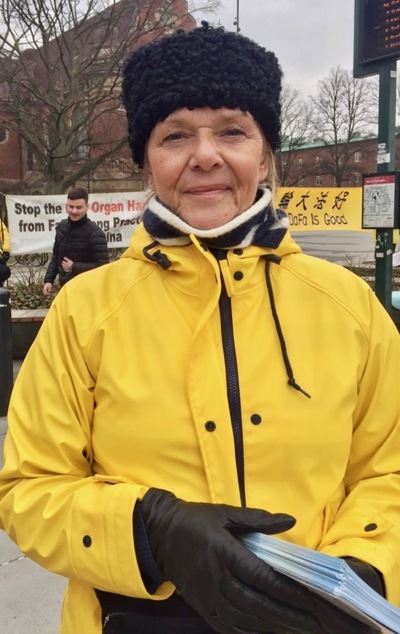 Mai, an artist
Mai first encountered Falun Dafa in Sweden in 1998. She has been supporting local activities in Sweden to tell people about Falun Gong and the persecution in China for the last five years.
She wanted to participate in the Malmö activities so that people could see the exercises and learn the truth about the persecution in China. Mai also had a message for the people in China, "There are people all over the world who practice Falun Dafa. It is very good to practice Falun Dafa."