California: Falun Dafa Group's Marching Band Impresses at UC Davis Picnic Day Parade
April 19, 2019 | By Minghui correspondent Wang Ying in Davis, California
(Minghui.org) Falun Dafa practitioners were invited to take part in the 105th University of California, Davis Picnic Day on Saturday, April 13, 2019.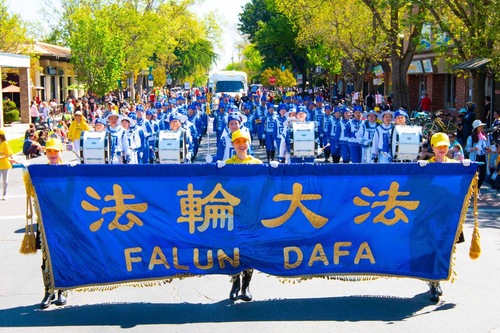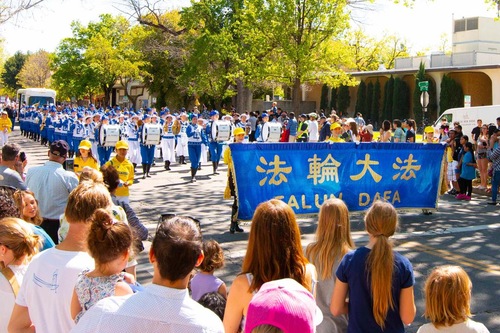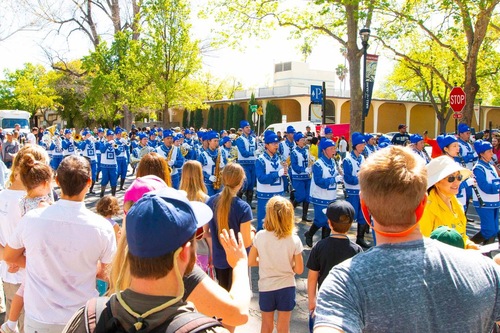 The Tian Guo Marching Band takes part in UC Davis Picnic Day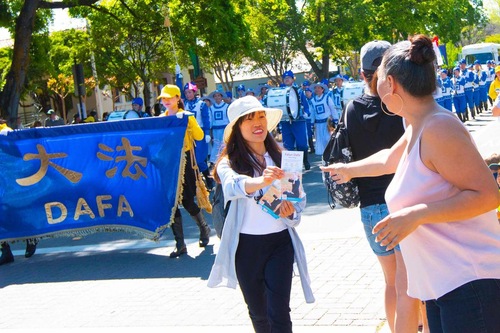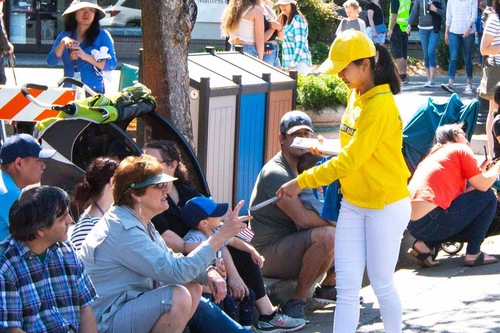 Practitioners hand out flyers to the audience
As there are many Chinese students attending the University of California, Davis, there were quite a few Chinese among the crowd. A female student said she was surprised to see caucasian faces amidst the Falun Dafa group's Tian Guo Marching Band.
A Chinese student surnamed He and his friend stood together to watch the parade. When Mr. He saw the band, he started taking photos excitedly and then took a brochure about Falun Dafa. He said: "I like this band. They are spectacular. Falun Dafa is good."
Michael, a graduate from the university, said, "The performers seem to be full of energy." He had learned about the persecution taking place in China as well as the organ harvesting. "The Chinese government is evil. I don't understand why they do such terrible things," he said.
Ryan is a student from San Diego. He and his friends cheered for the Falun Dafa practitioners as they walked passed them during the parade. He said: "I love their music. It warms my heart." His classmate, Ja Juan, said: "They are amazing--one of the best in the parade."