Falun Dafa Events in Tuscany, Italy
April 18, 2019 | By Falun Dafa practitioners in Italy
(Minghui.org) Italy's Tuscany region is renowned for its beautiful scenery and cultural heritage. Seven Tuscan localities are listed as UNESCO World Heritage Sites. The region is often promoted as the most beautiful part of Italy. In March 2019, Falun Dafa practitioners held several public events in various districts of Florence–the capital city of Tuscany–to raise awareness of the persecution of the spiritual discipline in China.
Practitioners regularly hold activities outside the Chinese consulate in Florence to appeal for help to end the persecution and to tell passersby about the goodness of Falun Dafa.
Practitioners held two activities in Prato's city center, one outside Piazza del Duomo on Sunday, March 17, 2019 and the second one on a side street two Sundays later. Many practitioners from other districts in Tuscany came together to demonstrate the Falun Dafa exercises and inform people about Dafa.
They also collected signatures for a petition calling for an end to China's state-sponsored killing of practitioners for organs. Their petition requests that the Italian government hand over evidence of organ harvesting to the United Nations and for the latter to carry out an in-depth investigation into these crimes against humanity.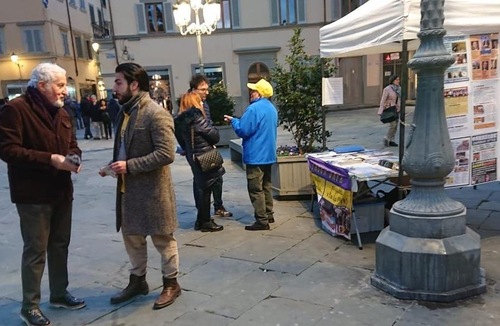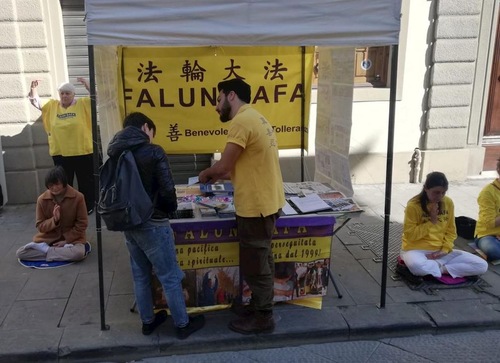 Practitioners hold two activities in the city center of Prato
A young man asked practitioners where he could learn the exercises. He told them that he had been searching for something like this and that Falun Dafa is what he needs.
Another man told practitioners, "I always thought the Chinese government was open and respected human lives. I'm surprised such atrocities are happening in that country." He took down information about when and where he could learn the exercises.
A woman was rendered speechless after hearing details about the torture practitioners are subjected to in China for practicing Falun Dafa. She signed the petition at once. Her 14-year-old daughter wanted to sign the petition too but was told she was too young. The girl replied, "My age doesn't matter. What's most important is the persecution must be stopped immediately."
Practitioners also held a Falun Dafa workshop in the town of San Giovanni Valdarno, which is located about 40 minutes northwest of Florence by car. Four people attended all nine days of the workshop and learned the exercise movements as well as the principles of Falun Dafa. They went home to read the main book, Zhuan Falun.
One of the attendees told a practitioner, "Thanks to the teachings of Falun Dafa, I have learned to appreciate the value of the difficulties I encounter in life."