Rally in Washington, D.C. Calls to End 20-year Persecution in China
April 17, 2019 | By Minghui correspondent Li Jingfei
(Minghui.org) Falun Gong practitioners in Washington, D.C. held a rally in front of the Chinese Embassy on April 14, 2019, to commemorate a historic, peaceful appeal staged in Beijing 20 years ago. The rally raised awareness of and called for an end to the two decades of persecution against Falun Gong (also called Falun Dafa) in China.
On April 25, 1999, an estimated 10,000 Falun Gong practitioners gathered near the State Council Appeals Office in Beijing to appeal to the regime following the unjustified arrest of practitioners in Tianjin two days earlier. Just three months later, the then leader of the Chinese Communist Party (CCP), Jiang Zemin launched a massive suppression against Falun Gong that has continued to this day.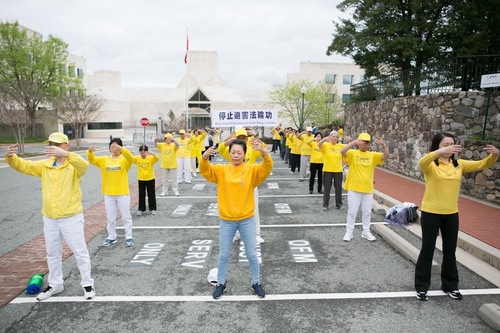 Falun Dafa practitioners do the exercises together in front of the Chinese Embassy in Washington, D.C. on April 14, 2019.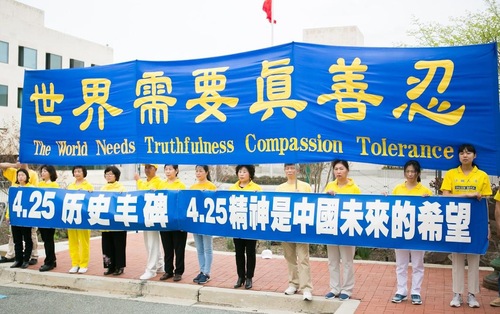 A banner at the rally
Universal Values
Ms. Ge Min, spokesperson for the Falun Dafa Association of Washington D.C., highlighted the upstanding demeanor of the practitioners who participated in the peaceful appeal in Beijing on April 25, 1999.
Ms. Ge Min, spokesperson for the Falun Dafa Association of Washington, D.C., said that the principles that guide practitioners – Truthfulness, Compassion, and Forbearance – represent the traditional values of humanity. "When Jiang and the Chinese Communist Party chose to persecute Falun Dafa, they turned against these universal values," she said.
A practitioner surnamed Zhang, who attended the peaceful appeal on April 25, 1999, said that practitioners went to Beijing to appeal to the regime to uphold their principles. "Almost 20 years have passed, and many of us have risked our jobs, families, freedom, or even our lives to safeguard these principles. This is because we believe that righteousness will prevail," he said.
Another witness of the appeal, Ms. Zeng, agreed, "Twenty years ago, on April 25, 1999, Falun Gong practitioners showed the world a courage and peacefulness that needs no language to express. Even after 20 years of the most violent suppression and brutality, practitioners have persevered in their faith amidst the evil of this world, bringing light and hope for humanity's future."
Torture and Brainwashing
Ms. Ding Xiaoxia also spoke at the rally. She was an award-winning English teacher from Jilin Province, recognized as an exemplary instructor at the provincial level before the persecution of Falun Gong was launched. Because she practiced Falun Dafa, however, she was arrested four times, imprisoned for seven years, held in a forced labor camp for nearly two years, and detained in brainwashing centers twice. Aside from the physical and mental abuse she suffered, her employer also dismissed her from her job due to her belief.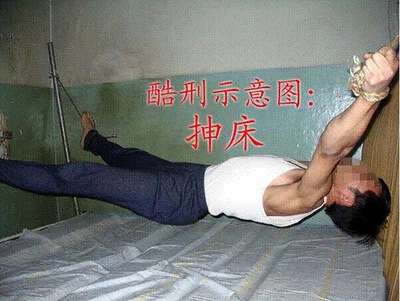 Torture reenactment: Stretching torture
Ms. Ding was tortured in detention. In one particularly brutal torture, she was tied to a bed and stretched. "I was tortured this way for nearly one month, between July and August of 2005," she recalled. "My four limbs were full of wounds, blood, and pus. But the stretching continued, three times a day for at least half an hour each time, and sometimes four times a day." Ms. Ding said the pain was beyond description, as if all of her four limbs were being pulled apart. The sequelae persist today, leaving her arms stiff and immobile.
Ms. Yu Jing, another participant in the rally, carried a portrait of her colleague and close friend Ms. Yang Xiaohui. A resident of Hebei Province, Ms. Yang would talk to the local people about Falun Dafa, to debunk the slanderous propaganda from the communist party. She was arrested in January 2017 after distributing New Year calendars related to Falun Dafa. Repeated harassment and home ransacking by police followed.
"When the police came to her home again at 11:00 p.m. on April 8, 2019, Ms. Yang refused to open the door. As police officers tried to break in using tools, she fell from her third-floor balcony trying to escape the police," Ms. Yu said.
Ms. Yang was severely injured from the fall and died at 2:00 a.m. in the emergency room. She was 55 years old.
A Better Life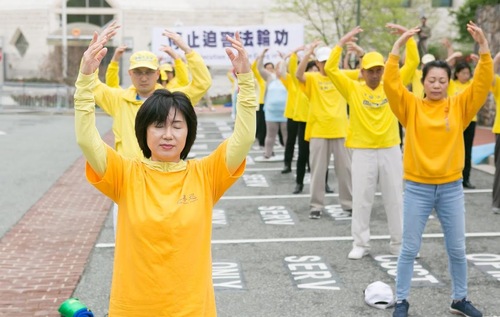 Ms. Jisun Bae from South Korea credits Falun Dafa for uplifting her life.
Despite the ongoing persecution in China, many people have heard about Falun Dafa in recent years and have taken up the practice. Ms. Jisun Bae from South Korea was introduced to the practice in 2001 by a pharmacist, who gave her a copy of Zhuan Falun, the main book of Falun Dafa.
"It was amazing, as the severe illnesses that had bothered me for years disappeared in a short time," she said. "Not only that, the principles of Truthfulness-Compassion-Forbearance are also very valuable. They have brought me happiness and made me a better person."
Gardener Linda Ramer learned about the practice two years ago. Impressed by the teachings described in Zhuan Falun, she started following the principles in the book and began to do the exercises.
"The changes Falun Dafa have brought to me are huge and I am so fortunate to have become a practitioner," Mr. Ramer shared.