Ms. Liu Xuerong, 75, Secretly Sentenced to Four Years in Prison
April 11, 2019 | By a Minghui correspondent in Shandong Province, China
(Minghui.org) Ms. Liu Xuerong, 75, from the Muping District of Yantai City, Shandong Province, was secretly sentenced to four years in prison last December.
She was arrested by plainclothes officers for distributing Falun Gong informational materials at the Muping District Farmers Market on the morning of July 17, 2018. She was searched and taken to the Yantai City Detention Center. She was secretly sentenced to four years in prison by the Muping District public security, procuratorate, and the court system. She was taken to the Jinan Women's Prison on December 28, 2018.
History of Arrests and Detentions
Ms. Liu, who was retired from the Muping County Cement Plant, was arrested and detained on numerous occasions, and her home was ransacked many times by officers from the Muping District Domestic Security Division. They also extorted 4,000 yuan from her. She was targeted as part of the nationwide persecution campaign, which began in 1999.
October 2004: Arrested and Detained
Ms. Liu was reported for distributing Falun Gong materials in October 2004. She was arrested and detained at the Laishan Police Station, where she was handcuffed and hung up on a window frame for about three hours every day.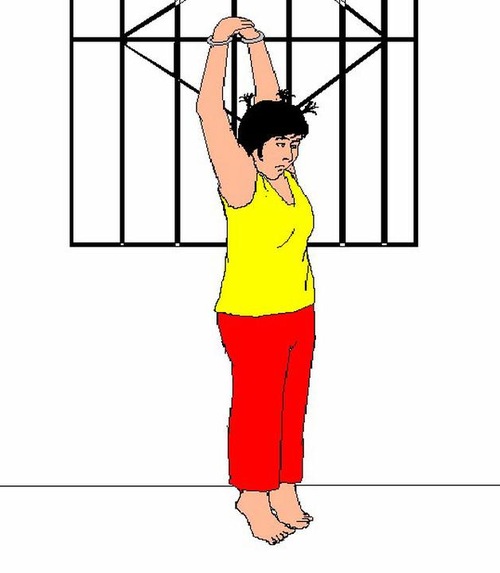 Torture illustration: Hung up with hands cuffed
October 2006: Tortured during Detention
She was reported again for distributing Falun Gong materials in October 2006. She was arrested and detained at the Ninghai Town Police Station in the Muping District. The officers ordered her to kneel, but she refused. The officers held her down and beat her, then handcuffed her hands separately. At first she was hung from pillars and then to a radiator from evening until daybreak.
March and May 2008: Under Surveillance
In March 2008 when the People's National Congress and the Chinese People's Political Consultative Conferences convened in Beijing and preparations for the August 2008 Beijing Olympics were underway, the Muping District government, the police station, and the Domestic Security Division placed Ms. Liu under surveillance around the clock for 18 days. Sun Shumao and Ren Wenfu, two guards at the gatehouse of her residential area, would report immediately to the Domestic Security Division if they spotted Ms. Liu heading out, and police officers would be dispatched to follow her.
On the morning of May 27, 2008, the gatehouse guards saw Ms. Liu going out on her tricycle and reported it to the police. The guards followed her. They kept calling the police, reporting that Ms. Liu had been telling people about Falun Gong along the way. They exaggerated and gave vivid descriptions. Ms. Liu was then arrested and her home was ransacked. She was taken into custody for 30 days and fined 1,000 yuan. Her family endured tremendous mental distress.