Nine Members of the Parliament of Finland Call on China to Bring Forced Organ Harvesting Perpetrators to Justice
April 10, 2019 | By a Falun Gong practitioner in Finland
(Minghui.org) Finnish Parliament Group for Global Issues Chairperson Satu Hassi, along with eight other Members of the Parliament of Finland, raised serious human rights concerns in a recent letter to Chinese leader Xi Jinping, Chairman of the Standing Committee of the National People's Congress Li Zhanshu, and Chinese Ambassador to Finland Chen Li.
In the letter, dated March 19, 2019, they expressed their concern about organ harvesting from living Falun Gong practitioners in China, and called on China to bring the perpetrators of these horrific crimes to justice.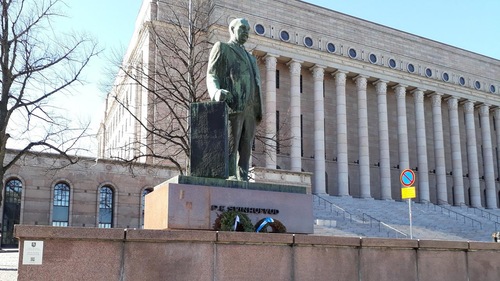 The Parliament House of Finland
The nine Members of Parliament who wrote the letter are from seven different political parties in Finland, including the orthodox Finns, the Central Party, the Left Alliance Party, the Green Alliance Party, the Finnish Social Democratic Party, the Finnish Christian Democratic Party and the Swedish People's Party.
The letter reads as follows:
Helsinki, 19.3.2019
H.E. Mr Xi Jinping, President of the Peoples' Republic of ChinaH.E. Mr Li Zhanshu, Chairman of the Standing Committee of theNational People's Congress of ChinaH.E. Ambassador Chen Li, Embassy of The People's Republic of China in Finland
Your Excellencies,
We, the undersigned, Members of the Parliament of Finland, wish to express our growing concern on the reports concerning the violent treatment of Falun Gong practitioners in your country. This topic has already been taken up several times in bilateral discussions between Finland and China on human rights.
Recently we have paid attention to the work of the Independent Tribunal chaired by Sir Geoffrey Nice. The tribunal is investigating allegations concerning forced organ harvesting from Falun Gong practitioners and other prisoners of conscience in China. In December 2018, the tribunal gave an interim judgement in which it concluded that these allegations are credible.
Geoffrey Nice has earlier been involved with the International Criminal Tribunal for the Former Yugoslavia (ICTY) in The Hague, leading the prosecution of Slobodan Milošević, former President of Serbia.
Also the European Parliament (2013/2981(RSP)) and the United States Congress House of Representatives have in their resolutions deemed these reports of this sourcing from prisoners of conscience as "persistent and credible."
The Independent Tribunal is expected to give its final judgement around this spring, when more light will be shed on these crimes and their perpetrators.
These are extremely grave allegations of crimes against humanity. We are aware that Chinese authorities have rejected all these allegations and labelled them as anti-China propaganda.
We, Members of the Parliament of Finland, consider that it is not possible to ignore as unfounded rumours or propaganda the large amount of circumstantial evidence presented, as well as interventions by independent medical professionals and international law experts. Therefore, we call on the Chinese authorities to carry out investigations and take the necessary steps in order to bring to justice all those organisations or individuals who can be proven to have been involved in these crimes.
Satu Hassi, MP Chairperson, Finnish Parliament Group on Global Issues
And Members of Parliament:
Ville Tavio, MPAila Paloniemi, MPHanna Sarkkinen, MPOuti Alanko-Kahiluoto, MPErkki Tuomioja, MPSari Essayah, MPHanna Halmeenpää, MPEva Biaudet, MP