San Francisco: Falun Gong in St. Patrick's Day Parade
March 24, 2019 | By Minghui correspondent Wang Ying
(Minghui.org) The Tian Guo Marching Band participated in the 168th annual St. Patrick's Day Parade in San Francisco on March 16.
The host introduced them as the "Falun Dafa Tian Guo Marching Band:" "All band members practice Falun Dafa, a cultivation practice. The principles of Falun Dafa are Truthfulness-Compassion-Forbearance."
The spectators who lined the sidewalks on that sunny day watched the over 100 organizations that participated in the parade. The Tian Guo marching band played several selections, including "Falun Dafa Is Great" and "The Star-Spangled Banner."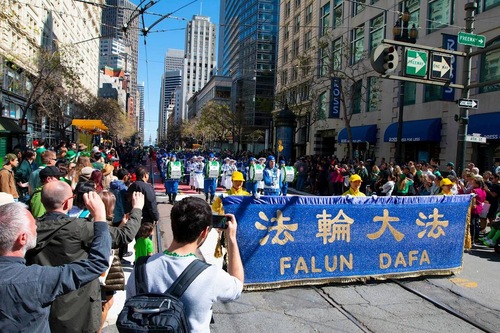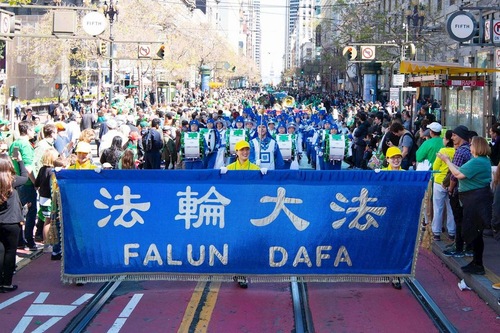 Spectators lining the streets watch the Tian Guo Marching Band.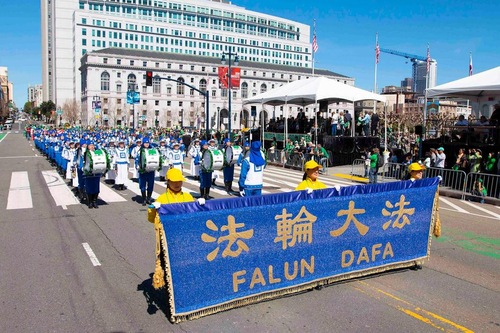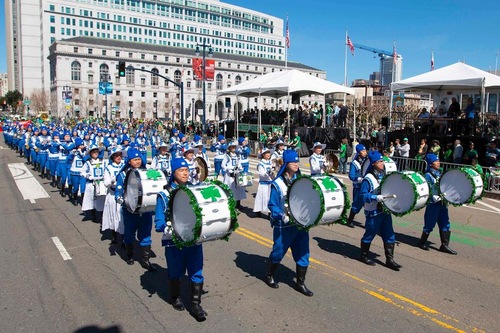 The Tian Guo Marching Band passing the main stage
Supporting Freedom of Belief
Steve enjoyed the band's music and thought that it was unique. He had visited Hong Kong and seen Falun Gong practitioners there.
He had also seen Falun Gong (also known as Falun Dafa) events when he lived in New York. He said, "I know that they are fighting for their freedom of belief."
Steve had heard about the forced organ harvesting happening in China. "I support Falun Gong," he said. "I support freedom of speech. Falun Gong practitioners have done a lot of good for the communities. I'm very happy to see them today."
Praise for the Tian Guo Marching Band
John also liked the band's performances and said, "We need more groups like this."
Meg O'Shaughnessy has seen Falun Gong practitioners often in San Francisco. She said, "The Falun Gong procession is spectacular. I would like to thank them for being in the parade. I know Falun Gong is a great practice; I support it. China is persecuting Falun Gong. I think everyone should be free to choose his or her own belief."
Carol Buttler saw Falun Gong practitioners in the parade and asked to learn this cultivation practice. "I like the principles Truthfulness-Compassion-Forbearance! Where can I learn it?"