Israel: Introducing Falun Dafa in the City of Ashdod
March 23, 2019 | By practitioners in Israel
(Minghui.org) Falun Dafa practitioners visited the southern Israeli city of Ashdod, located on the Mediterranean coast, where they demonstrated the Dafa exercises and distributed leaflets and hand-made paper lotus flowers to passersby.
The practitioners held the activity on February 15, 2019 in a central square near the entrance of a central mall. Most people in Israel do not work on Fridays and instead use the day to shop and run errands.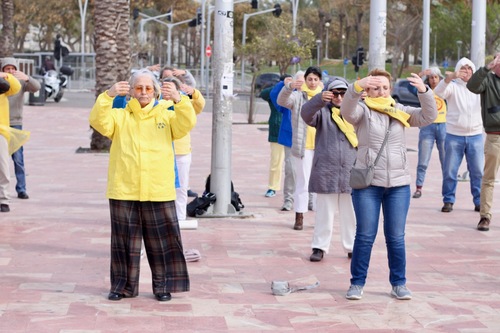 Practitioners demonstrate the Falun Dafa exercises in Ashdod.
Despite the rapid pace of modern life, people stopped to talk with practitioners to learn more about Falun Dafa and the persecution of the practice by the Chinese communist regime, which has waged a brutal campaign of suppression since 1999.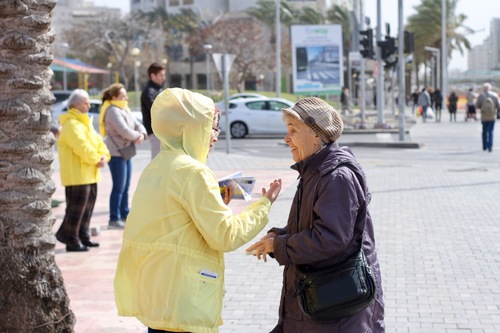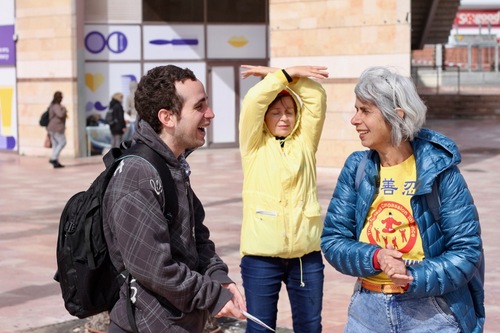 Practitioners talk to passersby about Falun Dafa and the ongoing persecution of the practice in China.
One woman started taking pictures of the practitioners while they were practicing the meditation exercise. She was unsure what Falun Dafa was about, but after learning about it, she thanked the practitioners and wished them success.
Another woman passing by said that her mother was a lecturer on China and that she would be happy to give her the information about Falun Dafa and the persecution in China.
The chilly weather and the strong wind throughout the event did not deter the practitioners, who continued to practice the exercises and hand out informational materials and lotus flowers.
Background
Falun Dafa is a spiritual practice that includes five gentle meditative exercises and is based on the values of Truthfulness, Compassion and Forbearance. Falun Dafa is taught for free and voluntarily throughout the world, and many practitioners have gained improved physical and mental health from the practice.
In 1999, surveys showed that there were about 100 million Falun Dafa practitioners in China. Jiang Zemin (former head of the Communist Party), fearing its growing popularity across China, started a nationwide persecution of Falun Dafa. Countless practitioners have been fired from their jobs, sent to forced labor camps, imprisoned, and tortured for refusing to renounce their faith.