Chinese Tourists Quit the Communist Party at Popular Tourist Destination in Taiwan
March 22, 2019 | By Falun Dafa practitioners in Taiwan
(Minghui.org) Qixingtan Beach in Hualien, Taiwan, is shaped like a crescent. The seawater is clear and blue, and the majestic mountains meet the sea. Once a month, a large group of local Falun Dafa practitioners come to this popular tourist destination to raise awareness of the persecution of Falun Dafa in China. Every time they do, many people sign the petitions calling for that persecution to end.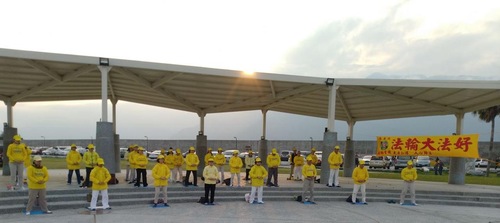 Practitioners demonstrate the exercises at Star Gazing Square at Qixingtan Beach in Hualien, Taiwan.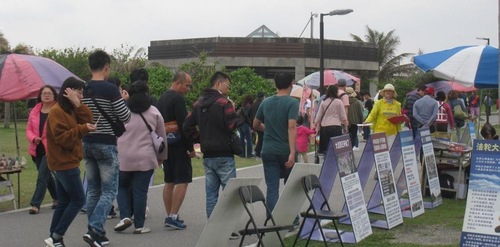 Tourists pause to read the Falun Dafa display boards.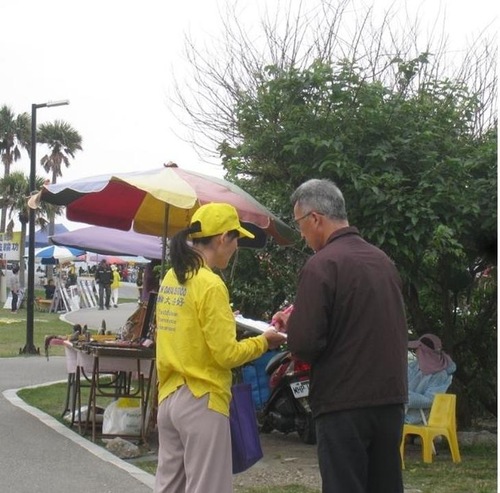 A Taiwan resident signs a petition to stop the persecution in China.
Hualien practitioners met at Star Gazing Square at Qixingtan Beach on March 17, 2019. Many tourists took photos and made video recordings of the practitioners doing the exercises. They also talked with the practitioners about the persecution and the forced organ harvesting from imprisoned practitioners that is taking place in China.
A tourist from China's Jiangxi Province listened as practitioners told him the truth about Falun Dafa. He asked them to help him renounce both his and his family's Chinese Communist Party memberships. He told them that he believes that those who do good deeds will be rewarded and evildoers will be punished. He said he believes Falun Dafa's reputation will eventually be restored.
Mr. Chen, a tourist from Kaohsiung in Taiwan, said he had seen similar Falun Dafa activities at tourist spots in his hometown. He commented that a prosperous country should take care of its citizens and that only a dictatorship like the Chinese communist regime would commit atrocities like harvesting organs from prisoners of conscience for profit. He said a government this immoral will inevitably fall from power.
Mr. Xu, a Member of Parliament who was promoting his cause in Qixingtan, came over to greet practitioners. "Practicing Falun Dafa improves one's health," he said.
"Healthy citizens are an asset to the country. The CCP is wrong to persecute Falun Dafa. Everyone, come and sign the petition to stop this persecution. Goodness and justice will prevail. Keep up the good fight!"