Thirteen Heilongjiang Province Residents Sentenced to Prison for Their Faith
March 11, 2019 | By a Minghui correspondent in Heilongjiang Province, China
(Minghui.org) Thirteen Falun Gong practitioners in Heilongjiang Province were sentenced to prison on February 28, 2019, for their faith in the spiritual discipline that has been persecuted by the communist regime since 1999.
Their terms range from 3.5 to 10 years, with an average of 5.8 years. Nine of them were between 45 and 59, and four were between 63 and 70. The average fine was 35,769 yuan.
In particular, 65-year-old Ms. Song Yuzhi was given a heavy term of 10 years and fined 65,000 yuan.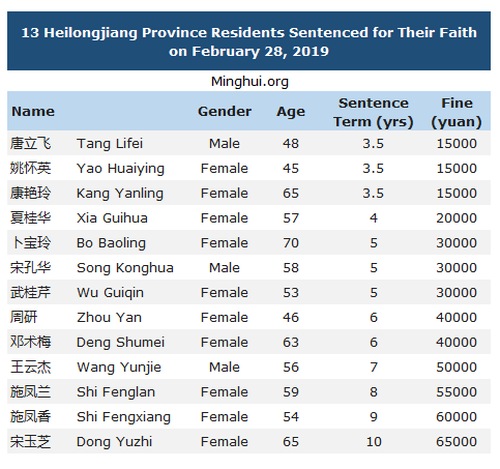 From Jiamusi City, Yilan County, and Huachuan County in Heilongjiang Province, the thirteen practitioners were arrested between August 31 and October 13, 2017. It was reported that the Heilongjiang Province Public Security Bureau ordered the arrests, which were carried out by joint police forces in all three locations.
These practitioners appeared in Yilan County Court on July 24, 2018. Their lawyers entered a not-guilty plea for them and argued that there was no legal basis for the persecution of Falun Gong.
The practitioners entered the courtroom wearing handcuffs and shackles. Their lawyers complained about the mistreatment and demanded that the cuffs be removed from their clients. Judge Lu Shoufang agreed.
Ms. Deng Shumei said that she hadn't violated any law in practicing Falun Gong and that her health significantly improved after she started the practice. Judge Lu stopped her from talking.
Ms. Shi Fenglan, one of the 13, was released on bail at one point after she became ill. She was taken back into custody and made to stand trial in July 2018. After the judge hadn't announced the verdict 30 days after the hearing, Ms. Shi was released on bail again while the other 12 remain in custody. It is unclear whether she was taken back into custody again after she was sentenced to eight years in prison in February 2019.
Related report:
Yilan, Heilongjiang Province: 14 Falun Gong Practitioners to Face Trial for Their Faith