U.S. Officials Express Concern for Persecution of Falun Gong at Formation of New Coalition
March 11, 2019 | By a Minghui correspondent in Washington, D.C.
(Minghui.org) The formation of the Coalition to Advance Religious Freedom in China (CARFC) was announced during a press conference in the Congressional Auditorium at the Capitol Visitor Center on March 4, 2019. At the event, Falun Gong practitioners described how the Chinese Communist Party (CCP) brutally persecuted their jailed family members and their attorneys. Yu Ming, who escaped from China earlier this year, recounted how he was tortured for his faith in the persecution.
Representative James P. McGovern, chairman of the Congressional-Executive Commission on China (CECC), Sam Brownback, U.S. Ambassador-at-Large for International Religious Freedom, and former House Representative Frank Wolf expressed their support for the coalition and their deep concerns over the CCP's religious persecution.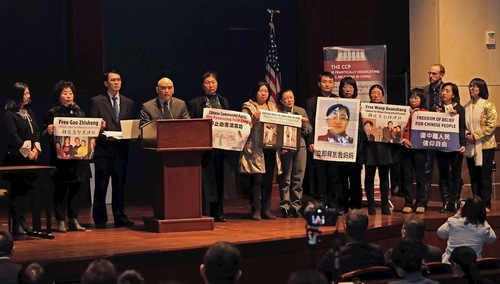 Falun Gong practitioners discuss the CCP's persecution during the press conference on March 4, 2019.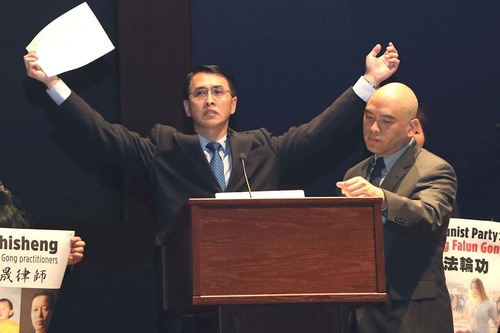 Falun Gong practitioner Yu Ming recounts his experience of being hung up for a month.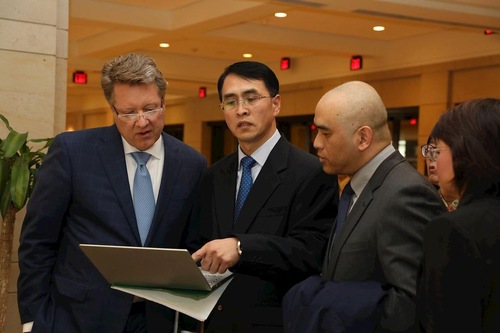 Yu Ming (second from left) shows Greg Mitchell (left), chair of the International Religious Freedom Roundtable, a video he secretly recorded while imprisoned.
Yu Ming, a Falun Gong practitioner and businessman, was incarcerated for nearly 12 years in prisons and labor camps in China. He was repeatedly stripped naked by teams of policemen and shocked with high-voltage batons. He was tied to an iron chair for three months. The police used awls and toothpicks to prick his fingernails to force him to renounce his belief. He was handcuffed and hung up for as long as a month. Yu risked his life to record videos of Falun Gong practitioners being persecuted in the prison.
Several Falun Gong practitioners held pictures of their family members who are being persecuted for refusing to renounce their faith. Ms. Yuan Xiaoman, the mother of Washington, D.C. resident Du Haipeng, was sentenced to three years and six months in prison for filing a lawsuit against Jiang Zemin, the former head of the Chinese Communist Party (CCP) responsible for initiating the persecution of Falun Gong. Ms. Yuan is currently held in Liaoning Province Women's Prison.
Since the CCP launched the nationwide persecution in 1999, millions of Falun Gong practitioners have been imprisoned and tortured. According to incomplete statistics, 4,288 practitioners have died as a direct result of the persecution; they represent more than 30 provinces, autonomous regions, and centrally-controlled municipalities. The CCP has also killed Falun Gong practitioners for organ transplants.
Former House Representative Frank Wolf called the Chinese regime's religious persecution a critical issue in the current era.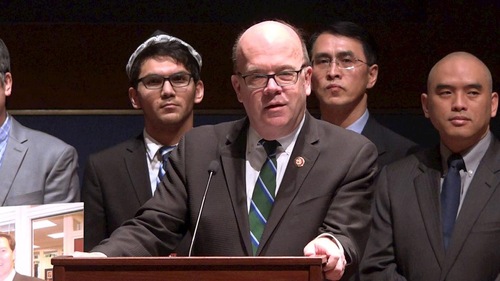 Representative James P. McGovern, the newly appointed chairman of the Congressional-Executive Commission on China (CECC) and co-chairman of the bipartisan Tom Lantos Human Rights Commission, attends the March 4 press conference.
Rep. McGovern said, "The issue of Falun Gong is something we care very deeply about. We are going to explore options in the month ahead."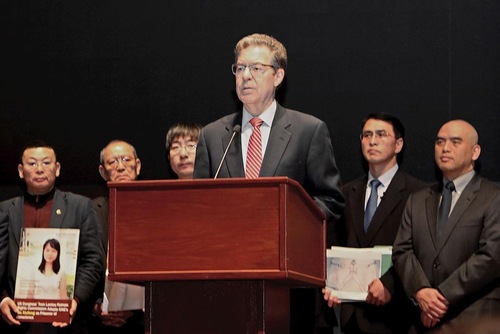 Sam Brownback, U.S. Ambassador-at-Large for International Religious Freedom, attends the press conference.
Ambassador Brownback said, "I am here to add to the administration's support. We are deeply concerned by the Chinese government's tightening restrictions on religious practice, including for Protestants, Catholics, Tibetan Buddhists, Muslims, the Falun Gong, and others."
"We believe religious freedom is a universal human right…It is a fundamental right. Our country was founded on it. It is in the Chinese Constitution. It is in the U.N. Charter, the Declaration of Human Rights. We believe that every person around the world should be free to believe or not to believe, as they see fit."
The International Religious Freedom Roundtable, one of the organizations that initiated CARFC, has written to Secretary of State Mike Pompeo, Secretary of Commerce Wilbur Ross, and Secretary of the Treasury Steven Mnuchin about imposing U.S. entry and property sanctions against CCP officials involved in, and companies that have provided technical support to the persecution, according to the Global Magnitsky Human Rights Accountability Act.