Melbourne, Australia: Western Practitioners Express Gratitude and Wish Master Li Hongzhi a Happy Chinese New Year
February 09, 2019 | By Minghui correspondents in Melbourne, Australia
(Minghui.org) Falun Dafa practitioners in Melbourne, Australia gathered at Treasury Gardens at noon on February 3, 2019 to celebrate the upcoming Chinese New Year and extend their New Year greetings to Master Li Hongzhi, the founder of Falun Dafa. They expressed their deep gratitude to Master for imparting the teachings that enabled them to gain inner peace and good physical health.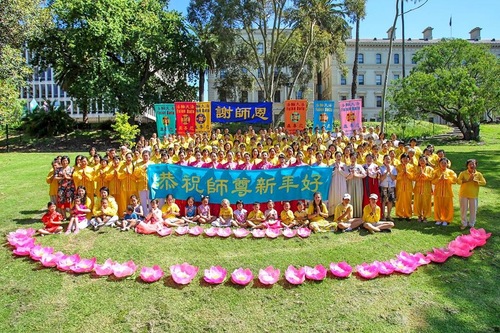 Falun Dafa practitioners in Melbourne gathered in Treasury Gardens to extend their Chinese New Year Greetings to Master Li Hongzhi on February 3, 2019
The following reports are from Western practitioners who are sharing their cultivation experiences, and expressed their deep gratitude to Master Li, as well as their wish for him to have a Happy Chinese New Year!
A Practitioner's Family of Four from Greece Thanks Master for Imparting a Priceless Treasure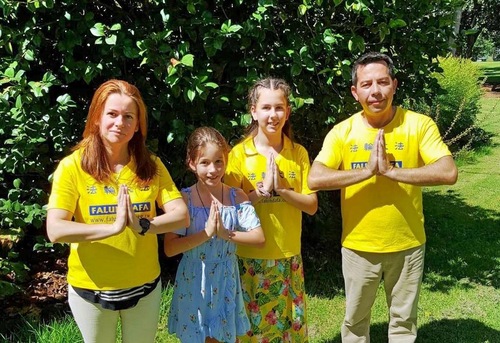 Bill Thodori from Greece and his family wish Master a Happy Chinese New Year.
Bill Thodori from Greece heard about Falun Dafa 20 years ago, but did not begin to cultivate until a few years later, after he was able to read the Greek version of Zhuan Falun, the main book of Falun Dafa. He recovered from his illnesses two weeks into the practice. His family and friends witnessed his positive changes and Dafa's tremendous power. His family of four is cultivating together and lives in harmony.
Bill said, "Twenty years ago, a friend of mine was practicing Falun Dafa. I liked the things he was doing and the way he was acting. That got my attention. But due to my poor English, I could hardly understand when reading anything in the English language, or people talking in English, so I had to stop."
"I felt suddenly dizzy in May 2002," he said. "I went to see several doctors and even some specialists, but they could not find anything wrong with me."
Bill then talked with his Falun Dafa friend, and began reading Falun Dafa books and learning and practicing the five sets of exercises. Within two weeks, his dizziness disappeared.
At that time, Zhuan Falun was translated into Greek (officially published in 2007), so he said he could understand the principles Master referred to because his English had improved. That made his studying of the Fa much easier.
"My colleagues and family noticed the difference in me, as I am always healthy. Everyone can see it. Now my entire family practices Falun Dafa."
"As a painter, I have a lot of clients. I will clarify the truth about Dafa to them. Some may know, others may not know, but after I talk to them about the persecution, everyone will know."
Bill's oldest daughter Violet is 12 years old, and the younger daughter Sofia is 10 years old. They study the Fa and do the exercises daily with their parents, and the family often participates in activities to raise awareness of the persecution.
Violet said, "I started practicing Dafa when I was about nine years old. I like to practice Falun Dafa, because it makes me a better person. I always follow the principles of Truthfulness-Compassion-Forbearance."
"I was captain of our school last year. Our principal supported me to become the captain. Students have to be good to become the captain."
Bill's wife Elena Thotori said, "I have been practicing Falun Dafa for almost 10 years. I have received great benefits from it. Before I practiced Dafa I felt depressed and had a lot of headaches. We now live in a harmonious environment. I have no worries because I have the Fa. I have found happiness in my life."
She ended by saying, "I would really like to thank Master from the bottom of my heart. Thank you for this priceless treasure, this Fa, and for telling me the meaning of life. Happy Chinese New Year, Master!"
A Western Practitioner Couple Is Grateful That Dafa Answers Questions and Helped Them to Find the Purpose of Life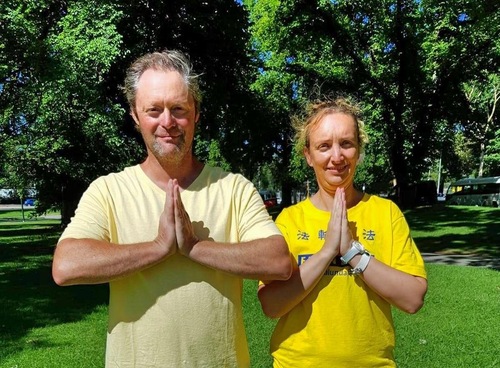 Patrick Murphy and wife Rachael Murphy wish Master Li a Happy Chinese New Year
Patrick has practiced Falun Dafa for about 15 years. He said, "I had been searching for Dafa all my life, I always felt lost. When I found the Fa, it answered all my questions that I had ever wanted to know, I found my purpose."
His wife Rachael felt the same way. She said, "Since I began to practice Falun Dafa in 2008, this cultivation has given me a purpose and a righteous direction. It has allowed my family to also partake in the practice. I believe it is because I started practicing Dafa. My family is very supportive."
The couple and local practitioners go to a tourist attraction site in the Melbourne-business center in the Mornington Penisula weekly to set up a booth to collect signatures for a petition which calls for an end to the persecution of Falun Dafa in China. Many people and tourists have learned about the persecution and the communist regime's state-sanctioned forced organ harvesting from living Falun Dafa practitioners for profit.
Rachael said, "Once at an Australian Day event, I clarified the truth to a Chinese doctor, who did not know about the persecution, because he grew up in Australia. He was very fascinated, very supportive, and every year he asks if we will be having a booth at the Australian Day event."
On the occasion of the Chinese New Year, the couple wished Master a Happy Chinese New Year. Patrick said, "I would like to say thank you to Master for taking such good care of me and for giving me the opportunity to tell others about Falun Dafa. Thus, they may receive this precious gift."
Rachael said, "I would like to say thank you to Master for allowing me to be a part of Fa-rectification, at this important time in history."
Tian Guo Marching Band Member: Master Gives Me a Renewed Life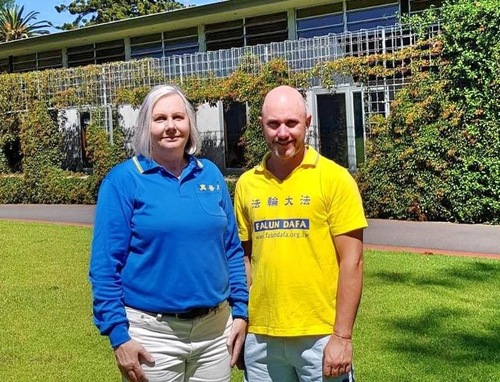 Denice Johnson and Stuart Martin, mother and son practitioners who have practiced Falun Dafa for 19 years.
Denice Johnson and her son have practiced Falun Dafa for 19 years. When Denice stepped into Dafa cultivation, she was quite sick. The doctor didn't give her very long to live, because she had a lung disease caused by smoking. She searched everywhere to find help. She said, "I found Falun Dafa but I didn't start to practice it because I was going to die."
Denice felt happy that she didn't give up easily. She said, "When I read Zhuan Falun, every question I had was answered in the Dafa book. I was overwhelmed, so I started practicing, and my health was restored. It showed me the power of Dafa."
"Because I was given so much by Master and Falun Dafa, I want to give back. I go out to tell people about Falun Dafa. In 2001, I went to China and demonstrated the exercises in Tiananmen Square, and got arrested and detained. The main purpose for us being there was firstly to let the Chinese people know that they are not alone, and that Western people are trying to help them, too. We have to make people aware that Falun Dafa is a peaceful practice of mind, body and heart. And it is practiced all over the world."
Denice, her son and seven other Australian western practitioners made the trip to China with western practitioners from other countries, and there were 36 of them that went to Tiananmen Square to appeal.
Later Denice became a member of the Tian Guo Marching Band and went to Hong Kong to take part in marches and rallies. "In the Tian Guo Marching Band – to my knowledge – I am the only westerner, and so I think it is important for me to be in the band, walking through the streets of Hong Kong, so that the Chinese people watching the band marching will know that Falun Dafa is practiced not only by Chinese people, but also by westerners throughout the world."
Stuart Martin has gone all over the world with his mother for activities raising awareness of the persecution. He said, "I lived a spiritual life before finding Falun Dafa, but I was searching for a true way. When I started to practice Falun Dafa, I no longer suffered from allergies and it straightened my spine."
"I would like to say thank you to Master for what he has given me and the world. I want to give back as much as I have been given, I have benefited so much from the practice, I want to give other people the opportunity to have what I have been given and to be a part of that. Happy Chinese New Year, Master."
Master Leads Us a Way to Our True Self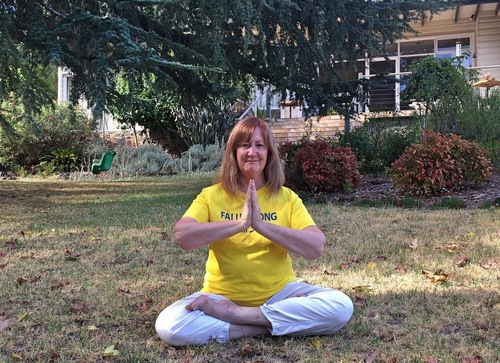 Janine Rankin has experienced continued improvement through her 19-years of cultivation and wants to help others.
Janine Rankin has participated in The Art of Zhen Shan Ren (Truthfulness-Compassion-Forbearance) International Exhibition in Melbourne multiple times. She said,
"I have been practicing Falun Dafa since 1999, and have benefited in so many ways. One has to find the answers by oneself and resolve what one needs to change and let go of to improve our heart and mind nature. So the more you unite with the principles of this practice, to become truthful, kind, and compassionate, and learn to be more patient and tolerant, you grow and become a better person as you walk this way of life."
"It helps you let go of self and to always think of others' needs first and let go of selfishness, competitiveness and be there for others naturally and in a humble way."
"Thus, as we change and grow and our energy field and health is vibrant, people can feel the difference and want to know what you're doing to become like that."
During one art exhibition, Janine said, "One of the most touching memories I have is of an elderly Chinese couple and family visiting Australia. They were so deeply moved by the paintings and they were also scared to be seen viewing the paintings. They both came up to me and deeply looked me in the eyes and put their hands together and bowed. They wanted to thank us from their heart for doing what we were doing – to bring the awareness to the world about the ongoing persecution of Falun Dafa in China."
Janine concluded, "It's a journey into returning back to your true self. Wishing Master a Happy Chinese New Year!"