Cyprus: Raising Awareness about Falun Gong and the Persecution in China
(Minghui.org) Cyprus practitioners held an activity in Limassol on January 27 to raise awareness about the persecution of Falun Gong in China.
The weather was sunny and people were joyfully walking along the seashore. Many took interest in the exercise demonstration and stopped to learn more.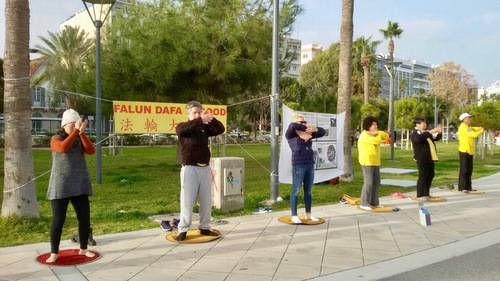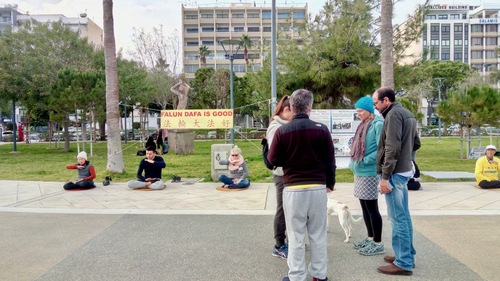 One older Cypriot woman said she had been to China some years ago and she had heard about Falun Gong and that it was not allowed there. She was watching the demonstration of the exercises for a long time along with her friend. She said, "[The persecution] is a pity, because this practice is so good. She added,"Meditation is very important for clearing the mind and staying mentally healthy." The women said they'd like to visit a local Falun Gong practice site to learn the exercises.
Another native Cypriot woman was outraged by the persecution in China. She said: "An effort to eliminate our roots in Greece is happening also. Globalization aims to eliminate all the uniqueness of each culture and make everyone as simple digits. People should be proud for their roots and try to sustain them, in order to have something solid to lean on."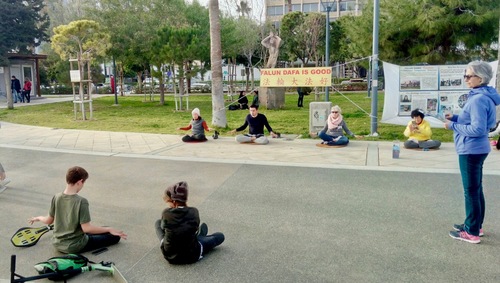 Two israeli children, around 10 years old, were biking along the road. When they saw the activity, one of them asked if he could meditate, too. He sat in front of the practitioners and followed along with their movements and his friend also joined him. When he had to leave he was reluctant to go. The volunteers gave him a flyer where he could access the international website www.falundafa.org and find a video demonstration of the exercises to continue learning.