"Communism Must Be Eliminated"—Falun Gong Activities in London Draw Support
February 24, 2019 | By a Falun Gong practitioner in London
(Minghui.org) Falun Gong practitioners in London often hold activities in front of the British Museum to introduce this ancient spiritual practice and inform people of the persecution of the practice in China.
On the afternoon of February 13, 2019, practitioners distributed information, demonstrated the exercises and collected signatures to call for an end to the persecution by the communist regime.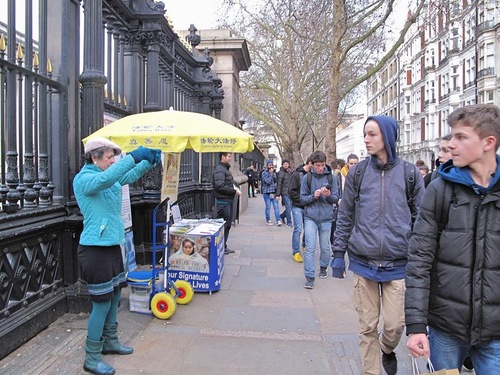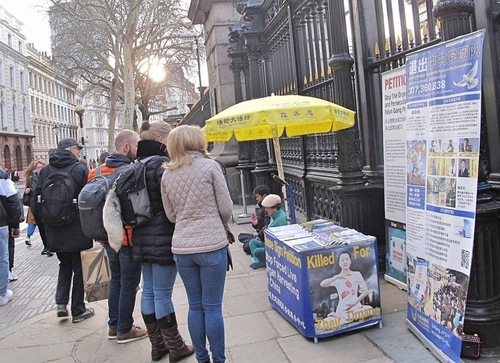 While practitioners demonstrated the exercises many people stopped to learn more.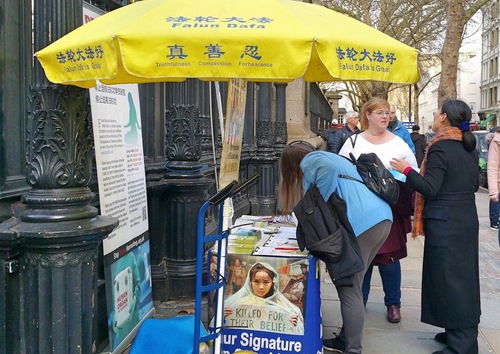 Collecting signatures that call for an end to the persecution of Falun Gong.
Appalled to learn of the crime of organ harvesting from living practitioners, many people signed the petition.
As two women walked out of the museum, they stopped to read about the crime of harvesting organs. After they signed the petition, one said, "We shouldn't allow such things to happen! It must stop!"
A husband and wife said that they worked in China and personally witnessed the persecution. Both could read Chinese and were aware of the deteriorating human rights situation in China. They were encouraged to learn that more than 100 million people have quit the Communist organizations and that Falun Gong is practiced in over 100 countries around the world. They asked a lot of questions about Falun Gong and took information in Chinese to read.
Efforts to Stop Persecution Deserve Our Support
When a Taiwanese woman who had worked in China signed the petition, she said that she knew about Falun Gong, but she had never wanted to hear about the persecution. She later thought about how the communist regime persecuted many innocent people and groups and that the practitioners' efforts to end the persecution should be supported. She said, "I think it's important to let more people know about it. So many people are suffering from this persecution! It should not be happening!"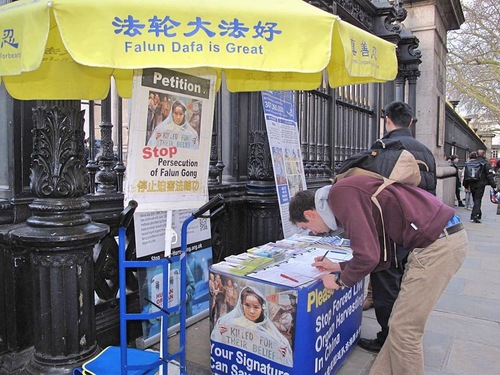 Jash, a college student from Ireland, signs the petition.
Jash, a biology student from Ireland, said that he was very interested in spirituality. When he learned that Falun Gong is an ancient self-cultivation practice of mind and body, and teaches the principles of Truthfulness-Compassion-Forbearance, he replied, "That's in your heart. You know, it settles your mind, settles your ego."
Jash said that the Communist Party's persecution of Falun Gong was a suppression of China's ancient culture and wisdom. "China is an ancient country. It has a beautiful culture, but the evil is sabotaging and robbing it," he said.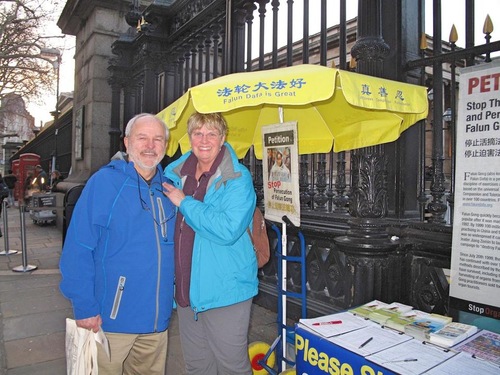 Roger and Cathy from the U.S. sign the petition which condemns the persecution.
Roger, an American professor of sociology, and his wife Cathy signed the petition. Roger said he knew that the communist regime has been destroying traditional culture and belief, and is a dictatorship which does not care about the people. He thought the large-scale organ harvesting was a terrible crime against humanity. He said, "Their behavior doesn't deserve to be called human. It's a tragedy, a crime against humanity!"
He said Falun Gong's principles of Truthfulness-Compassion-Forbearance are important universal values, and that these crimes must be stopped. Roger and Cathy wished practitioners good luck with their efforts. They planned to learn more and see what they could do to help.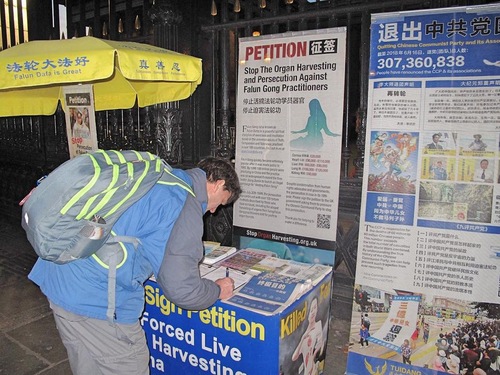 Morris from Birmingham signs the petition which condemns the persecution.
Morris from Birmingham was one of the last people to walk out of the British Museum that day. After reading the information, he signed the petition and said, "It [organ harvesting] is a barbarous, militarized crime, like the Nazis. Chinese people naturally like meditation. It's part of Chinese culture. It can't be suppressed."
He said that the practitioners' standing up against the communist regime's persecution was a battle between the righteous and the evil, and the righteous must win. He said the international society shouldn't have any illusions about the Communist Party, adding,"Communists do not care about human rights. They corrupt society through brainwashing. We must stop it. Communism won't change. It must be eliminated."