UK: At Falun Gong Activities in London, Spanish Tourist 'Wants to Be Like Falun Gong Practitioners!'
February 13, 2019 | By a Minghui correspondent in London
(Minghui.org) Despite the cold, Falun Gong practitioners in London continue to hold activities on weekends to let people know that the Chinese Communist Party (CCP) is still persecuting Falun Gong.
In Trafalgar Square on February 2, 2019, they distributed brochures, demonstrated the exercises, and collected signatures on a petition calling for an end to the persecution. Passersby responded positively, and several stopped to learn the Falun Gong exercises.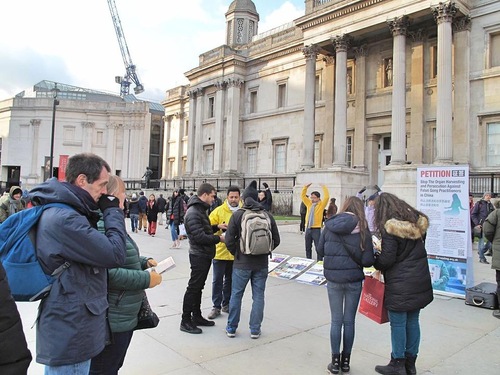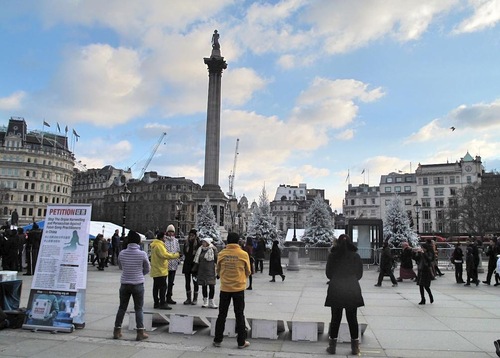 Practitioners on Trafalgar Square inform passersby about Falun Gong.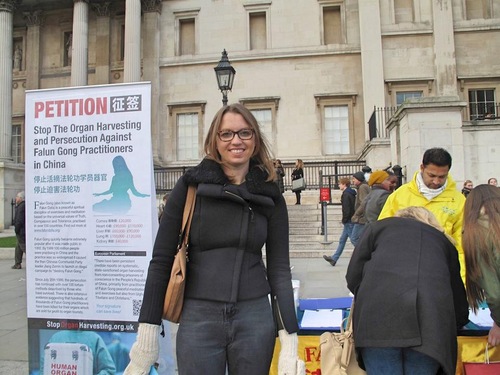 Hanna was interested in learning more about Falun Gong.
When she learned the details about the persecution Hanna, a London resident, signed the petition that calls for an end to the atrocities. She said she was appalled by the CCP's criminal behavior, particularly the forced harvesting organs from living practitioners.
Hanna said a friend had told her about Falun Gong three months before, after he'd learned the exercises at Regent's Park. She said she felt a peaceful, positive energy coming from the practitioners as she was talking to them.
She said that Falun Gong's guiding principles of Truthfulness-Compassion-Forbearance resonated with her very deeply. "Very grounding! Awakening! We live in a busy world. People have a lot of worries, but we can have inner peace. Falun Gong shows people the truly important things in life," she said.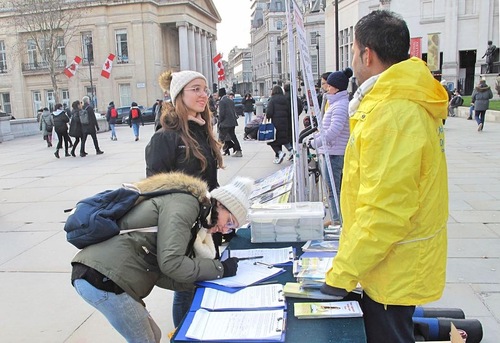 Julit and Sara, two sisters from Spain, sign the petition condemning the CCP's persecution.
This was the first time that Julit and Sara, who are from Spain, had heard about Falun Gong. While touring London they stopped to watch practitioners demonstrate the exercises and signed the petition. They were saddened to learn that such a peaceful practice was being persecuted and especially upset to hear about the state-run forced organ harvesting.
Julit was amazed by the practitioners' concentration while they meditated. She said, "I want to be like them." Both sisters said that they would learn more about Falun Gong when they returned home.