"We Can't Tolerate These Crimes": Visitors to Human Rights Plaza in Paris Express Support for Falun Dafa
February 11, 2019 | By a Minghui correspondent in France
(Minghui.org) In celebration of the Chinese New Year, French Falun Dafa practitioners held activities at Human Rights Plaza in Paris on February 3. Despite the cold February day, they demonstrated the exercises and collected signatures to condemn the forced organ harvesting of prisoners of conscience in China. The plaza is a major destination in the beautiful city of Paris, and a number of people stopped to watch the practitioners doing the peaceful Falun Dafa (also known as Falun Gong) exercises and to learn about the persecution of the practice in China.
Practitioners demonstrate the Falun Gong exercises at Human Rights Plaza in Paris.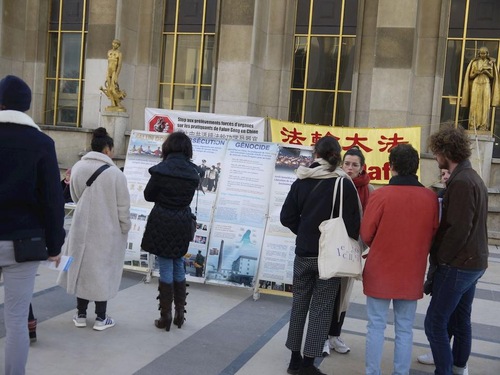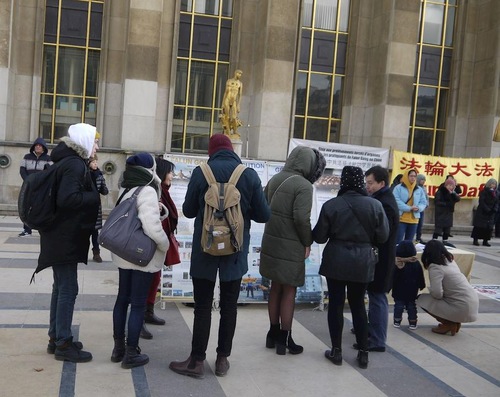 Tourists stop to read the display boards and talk to practitioners about the persecution of Falun Gong in China.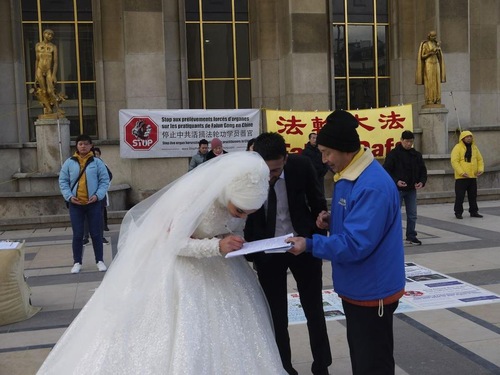 A newlywed couple signs the petition against the forced organ harvesting in China.
Attracted by the peaceful music, a young newlywed couple stopped to take a photo with practitioners doing the exercises in the background. Afterwards, they thanked the practitioners and pressed their hands together in front of their chests in a gesture of respect. They both signed the petition calling for a stop to the forced organ harvesting in China. The practitioners wished them a blessed and happy family.
"The Persecution Is Very Cruel"
Retiree Mr. Castelli said he had heard about the persecution of Falun Gong on the radio but he didn't know the extent of the brutality. Referring to the state-sanctioned crime of harvesting organs from living Falun Dafa practitioners, he said, "We can't tolerate a crime like this. We must take action and let more people know about this. The persecution is very cruel. We should organize a worldwide campaign to expose it."
He wished practitioners success and promised to pass on information about the persecution to his friends and family.
Yohan, an IT expert, said he was not surprised that the Chinese Communist Party is targeting Falun Gong practitioners for persecution. He said, "They [the communist party] always abuse their power. We should all do exactly what practitioners are doing, which is to tell the entire world what is happening in China." Based on his expertise, he suggested some effective ways to reach more people.
Veterinarian Aouabir said that this was the first time that she'd heard about the persecution. She was shocked by the atrocities being carried out and praised the practitioners for their courage in spreading the information.
Elisabeth, from Carcassonne, was in Paris to see her daughter off to nursing school. She stopped to watch the practitioners demonstrate the exercises and learned how Falun Dafa is being persecuted. She said, "We must stop the persecution! How can anyone persecute human beings like this? The practitioners are doing a great deed by letting people know about the persecution. We should protect practitioners."