Taiwan: Children and Parents Benefit by Participating in the 2019 Minghui Winter Camp
February 11, 2019 | By a Minghui correspondent in Taiwan
(Minghui.org) The sixth Minghui Winter Camp was held from January 31 to February 2 at TransWorld University. The event was organized by the university's Falun Dafa Club as well as Falun Dafa clubs from other colleges and universities throughout Taiwan.
Camp attendees, both school-age children and their parents, came from all over Taiwan to study the Falun Dafa teachings, practice the exercises, and discuss how to improve in cultivation.
Through games, dramatics, and interacting as a team, the young practitioners were taught how to cooperate, be tolerant, and apply the principles of Truthfulness-Compassion-Forbearance in their day-to-day lives.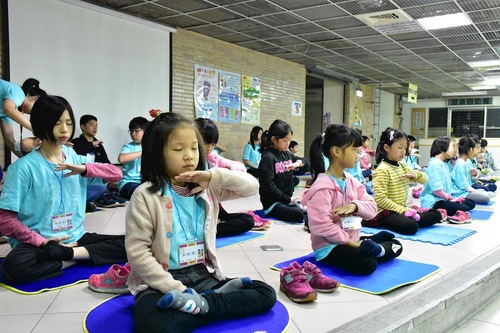 Young practitioners do the Falun Dafa exercises in the morning.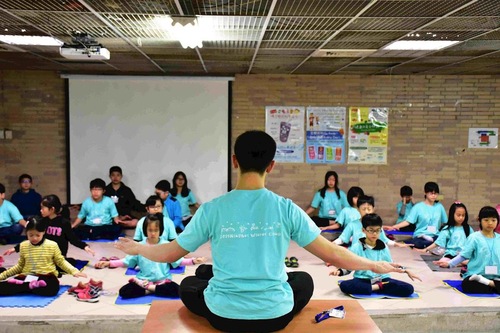 The purpose of camp was to let young practitioners experience the meaning of Truthfulness-Compassion-Forbearance in a group environment, learn how to behave accordingly, and raise their moral character, according to the camp's general coordinator, Ms. Yang Yi-zhen.
Wu Yu-zhen, a 4th-grader from Pingtung, said the games they played were fun and that she learned a lot. She saw some things she needed to improve on. "I'm seldom tolerant of my younger brother and sometimes I even swear at him when we argue. I'm happy to attend this camp and feel so fortunate to be a Falun Dafa practitioner," she said.
Shi, a student from Hsinchu County, said this was her first time to attend a Minghui camp, and she was both excited and nervous. She sometimes couldn't endure the pain and uncrossed her legs while meditating. But she remembered to be tolerant and didn't argue when her friend swore at her. "The camp activities let me see many things that I need to improve on, like being lazy and playful," she said.
Hou, a 6th-grader from Yunlin, has attended the Minghui Winter Camp every year since he was in 3rd grade and said it was very helpful. "The first time I just came to play with my friends. Now, I'm here to learn important things," he said.
"Master is strengthening me. Cultivation is all about your heart," Hou said. He said the biggest breakthrough he had this time was sending forth righteous thoughts at the four times each day for the first time. He was also able to get up at 4:30 each morning to do the exercises. He thought that because he woke up so early he'd be tired all day. Instead he felt rested and energized with only four hours of sleep.
Hou said that the Minghui camp offers opportunities to improve one's character. While joking around with his friend he inadvertently caused a conflict. The tension between them grew until finally a team assistant talked to him about the situation.
Hou said he was grateful. "I looked inward and saw my problem. The problem started when I didn't immediately apologize to my friend. In the end, I sincerely apologized to him and the issue was resolved."
Hou summed up his experience after attending the camp this year: "The only direction is to go forward, to be diligent and more diligent."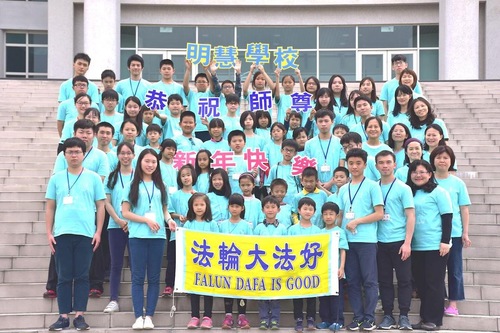 Minghui Winter Camp attendees wish Master Li a happy Chinese New Year.
Parents Also Benefit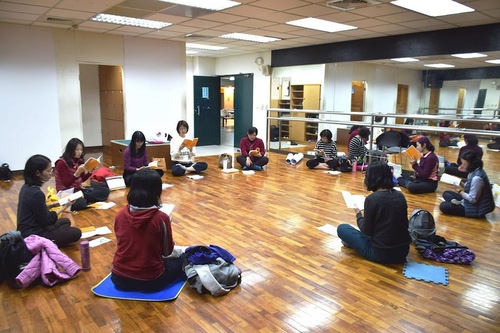 Parents study the Falun Dafa teachings.
Ms. Liao, a parent from Taichung, said she looks forward to the Minghui camp each year. She knows the assistants take good care of the children and help them look inward if conflicts surface. It's also an opportunity for parents to study the teachings together and exchange cultivation experiences.
She said her son improved a lot after attending the camp. "When he saw the other children sitting upright while meditating, he stopped slumping over. My son did not do the exercises until he attended the camp. Now he's motivated to practice and study the Fa. I am very thankful to Master and the organizers' dedication."
For 5 years Lin Yi-jing from Taipei has brought her two sons to participate in the camp. Her initial hope was to improve their communication skills.
At first, the boys had conflicts with the other children. But the camp assistants were very compassionate and kind and helped them. They also shared pointers with Ms. Lin about how to positively encourage and help them.
She's very grateful and said, "You feel the power of compassion from the assistants. Being here has encouraged me to be more compassionate towards my children. I now understand the correct way to teach children is to guide them with the principles of Truthfulness-Compassion-Forbearance in even the smallest matters.
"My sons have become more aligned with these principles by attending the camp."