Mother of UK Resident Arrested for Practicing Falun Gong, Lawyers Dare Not Represent Her
December 09, 2019 | By a Minghui correspondent in Beijing, China
(Minghui.org) The mother of a United Kingdom resident was arrested for her faith in Falun Gong, a spiritual discipline that has been persecution by the Chinese communist regime since 1999. Her family tried several local law firms, but no lawyer dared to represent her.
Ms. Han Fei, 49, is a resident of Huangshanmudian Village, Pingfang Township, Chaoyang District, Beijing. She was arrested by officers from the Pingfang Township Police Station and the Chaoyang District Domestic Security Division on December 4, 2019.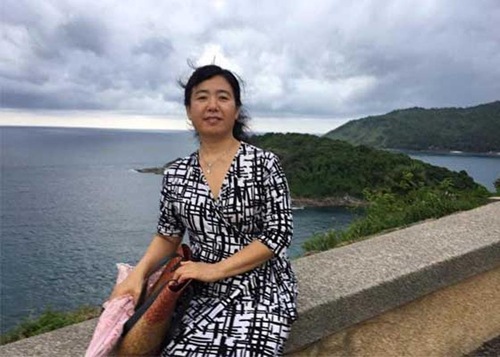 Ms. Han Fei
Ms. Li Hui, a UK resident and Ms. Han's daughter, said she called her mother on December 4, 2019, but no one responded. When Ms. Li contacted her father around 6 a.m. on December 5, her father told her that Ms. Han had already been arrested when he returned home from work on December 4.
Their home was a mess after the police raid. Ms. Han's Falun Gong books, informational materials, computer and printer were missing. Ms. Li's husband learned from a neighbor that about ten police officers arrived in two cars around 5 p.m. on December 4 and arrested his wife. She was taken away in handcuffs.
Ms. Han's husband went to the Pingfang Township Police Station on December 5 to inquire about her case. The police said that his wife was arrested because someone reported to them that she practices Falun Gong. They refused to disclose her detention location.
Ms. Han's husband managed to find out the next day that she has been sent to the Chaoyang District Detention Center. He was not allowed to visit her and was told that only a lawyer could visit her. He talked to several law firms on December 10, but they all said they didn't dare to take Falun Gong cases.
One law firm revealed that lawyers must notify their local justice bureaus should they wish to represent Falun Gong practitioners and that family members of the concerned practitioners must fill out forms with justice bureaus. There is no such notification requirement if it's non-Falun Gong cases.
As there have been cases where human rights lawyers were retaliated against for defending Falun Gong practitioners' innocence, Ms. Han's husband sensed that the lawyers he spoke to didn't want to bring trouble to themselves by representing his wife.
Without a lawyer to visit Ms. Han, it is unclear how she is doing in detention. Her husband learned from insiders that the living condition in the detention center was extremely poor, with 47-49 people crammed into a small room measured at 50 square meters. Only a few people had the luxury to lie down and sleep, and most inmates would have to stand or sit at night.
A week before Ms. Han was arrested, a group of people stopped by her house and asked if she had a house for rent. After Ms. Han was arrested, her husband realized that those people might have been police officers or 610 Office agents who had been monitoring her.
The 610 Office is an extralegal agency created specifically to persecute Falun Gong.
This isn't the first time that Ms. Han has been targeted for her faith. She was given two years of forced labor prior to the Beijing Olympics in 2008. The police continued to harass her after she was released in 2010.
Ms. Li is calling on the international community to help rescue her mother and she is also demanding that the police release her mother immediately.
Perpetrators' contact information:
Chaoyang District Domestic Security Division: +860-10-85953559, +86-10-85953553, +86-10-85953550Pingfang Township Police Station: +86-10-85574138