On Thanksgiving Day, a Professional Football Player Thanks Master Li for Teaching the Fa
December 03, 2019 | By a Minghui correspondent in Sydney, Australia
(Minghui.org) Paul Lin is a Falun Dafa (also called Falun Gong) practitioner from Sydney, Australia. He said, "It is Thanksgiving Day in the U.S., and my family and I send greetings to Master Li and wish him a happy holiday!" He says he is very grateful to Master Li Hongzhi (the founder of Falun Dafa) for teaching him to be a better person.
Paul Lin is 18 years old. Today he is a good-looking and cheerful young man, but he had an extraordinary childhood because he was born into a family of Falun Dafa practitioners in China. His parents and grandparents all cultivate the spiritual practice. His parents were imprisoned for their belief when he was a baby, so his grandparents had to raise him. Years later, he finally reunited with his parents in Australia, and he became a professional football player.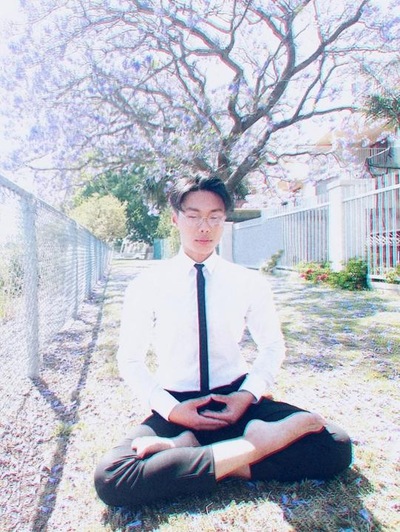 Paul doing the Falun Dafa sitting meditation
Taken to a Police Station at 11 Months Old
Paul recalls: "My family told me that the police came to our house and arrested my father in October 2002 for hanging up banners about Falun Dafa. They ransacked the place and hit my mother, breaking her left arm. I was less than a year old then. My father carried me in his arms as the police took him to the station. I was frightened and cried nonstop. I was not fed for the entire day.
"My father was sentenced to six years in prison. My mother was sent to a forced labor camp for three years in April 2004 for putting up messages about Falun Dafa in public places. After that, my maternal grandparents took care of me. I missed my parents and often cried out for them.
"My father was finally released from prison after six years, but the police monitored him constantly. He took a risk and left the country on a boat. He was successfully rescued by practitioners overseas. Although he was safe, we were kept apart."
Protected by Master Li
In spite of the hardships he endured as a child, Paul considers himself very fortunate, because his grandparents taught him Falun Gong from the time he was very young.
Despite the persecution," said Paul, "my family continued to practice Falun Gong. My grandparents who took care of me while my parents were in prison often reminded me to follow the Dafa principles of Truthfulness, Compassion, and Forbearance. I discovered that, whenever I did, I would benefit, and on many occasions, I could sense that Master was looking after me."
He gave an example. "I've loved to play football from the time I was little. In China, I became one of the main players on the football team in my district. The competition can get very intense in a game and sometimes my teammates got injured. It was unavoidable. But I hardly ever got hurt. I felt Master was protecting me all the time."
Becoming a Professional Football Player
Paul said: "As an athlete, I was often attached to winning. I got upset when I lost a game or I don't do as well as I'd expected. I had a bad temper, too. I knew this behavior wasn't in line with the principles of Truthfulness, Compassion, and Forbearance. Not only that, the complicated environment in China had a negative influence on me. I arrived in Sydney in February 2015 to reunite with my parents. Slowly, my broken family was healed and we are happy again."
Paul continued: "I decided to get rid of the bad habits I acquired in China. I began to study the Dafa teachings and do the exercises daily. I was strict with myself when it came to following Master's teachings, and I looked for my shortcomings when I got into conflicts. After a while, I learned to take losses lightly and let go of my attachments to winning and jealousy.
"My skills improved as I became a better person. When I participated in a trial training session for a professional football team in Sydney, I competed with several hundred players from all over Sydney. Only a dozen players would be chosen. In the trial game, I played with a calm mind. There were twists and turns, but I held steady and was able to showcase my skills. After two rounds of trials, I was one of the players chosen for the team. I do not want to imagine what might have happened if I had not acted like a Falun Dafa practitioner."
Paul also shared that, since he has made every effort to follow the teachings of Falun Dafa, he now gets along better with friends and family members.
Knowing it was Thanksgiving Day in the U.S., he said, "My family and I send greetings to Master Li and wish him a happy holiday!"