Germany: People in Hamburg Sign a Petition to Support Falun Gong
December 20, 2019 | By a Falun Gong Practitioner in Hamburg, Germany
(Minghui.org) Falun Gong practitioners in Hamburg, Germany, set up a large information booth at Reesendammbruecke as the rain fell on December 7, 2019. They collected signatures for a petition that calls for an end to the Chinese Communist Party's (CCP) harvesting of organs from living Falun Gong practitioners. Their activities received great public support, despite the rain, and many people stopped to learn more and sign the petition.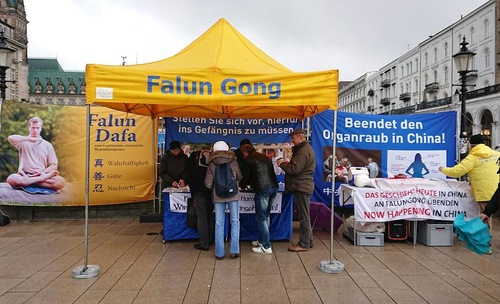 Falun Gong information booth at Reesendammbruecke, Germany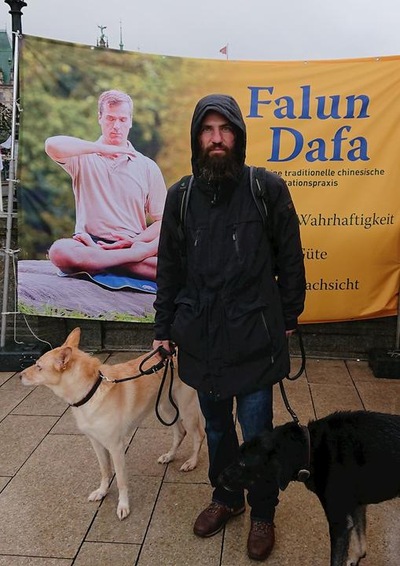 Local resident Antigo hopes the German government will take concrete steps to help end the persecution of Falun Gong in China.
Mr. Antigo Oyo, who works in the field of climate protection, signed the petition. He said he hoped Falun Gong practitioners would collect a large number of signatures and urge the German government to take steps to help improve human rights in China.
Sonja supports the petition to end organ harvesting from Falun Gong practitioners in China.
Sonja, a nurse from Switzerland, said that forcefully taking organs from living people utterly violates human rights. "It's hard to imagine anyone forcibly taking organs from living people," she said.
Jana Lillo, a local resident who works nearby, said she was aware of the organ harvesting crimes in China, but was shocked that it had been happening for 20 years.
"There is no doubt that it must stop," she said.
Jana said the principles of Falun Gong, Truthfulness-Compassion-Forbearance, resonated with her.