Germany: Many Sign the Petition Against Chinese Regime's Persecution of Falun Gong on Human Rights Day
December 19, 2019 | By a Falun Gong practitioner in Germany
(Minghui.org) Falun Gong practitioners in Hanover, Germany held events on Ernst-August-Platz to raise awareness of the Chinese Communist Party's (CCP) persecution on December 10, Human Rights Day. They called upon the public to sign a petition against the CCP's state-sanctioned organ harvesting from living Falun Gong practitioners.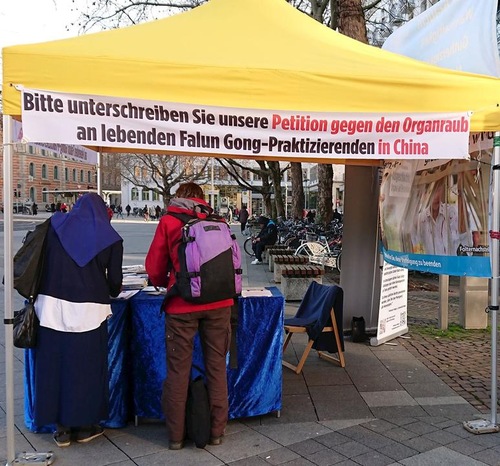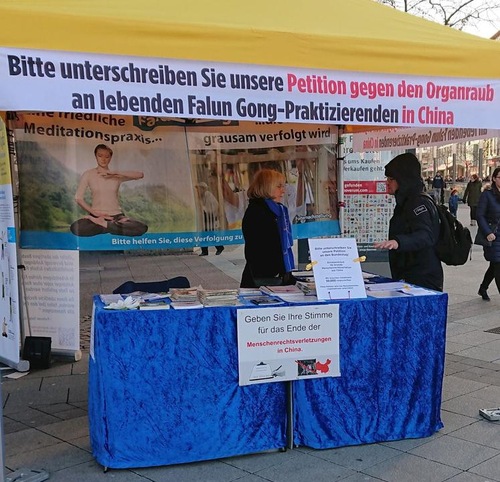 Passers-by learn about Falun Gong and sign a petition to condemn the CCP's live organ harvesting.
Gertrud Varlen said, "I've heard many times about organ harvesting in China. I've also seen it on TV. But too little action has been taken. Our government does not pay enough attention to China's human rights, which is not good."
She said that people in China were being controlled by the CCP and must do what it wants them to do. Otherwise the police will take them away. She indicated that the German government should take action on this and tell the Chinese government that future negotiations and cooperation would depend on human rights improvement in China.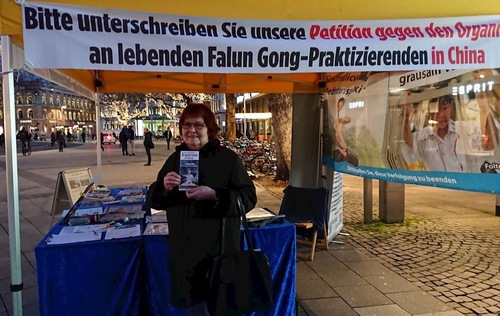 Gertrud Varlen hopes that the human rights situation in China will soon improve.
She felt sad about the CCP's live organ harvesting. She hopes everyone will sign the petition, "If there are enough signatures, this issue might end. I hope it ends soon."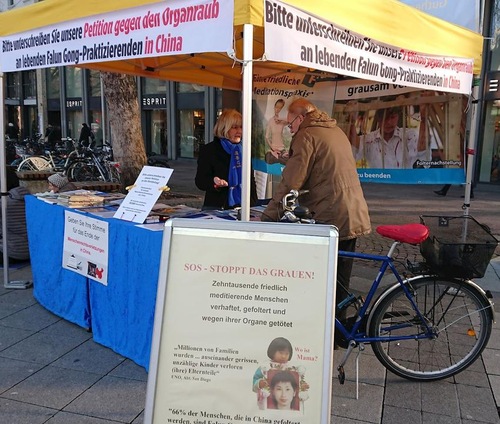 Loomann reads a flyer.
Loomann, who is in his 80s, said, "I'm troubled by this persecution." He said it was unimaginable that the persecution has gone on for over 20 years. He indicated that China invested a lot in Germany, which caused the German government hesitate to harshly condemn the CCP. He feels that Germany should work with France, Britain, and the U.S. to condemn the CCP.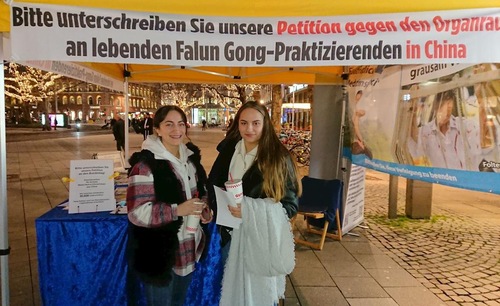 Two sisters sign the petition to condemn the persecution.
Iman Zeaiter, a ninth grader, and her sister Marian Zeaiter, knew about the organ harvesting in China. Iman said, "What's happening to Falun Gong practitioners is very sad. Everyone should have human rights." Marian said that it was shocking that the persecution of Falun Gong in China has lasted for more than two decades.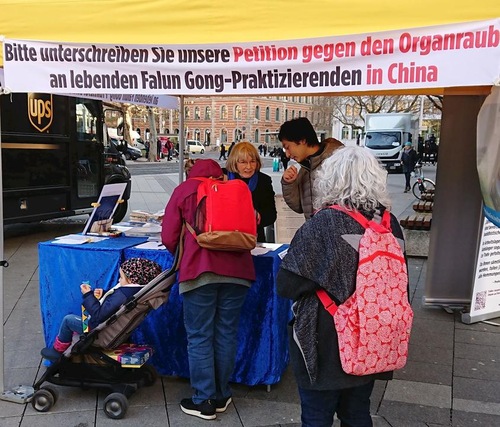 Yildrim Urmram signs the petition against the persecution.
Yildrim Urmram from Turkey said she had heard of the persecution before and condemned it. She said, " I'm happy to see you today. Thank you for being here!"