Switzerland: Calling for Support for Falun Gong on International Human Rights Day
December 18, 2019 | By Falun Dafa practitioners in Switzerland
(Minghui.org) Falun Gong practitioners in Switzerland set up a booth near the Chinese Embassy in Zurich on December 10, International Human Rights Day. Several banners and information boards were displayed, exposing the 20 year long persecution, as well as the killing of practitioners for their organs.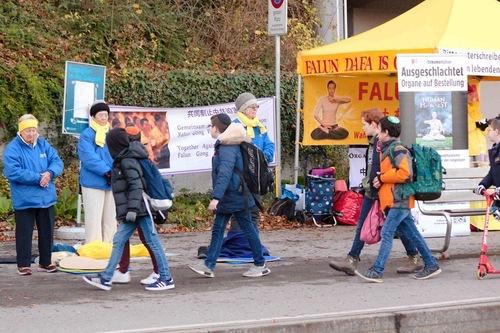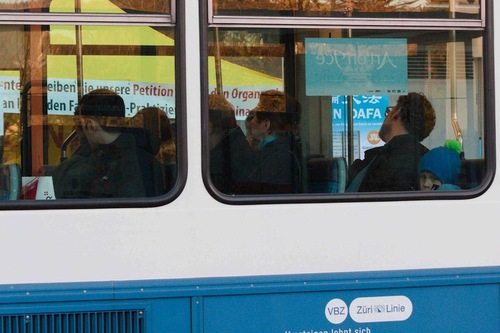 Falun Dafa information center draws attention from passersby and passengers in trams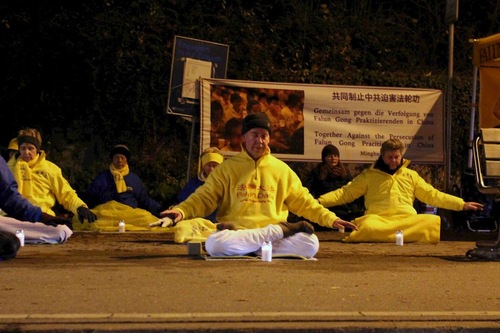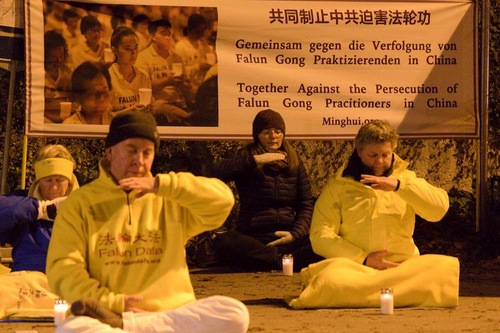 Practitioners demonstrate the Falun Dafa exercises
Passersby Impressed by Practitioners Peaceful Protest
Franziska Moesching works at a hotel management school nearby. She observed practitioners arriving early in the morning for the activity, and staying throughout the day, despite the cold weather. She was struck by the peacefulness of the event and decided to find out more about Falun Dafa.
She signed the petition and said: "You are doing a great job asking for people's support." She said it is unconscionable what the China's communist regime is doing to practitioners.
She took brochures, and said she plans to tell her co-workers about the persecution.
"We Cannot Tolerate Such Things [as Forced Organ Harvesting]"
Susi Baumgartner
Susi Baumgartner is a therapist. She read media reports about Falun Gong and the persecution and immediately showed her support by signing the petition. She talked with practitioners, and said that she has a good impression of Falun Dafa.
Regarding China's forced organ harvesting crimes, Susi said: "When I learned about this from a television program, I was shocked and terrified. I thought about the matter for a long time. This should not happen at all. We cannot tolerate such things."
"It is very important to let more people know about this," she added. "If we want to change something, we have to voice our concerns, to bring about positive changes. I hope Falun Gong practitioners' situation will improve. I hope everyone has the freedom to live the life they want to."
A Tibetan who speaks fluent German recently saw a documentary about Falun Dafa and told his co-worker that practitioners in China are being tortured for practicing it. As a Tibetan, he understands the repression practitioners are experiencing. When practitioners told him about the petition calling for an end to the persecution, he and his co-worker signed it to show their support.